Vitera Healthcare Solutions Adds Six Ambulatory Practices to Cloud-Based Intergy On-Demand
Electronic Health Record and Practice Management Solutions to Enhance Practice Efficiency and Help Improve Patient Care
(November 18, 2011)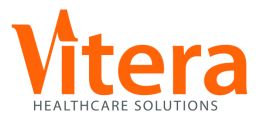 TAMPA, FL -- (Marketwire) -- 11/18/11 -- Vitera Healthcare Solutions today announced that it will provide electronic health records (EHR) and practice management solutions to six additional healthcare facilities throughout the United States through its cloud-based Vitera Intergy On-Demand.
Facilities from Connecticut, Florida, Kentucky, Nevada, Pennsylvania and Texas selected the Vitera Intergy On-Demand solution because of its ability to enhance practice management and improve patient care. Vitera Intergy On-Demand helps physicians improve quality of patient care and chart documentation; improve coding; and reduce patient wait times.
The cloud-based Vitera Intergy On-Demand provides EHR and practice management solutions and is available through a monthly, low-cost subscription for the software and technical support. Physicians using Vitera Intergy On-Demand receive full-service EHR and practice management capabilities with reduced on-premise technical requirements, accessing the service through any internet-connected computer.
Accessing Vitera Intergy On-Demand as a cloud-based service provides several other benefits, including backup and storage of patient data managed at the Vitera data center, freeing the practice from potential disasters at the office; the on-demand availability of the information via a high-speed Internet connection; real-time system monitoring; and automatic updates and maintenance of the software.
The most recent facilities that selected Vitera Intergy On-Demand include:
Hartford Orthopedic Surgeons, a four-office, three-physician practice in Hartford, Connecticut
North Florida Nephrology, a five-physician practice in Tallahassee, Florida
Bluegrass Bariatric Surgery Assoc. in Lexington, Kentucky, with nine locations
Medical Rehabilitation, Inc., a five-physician practice in Pittsburgh, Pennsylvania
Heart Center of Nevada, with six locations and 14 physicians in Las Vegas, Nevada
Texoma Heart Group, a five-physician practice in Denison, Texas
"On behalf of Vitera, I'd like to welcome these practices into our care. I know this will be a long-lasting and valuable relationship for all of us, as we help them deliver the most efficient, streamlined care," said Matt Hawkins, CEO of Vitera Healthcare Solution. "In selecting Intergy On-Demand, these practices are receiving full-service EHR and practice management solution with 5010 and ICD-10 enabled technology, and they join a rapidly growing list of practices."
Vitera's solutions are a fit-to-need for more than 20 specialty concentrations, including primary care, OBGYN, pediatrics, cardiology, orthopedics, endocrinology, gastroenterology, geriatrics, multi-specialty, urology, general surgery, and neurology, among others, in all sized practices.
Vitera has been providing ambulatory healthcare systems for almost 30 years, serving more than 400,000 healthcare professionals including 80,000 physicians in the United States with EHRs, practice management systems and other services to streamline patient care. Each year, Vitera clients serve more the 133 million patients. Since 2011, Vitera has helped its physician clients earn more than $1 million in federal Meaningful Use incentives.
About Vitera Healthcare Solutions
Vitera Healthcare Solutions provides end-to-end clinical and financial technology solutions so physicians and medical professionals can work with patients instead of paperwork. Serving more than 400,000 healthcare professionals including 80,000 physicians, Vitera Healthcare Solutions provides electronic health records and practice management systems, processes 33 million transactions and 1.3 million e-prescriptions monthly, and serves several specialties including primary care, OB/GYN, pediatrics, cardiology and orthopedics in all sized practices and Community Health Centers. Physician-focused and patient centric, Vitera Healthcare Solutions is based in Tampa, FL. For more information, visit www.viterahealthcare.com or call (877) 932-6301. Follow Vitera Healthcare Solutions on Facebook, http://www.facebook.com/ViteraHealthcare, and Twitter, http://twitter.com/#!/ViteraHealth.
©2011 Vitera Healthcare Solutions, LLC. All rights reserved. Vitera, the Vitera logo, Intergy and Practice Analytics are registered trademarks or trademarks of Vitera Healthcare Solutions, LLC, or its affiliated entities. All other trademarks are the property of their respective owners.
Add to Digg Bookmark with del.icio.us Add to Newsvine
Media Contact:

Scott Rupp
Vitera Healthcare Solutions
813-249-4264
Email Contact


Copyright @ Marketwire
Page: 1
Related Keywords:
Vitera Healthcare, electronic health records, EHR, EMR, meaningful use, Intergy, physicans practice, USA, Marketwire, Inc., , Aging, Surgery, healthcare, Surgery, Childrens Health, Physician, Children, Financial, Internet Technology, Medical, Internet, Other, Medical Professionals,
---