Visual Mining Announces Availability of NetCharts Performance Dashboards 2.4
Automated Dashboard Monitoring Tracks KPIs 24/7; Proactively Distributes Notifications and Alerts
(March 19, 2012)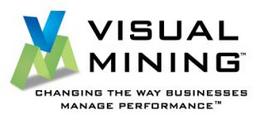 HOUSTON, TX -- (Marketwire) -- 03/19/12 -- Visual Mining®, a leader in performance management and data visualization solutions, today announced the availability of NetCharts Performance Dashboards® (NCPD) version 2.4 at Convergence 2012, the premier event for the Microsoft Dynamics® Customer and Partner business community. NetCharts Performance Dashboards enables executives, managers, and staff to independently visualize, analyze, explore, understand and consume data from across their organization. NCPD is a self-service solution that untethers decision makers from IT, unlocking needed information and allowing them to quickly gain insight and take action. NCPD 2.4 for Microsoft Dynamics connects to GP, NAV, AX, SL, CRM, as well Excel, Microsoft SQL Server and other relational databases.
With the new Version 2.4 release, users can take advantage of:
Automated Dashboard Monitoring and Proactive Notification. Specific Key Performance Indicators (KPIs) can be automatically and continuously monitored, eliminating the need to regularly consult the dashboard. If a KPI meets or exceeds a specified value or condition, email or text message notifications are automatically sent which can include data values, PDF representations, and links to the live dashboard.
"Business intelligence dashboards that provide current and actionable information enable individuals to make timely and better informed decisions that lead to superior outcomes," commented company President and CEO, Tristan Ziegler. "Automated monitoring changes the dashboard paradigm. Dashboards are no longer just a resource to be consulted when you want to know, but now become a proactive agent that delivers vital information when you need to know."
Simplified Drag and Drop Operation. Familiar drag and drop operation simplifies the creation and maintenance of content rich charts and tables with multiple data series. Business users can more easily create specific goals and metrics and perform complex analysis and calculations on their own within the dashboard or scorecard and without the need to involve IT resources.
Enhanced Tabular Report Formatting. NCPD 2.4 provides several features that extend the flexibility, appearance, and interactivity of complex tabular reports.
True Dashboard Portability. NCPD is fully HTML 5 compliant, making it browser agnostic and operates without requiring third party plug-ins such as Flash or Silverlight. NCPD renders dashboards, scorecards, and visualizations across all browsers and platforms, including displaying on mobile devices -- iPad, iPhone, Android and Blackberry. NCPD provides true dashboard portability.
"Visual Mining is committed to providing organizations with easy to use interactive business intelligence solutions that support their performance management objectives," added Ziegler. "By empowering end users with a solution that is easy to understand and has the most widely needed functionality, NCPD drives adoption through the organization, which helps ensure goals are consistently and efficiently being met. NCPD 2.4 is another in a long stream of innovations that reinforce our customer commitment and industry leadership."
About Visual Mining
Visual Mining provides business intelligence dashboard solutions that support organizations' performance management initiatives. Visual Mining's award-winning NetCharts software delivers comprehensive, intuitive, and effective solutions for both developers and business end-users that transform data into actionable business information. Visual Mining's support and professional services teams complement its products by providing the expertise to ensure success.
© 2012 Visual Mining, Inc. All rights reserved. Visual Mining, NetCharts, and NetCharts Performance Dashboards are trademarks of Visual Mining, Inc. Other names used herein may be trademarks of their respective owners.
Editorial Contact:
Stuart Itkin
+1 301 795-2206
[email protected]


Copyright @ Marketwire
Page: 1
Related Keywords:
dashboard software, business intelligence, data management, financial software, business dashboards, Internet,Management,CEO/CFO,Marketwire, Inc., ,Apple Computer,Financial,Computer Science,Business,Browsers,Email,Other,
---