Viral Content Distribution Across New Media Channels Amplifies Brand Authority, Increases Web-Based Lead Generation, and Fosters Community Building
New White Paper by Ventana New Media Discusses How Companies Can Harness Key New Media Channels to Exponentially Raise Search Rankings and Internet Visibility
(December 14, 2011)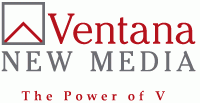 WASHINGTON, DC -- (Marketwire) -- 12/14/11 -- Ventana New Media™, the leader in integrated content marketing for accelerated brand authority, lead generation and viral community building, announced the publication of a new white paper entitled, Harnessing Six Channels of New Media for Long-Term Success. The paper discusses new media channels that most impact a company's Search Engine Results Positions (SERPs) and how virally distributing corporate content across those channels improves brand authority, search engine rankings, web-based lead generation and community building.
By 2014, Forrester predicts that interactive marketing in the U.S. will near $55 billion and represents 21 percent of all marketing spending. With social media spending alone increasing to more than $3 billion by 2014, the time to stand out in the new media crowd has never been more critical.
The Ventana white paper outlines how companies can capitalize on the exploding number of online new media sites, if harnessed effectively. Each of the channels requires a different approach to content distribution and relationship-building, but implementing a strategy for syndicating corporate content and building communities in a unified, controlled fashion, can rapidly build brand awareness and authority.
New Media Channels Accelerate Viral Content Distribution and Corporate Presence
Microsites: Traditional social media sites including Facebook, Twitter, LinkedIn and seven others that act as corporate "mini Web sites" while offering the advantages of interactivity and community building
Web-Feed Publishers and Social News Communities: FeedBurner, DMN Newswire, TMC News and more than 20 others where content can be posted and shared
Social Bookmarking and Viral Communications Sites: Sites such as Digg, Delicious, Mixx, Pitchengine and many others where content is distributed virally, acting as a highway to blogs and social news communities
Social Journalism Sites: Social journalism sites such as Ulitzer and Buzzup that are comprised of user-driven news portals where content is tagged, backlinked and posted
Online Audio/Video and Image Sharing Communities: Vimeo, Flickr, Google Video and others that expand visibility of rich video and image content on the Internet
Blogs: A highly effective vehicle for content distribution and brand building when correctly targeted
New solutions such as the Ventana New Media Engine (NME) are emerging that enable companies to effectively leverage these channels, while reducing the time and resources required to support a new media program. The NME delivers a turnkey solution for publishing content across the Web, building communities for online lead generation, and gaining viral exposure that expands corporate presence and awareness among prospects, customers, partners and other key audiences.
"To best optimize the power of marketing through the Web, companies must understand how to leverage the multiple channels of social interaction and the way in which content flows across the Internet," said Joe Austin, president and cofounder of Ventana New Media. "Only those companies that can efficiently harness every channel -- including the myriad of social networks, news communities, blogs, microsites, and audio/video distributors -- will obtain the greatest business value from their online marketing programs."
To learn more, download the free white paper at Harnessing Six Channels of New Media for Long-Term Success.
Tweet This: @VentanaNewMedia white paper explains how to harness #newmedia channels to raise #searchrankings & Internet visibility
About Ventana New Media
Ventana New Media is the leader in integrated content marketing distribution for accelerated brand authority, lead generation and viral community building. The company's patent-pending New Media Engine (NME) is a powerful platform for SEO-powered content distribution across influential new media sites that simultaneously increases online brand presence and radically improves search engine rankings, lead generation and social community building. Ventana New Media gives enterprises a strategic message delivery solution that distributes content across a multitude of new media sites and harnesses the myriad of social networks, news communities, blogs, microsites and audio/video distributors. This allows organizations to rapidly expand corporate presence and increase awareness among prospects, customers and partners for long-term success and business value. For more information visit Ventana New Media at http://www.ventananewmedia.com.
Add to Digg Bookmark with del.icio.us Add to Newsvine
Media Contact
Ventana New Media
Kayleigh Rosenthal
(540) 422-3115
Email Contact


Copyright @ Marketwire
Page: 1
Related Keywords:
search engine optimization, SEO, lead generation, marketing, brand awareness, content marketing, USA, Marketwire, , Lifestyle, Internet Technology, Business, Internet, Other,
---