Vidyo and Hitachi Communication Technologies Join Forces
Hitachi Communication Technologies to Deliver Video Conferencing Product Line Based on Vidyo's Scalable Video Coding (SVC) Architecture
(November 03, 2008)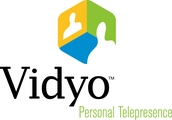 HACKENSACK, NJ -- (Marketwire) -- 11/03/08 -- Vidyo(TM), Inc., the first company to deliver personal telepresence, today announced that Hitachi Communication Technologies, Ltd. ("Hitachi Com") has entered into an agreement with Vidyo that enables them to incorporate Vidyo products and technology into their own high quality and cost-effective personal telepresence Hitachi Com offering. With VidyoTechnology(TM), Hitachi Com will deliver multi-point, HD quality video conferencing to room systems and desktops over converged IP networks.
"Hitachi Com has developed the products, powered by Vidyo's visual technology, that enable us to offer an integrated visual communication and IP telephony solution," said Yoshihiko Miyano, President and CEO, Hitachi Communication Technologies, Ltd. "We are committed to delivering high quality video communication solutions for enterprise markets, and with Vidyo's technology, we have built a video conferencing solution that is better than any MCU-based product, immediately giving us a leading position in this competitive market."
Hitachi Com has taken advantage of Vidyo's new video conferencing infrastructure architecture which removes the need for a transcoding MCU, thereby eliminating significant latency and improving the overall video conferencing experience. A VidyoRouter(TM) improves error resiliency and enables HD desktop video conferencing over converged IP networks such as the Internet. No longer are expensive ISDN or MPLS networks required.
"Hitachi Com's choice of our technology continues the trend among leading unified communications vendors," said Ofer Shapiro, CEO of Vidyo. "We are honored and excited that Hitachi Com is leveraging our products in its video conferencing business, demonstrating continued worldwide support of our video conferencing architecture based on the H.264/SVC standard."
The Importance of Vidyo's Scalable Video Coding
The new H.264/SVC protocol is a video compression standard that enables a video stream to be broken into multiple resolutions, quality levels and bit rates. Utilizing this capability and Vidyo's intellectual property, VidyoTechnology offers unprecedented error resiliency while eliminating the MCU. The VidyoRouter(TM) is the first video multipoint solution that can deliver rate matching and continuous presence capabilities without an additional video encode and decode. This unique capability allows for less than half of the end-to-end latency of MCU-based solutions. The VidyoRouter can support multiple resolutions and frame rates for every endpoint.
VidyoTechnology
VidyoTechnology provides end-to-end High Definition (HD) personal telepresence. Vidyo is the first company to offer OEMs the ability to license H.264/SVC based technology for use in building their future products. Until now, unified communications companies wanting to deliver video over converged IP networks have not had the necessary technology to provide high quality video conferencing over non-QOS IP networks. VidyoTechnology, the first commercial video conferencing implementation based on H.264/SVC, radically changes this scenario and offers equipment vendors and solution providers the ability to integrate better point-to-point and multipoint video communication capabilities into their broader-based offerings.
About Vidyo, Inc.
Vidyo, Inc., headquartered in Hackensack, NJ, is making personal telepresence a reality. Comprised of some of the industry's best engineers and researches, Vidyo has developed the first new video conferencing architecture in decades. Vidyo enables people to communicate effectively by using HD quality video from wherever they happen to be. VidyoConferencing is easy and affordable to use by anyone whenever they want, and deploys simply over any IP network. Leveraging Vidyo's unique intellectual property built upon the new H.264 Scalable Video Coding (SVC) standard, Vidyo delivers the industry's best resilience and lowest latency video conferencing over converged IP networks. Vidyo's technology for OEMs and end-to-end product solutions for organizations are able to support point-to-point and multi-point connections that include a variety of different platforms ranging from Mac & Windows desktops to dedicated room solutions. Learn more at www.vidyo.com.
About Hitachi Communication Technologies, Ltd.
Hitachi Communication Technologies, Ltd., headquartered in Tokyo, Japan, is a wholly owned subsidiary of Hitachi, Ltd. (NYSE: HIT) (TSE: 6501) Fiscal 2007 (ended March 31, 2008) sales totaled 103.528 billion yen ($916.5 million). The company develops, designs and manufactures a wide range of information and communication systems-related products. For more information, please visit the company's website at www.hitachi-com.com.
Contact:
Benita Kenn
PR Director
Vidyo, Inc.
benita@vidyo.com
650-906-3638


Copyright @ Marketwire
Page: 1
Related Keywords:
Vidyo, Inc., Office Equipment, Sales, Sales & Marketing, Internet, Business Issues, Architecture, Sales, Sales, Mac, OS9, OSX, Japan, Marketwire, Internet Technology, Business, Internet,
---