Vidyo Enables New Connexus Videoconferencing Service
"Connexus-on-Demand" Offers CSP Customers Next Generation Solution
(June 17, 2009)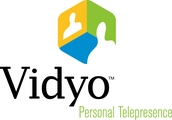 HACKENSACK, NJ -- (Marketwire) -- 06/17/09 -- Vidyo®, Inc., the first company to deliver personal telepresence, and Connexus, a videoconferencing services company based in Dallas, Texas, today announced that they have formed a strategic partnership to introduce Connexus-on-Demand, a new video conference service based upon Vidyo's award-winning technology. Connexus has been providing videoconferencing services since 1990, offering Public Room Access, Multi-Point Bridging, MCU Management, Equipment, Consulting, Scheduling Services, Internet Gateway Services, Web-Casting and Training. Vidyo is the first company to license technology and deliver products built upon an entirely new videoconferencing architecture that utilizes the most current video compression standard -- H.264/SVC.
"We have been providing videoconference services for 20 years throughout the world and have been searching almost that long for the ability to connect desktop and laptop computers to legacy systems such as Polycom and Tandberg," said Jonathan Schlesinger, CEO of Connexus. "With Vidyo, we can now do that, with the added benefit of superb quality videoconferencing. Our existing customers' responses have been extremely positive to this new paradigm."
Connexus-on-Demand
Connexus-on-Demand offers videoconferencing connectivity with outstanding quality between PC or Mac computers for up to 50 people in a single conference, and connectivity between computers and legacy systems including those using ISDN as a network protocol. Connexus-on-Demand subscriptions may be purchased for periods of three, six or twelve months. Premium users may connect directly with other users and invite guests and other users into Virtual Rooms for Multi-Point VidyoConferences(TM). Basic users can connect directly to other Basic users or Premium users, and can be invited to join a Multi-Point VidyoConference. Connections to legacy videoconferencing systems are provided on a reservation basis and costs are applied against allowances granted as part of the Connexus-on-Demand subscription. In addition to Subscriptions, Connexus also offers Virtual Rooms, Individual Events and Ad-Hoc Services for intermittent usage.
VidyoTechnology
VidyoTechnology(TM) is based on H.264/SVC -- a video compression standard that enables a video stream to be broken into multiple resolutions, quality levels and bit rates. Utilizing this capability and Vidyo's intellectual property, VidyoTechnology offers unprecedented error resiliency while eliminating the MCU. The VidyoRouter is the first video multipoint solution that can deliver rate matching and continuous presence capabilities without an additional video encode and decode. This unique capability allows for less than half of the end-to-end latency of MCU-based solutions. The VidyoRouter can support multiple resolutions and frame rates for every endpoint.
The Vidyo solution allows CSPs to reach a far larger customer base, independent of the type of broadband connection used, since Vidyo products don't require dedicated networks and can handle intense packet losses. The solution scales from a telepresence room to HD desktop video conferencing. Vidyo's portal-based technology provides sophisticated APIs that easily integrate with existing back office systems. Since the Vidyo model is based on annual license fees, it fits perfectly into a service provider's existing pricing structure.
"Vidyo's groundbreaking technology is the key to enabling Conference Service Providers such as Connexus with the ability to deliver the highest video quality over broadband Internet connections," said Ofer Shapiro, Vidyo's CEO. "Only Vidyo can provide the optimal, low latency, high quality solution to desktop users, while reserving transcoding to communication with legacy devices. By adopting VidyoTechnology, Connexus is now solidly positioned to capture significant market share and open new market segments easily and quickly."
About Connexus
Connexus, Inc., based in Dallas, Texas, is a Videoconference Services company offering Public Room Access, Multi-Point Bridging, MCU Management, Equipment, Consulting, Scheduling Services, Internet Gateway Services, Web-Casting and Training. Connexus has been in the videoconferencing business since 1990 and is exclusively engaged in providing Videoconferencing Services. For further information please contact us: [email protected] or call +1-214-443-2600 (Toll-Free 800-938-8888).
About Vidyo, Inc.
Vidyo, Inc. is making personal telepresence a reality. Personal telepresence enables anyone, anywhere and at any time to communicate in multi-party video conferences using a personal computer, with HD quality over converged IP networks. Leveraging its patented technologies built on the new H.264 Scalable Video Coding (SVC) standard, Vidyo delivers the industry's best error resilience and lowest latency videoconferencing over the Internet and general-purpose networks. Vidyo's technology for OEMs and end-to-end product solutions for enterprises support point-to-point and multi-point connections that include a variety of different platforms ranging from Mac & Windows desktops to dedicated room solutions. Vidyo has achieved international recognition, and industry accolades including a DemoGod award, Best of Interop, and Frost & Sullivan's 2009 Conferencing and Collaboration Product of the Year for its ground-breaking technology. Based in Hackensack, New Jersey and founded in 2005, Vidyo is backed by top tier venture capital investors, including Menlo Ventures, Sevin Rosen Funds, Rho Ventures, and Star Ventures. Learn more at www.vidyo.com.
Benita Kenn
PR Director
Vidyo Inc.
[email protected]
650-906-3638


Copyright @ Marketwire
Page: 1
Related Keywords:
video conferencing, videoconferencing, H.264/SVC, telepresence, conferencing service provider, Computers/Peripherals, Internet, Computer, Notebook/Laptop, Broadband, Computers/Home Office, Web, Notebooks, Apple, Networks, Training, Video, Office Equipment, Computers, Computer Technology, Internet, Business Issues, Architecture, Management, CEO/CFO, Pro AV, Management, Computers/Peripherals, Internet/Web, Business, Computer, Workstation/CPU, Network (LAN), Notebook/Laptop, Internet, Broadband, Mac, OS9, OSX, Marketwire, Inc., Interop Attendees, Internet Technology, Business, Internet, Other,
---