Vidyo Chosen for Use in Nigeria's First Video Conferencing "On-Demand" Service
Emperion Unveils Concept of Video Conferencing "Kiosks" Throughout Country -- Using VidyoTechnology
(September 02, 2008)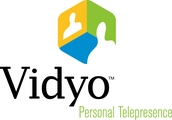 HACKENSACK, NJ -- (Marketwire) -- 09/02/08 -- Vidyo(TM), Inc., the first company to deliver personal telepresence, today announced that Emperion, a leading provider of broadband IP communications solutions, has chosen to deploy VidyoTechnology(TM) for the first implementation of a video conferencing on-demand service in Nigeria. It is anticipated that the introduction of this video conferencing service will be a tremendous boon to Nigerian businesses, helping corporate institutions, multi-nationals and small businesses reduce business travel -- saving cost and time.
"Vidyo's ground breaking technology has enabled us to pioneer this exciting new offering," said Mr. Sandeep Jayaswal, Managing Director of Emperion West Africa. "Given Nigeria's infrastructural challenges, we expect the practice of video conferencing to greatly help businesses maximize returns on their investments. They can now schedule and hold meetings with multiple business partners from any part of the world, right from the comfort of their individual locations."
Additionally, plans are underway for making high quality and affordable video conferencing services available to Nigeria's citizens at large. Emperion is undertaking a project that would utilize VidyoTechnology to create video conferencing "kiosks" in highly populated areas of the country, where anyone could make or receive a video conference call from Emperion Video Zone Franchise. Emperion is taking this technology through its franchisees all over the country.
Vidyo's groundbreaking new technology is the key to enabling service providers such as Emperion to leverage compelling cost, quality and deployment advantages over those using traditional MCU-based video conferencing technologies. It also allows them to reach a far larger customer base since Vidyo products don't require dedicated networks. The solution scales from a telepresence room to HD desktop video conferencing. Vidyo's portal-based technology provides sophisticated APIs that easily integrate with existing back office systems. Since the Vidyo model is based on annual license fees, it fits perfectly with a service provider's existing pricing structure.
"With the Vidyo solution, service providers such as Emperion are able to deliver personal telepresence utilizing the same infrastructure for both their desktop and room video conferencing services," said Ofer Shapiro, CEO of Vidyo. "Because this high quality solution is delivered over the Internet, Emperion can offer a much larger group of customers outstanding Vidyo-based services at much lower operating costs."
Vidyo launched the VidyoConferencing(TM) product family in January of this year. It is the world's first scalable coding enabled video conferencing system. Vidyo is the first company to license technology and deliver products built upon an entirely new video conferencing architecture that utilizes the recently approved H.264/SVC video compression standard. It delivers unparalleled video quality over unreliable networks including the Internet.
About Vidyo, Inc.
Vidyo, Inc., headquartered in Hackensack, NJ, is making personal telepresence a reality. Comprised of some of the industry's best engineers and researchers, Vidyo has developed the first new video conferencing architecture in decades. Vidyo enables people to communicate effectively by using HD quality video from wherever they happen to be. VidyoConferencing is easy and affordable to use by anyone whenever they want, and deploys simply over any IP network. Leveraging Vidyo's unique intellectual property built upon the new H.264 Scalable Video Coding (SVC) standard, Vidyo delivers the industry's best resilience and lowest latency video conferencing over converged IP networks. Vidyo's technology for OEMs and end-to-end product solutions for organizations are able to support point-to-point and multi-point connections that include a variety of different platforms ranging from Mac & Windows desktops to dedicated room solutions. Learn more at www.vidyo.com.
About Emperion
Emperion, a foremost broadband service provider, designs, deploys, operates and maintains broadband IP communication solutions and services based on digital satellite (VSAT), fixed wireless access (FWA) and fiber networks. Emperion is head quartered in Copenhagen and has its subsidiaries in Nigeria and UAE. The solutions are targeted at enterprise class customers and are deployed to a rapidly growing client portfolio in more than 30 countries.
Contact:
Benita Kenn
PR Director
Vidyo Inc.
benita@vidyo.com
650-906-3638


Copyright @ Marketwire
Page: 1
Related Keywords:
Vidyo, Inc., Internet, Business Issues, Architecture, Mac, OS9, OSX, Africa, Marketwire, Internet Technology, Business, Internet, Family,
---