Vidyo Chosen by Chardin for First Personal Telepresence Conferencing Service Available in France
New Generation of Conferencing Services, Targeting the French Enterprise and Education Markets, Based Exclusively on the Vidyo Solution
(September 17, 2008)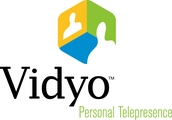 HACKENSACK, NJ -- (Marketwire) -- 09/17/08 -- Vidyo(TM), Inc., the first company to deliver personal telepresence, today announced that Chardin, an innovative provider of IP Conferencing services based in Paris, has chosen to deploy VidyoTechnology(TM) for its new generation of video conferencing services. Chardin is planning to capture a significant market share in France by providing a new service that will make "personal telepresence" available via the Internet for a very affordable monthly fee to any PC or Mac user.
"Vidyo is a revolution!" said Mr. Patrick Chardin, Managing Director of Chardin Sarl. "With the new technology offered by Vidyo, we are able to deliver a very affordable service without compromising on quality or mobility. Telepresence should not have to be a luxury. Our customers can use it even from their laptops connected to the Internet across shared LAN, WiFi or 3G+ Mobile networks in the middle of Paris! We are amazed at the quality of the experience. It is rapidly becoming a key business tool for users and it's a simple, obvious choice, as the initial investment is negligible."
France has the second largest broadband Internet market in Europe with more than 16 Million broadband internet connections deployed. Given that the French government recently announced plans to make broadband Internet accessible to 100% of the country's population within the next 4 years with the use of both land lines and wireless technologies, this market will soon expand even further.
Vidyo's groundbreaking new technology is the key to enabling Conferencing Service Providers (CSPs) with the ability to deliver the highest video quality over broadband Internet connections. Increasingly, those connections include not only WiFi, but also 3G+ GSM. When addressing the European business community, mobility is a key factor that must be delivered without any compromise to video quality.
The Vidyo solution allows CSPs to reach a far larger customer base, independent of the type of broadband connection used, since Vidyo products don't require dedicated networks and can handle intense packet losses. The solution scales from a telepresence room to HD desktop video conferencing. Vidyo's portal-based technology provides sophisticated APIs that easily integrate with existing back office systems. Since the Vidyo model is based on annual license fees, it fits perfectly into a service provider's existing pricing structure.
"Europe is a key market where the mix of fixed line and wireless broadband access makes the need for SVC (scalable video coding) techniques even more obvious," said Ofer Shapiro, Vidyo's CEO. "Only H.264 SVC can deliver HD quality on both types of infrastructures. The fact that five CSPs in EMEA have already made the decision to base their new offerings on Vidyo technology, and have made significant investments, provides a good sense of the adoption rate we are experiencing with this technology. We strongly believe that early adopters such as Chardin will be positioned to very quickly capture significant market share and open new market segments."
Vidyo launched the VidyoConferencing product family in January of this year. It is the world's first scalable coding enabled video conferencing system. Vidyo is the first company to license technology and deliver products built upon an entirely new video conferencing architecture that utilizes the recently approved H.264/SVC video compression standard. It delivers unparalleled video quality over unreliable networks including the Internet.
About Vidyo, Inc.
Vidyo, Inc., headquartered in Hackensack, NJ, is making personal telepresence a reality. Comprised of some of the industry's best engineers and researchers, Vidyo has developed the first new video conferencing architecture in decades. Vidyo enables people to communicate effectively by using HD quality video from wherever they happen to be. VidyoConferencing is easy and affordable to use by anyone whenever they want, and deploys simply over any IP network. Leveraging Vidyo's unique intellectual property built upon the new H.264 Scalable Video Coding (SVC) standard, Vidyo delivers the industry's best resilience and lowest latency video conferencing over converged IP networks. Vidyo's technology for OEMs and end-to-end product solutions for organizations are able to support point-to-point and multi-point connections that include a variety of different platforms ranging from Mac & Windows desktops to dedicated room solutions. Learn more at www.vidyo.com.
About Chardin
Chardin is a rapidly growing Video Conferencing Service Provider and Integrator based in Paris. Chardin bases its strategy on quality and affordability by selecting technologies requiring low operating costs and excellent reliability. Learn more at www.chardin.fr.
Contact:
Benita Kenn
PR Director
Vidyo Inc.
[email protected]
650-906-3638


Copyright @ Marketwire
Page: 1
Related Keywords:
Vidyo, Inc., Education,Internet,Business Issues,Architecture,Mac,OS9,OSX,France,Marketwire,Communications Technology,Internet Technology,Business,Internet,Family,
---