Vidyo Awarded Frost and Sullivan's 2009 Product of the Year for Conferencing and Collaboration
(January 21, 2009)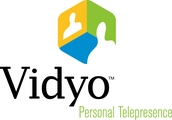 HACKENSACK, NJ -- (Marketwire) -- 01/21/09 -- Vidyo(TM), Inc., the first company to deliver personal telepresence, today announced that it has been awarded the 2009 Frost & Sullivan Product of the Year Award in the North American Conferencing and Collaboration Market. The award recognizes Vidyo's achievement in introducing a new line of video conferencing products which leverages a revolutionary new standard (H.264/SVC) that is quickly gaining market acceptance.
The Frost & Sullivan Award for Product of the Year is presented each year to the company that has demonstrated excellence in new product development. The recipient company is typically recognized for launching a broad line of emerging products and technologies, with the degree of innovation, competitive advantage, and marketplace acceptance playing major roles in the decision process.
"By successfully introducing a new line of products, Vidyo is addressing new and emerging areas of opportunity and breaking the barriers to wide-scale video deployments," said Frost & Sullivan Industry Analyst Krithi Rao. "VidyoConferencing(TM) is expected to bolster Vidyo's position in the market as desktop video becomes an important component of unified communications (UC)."
"We are honored that Frost & Sullivan considers VidyoConferencing(TM) as the most important innovation to be launched in the video conferencing market this year," said Ofer Shapiro, Vidyo CEO. "Our HD desktop video conferencing and room system solutions address one of the fastest growing market opportunities today: the strong demand from organizations to deploy HD video conferencing for all of their employees to use, in both rooms and desktops, using shared networks, while maintaining a top quality user experience. This award communicates to those considering video conferencing solutions in 2009 that Vidyo must be on their short list and further validates the importance of H.264 SVC as the new standard for high quality video communications."
The Frost & Sullivan recognition is based on Vidyo's ability to provide "videoconferencing technology that facilitates the delivery of ubiquitous, high-quality, High Definition (HD) videoconferencing, even when using a public IP network."
Among the highlights cited in the award proclamation are:
Significance of a New Product in its Industry -- Vidyo's architecture, that uses Scalable Video Coding (SVC), enables applications to dynamically adapt to varying network conditions such as packet loss, fluctuating network bandwidth, and network delay. Accordingly, this approach has the potential to remove the barrier to large-scale adoption of video. In addition, SVC helps enable videoconferencing solutions to deliver an optimal experience across endpoints of different resolutions.
Product Innovation to Address Market Needs -- Vidyo's new and unique architecture for video conferencing based upon routing encoded packets to deliver rate-matching while adapting to bandwidth fluctuations, allows the elimination of transcoding for a multipoint conference.
Competitive Advantage in the Industry -- Vidyo's products and technology positively impact the overall videoconferencing market but more specifically the desktop videoconferencing software market -- a segment with significant potential that has never taken off. The current breed of MCU-based video conferencing solutions become economically inefficient when desktop video is extended to a large number of users. On the other hand, although there is a slew of new Internet-based videoconferencing offerings on the market, these are typically unable to deliver HD resolution and frequently do not interoperate with the existing room systems. Vidyo's technology allows participants to join conferences from anywhere, on any system and any connection.
The full Frost & Sullivan write-up on Vidyo, issued in conjunction with this Award, can be found at: www.vidyo.com.
About Frost & Sullivan
Frost & Sullivan, the Growth Partnership Company, enables clients to accelerate growth and achieve best in class positions in growth, innovation and leadership. The company's Growth Partnership Service provides the CEO and the CEO's Growth Team with disciplined research and best practice models to drive the generation, evaluation and implementation of powerful growth strategies. Frost & Sullivan leverages over 45 years of experience in partnering with Global 1000 companies, emerging businesses and the investment community from 31 offices on six continents. To join our Growth Partnership, please visit http://www.frost.com.
About Vidyo, Inc.
Vidyo, Inc., headquartered in Hackensack, NJ, is making personal telepresence a reality. Comprised of some of the industry's best engineers and researchers, Vidyo has developed the first new video conferencing architecture in decades. Vidyo enables people to communicate effectively by using HD quality video from wherever they happen to be. VidyoConferencing is easy and affordable to use by anyone whenever they want, and deploys simply over any IP network. Leveraging Vidyo's unique intellectual property built upon the new H.264 Scalable Video Coding (SVC) standard, Vidyo delivers the industry's best resilience and lowest latency video conferencing over converged IP networks. Vidyo's technology for OEMs and end-to-end product solutions for organizations are able to support point-to-point and multi-point connections that include a variety of different platforms ranging from Mac & Windows desktops to dedicated room solutions. Learn more at www.vidyo.com.
Contact:
Benita Kenn
PR Director
Vidyo, Inc.
[email protected]
650-906-3638


Copyright @ Marketwire
Page: 1
Related Keywords:
Vidyo, Inc., Applications,Business Issues,Mac,OS9,OSX,Marketwire,Other,
---