VeriSign Wins Information Security Magazine and SearchSecurity.com 2009 Readers' Choice Award in "Best Authentication Products" Category
(October 02, 2009)

MOUNTAIN VIEW, CA -- (Marketwire) -- 10/02/09 -- VeriSign, Inc. (NASDAQ: VRSN), the trusted provider of Internet infrastructure services for the networked world, today announced that its VeriSign® Identity Protection (VIP) Authentication Service received the "Gold" award in the "Best Authentication Products" category of the Information Security(TM) magazine and SearchSecurity.com(TM) 2009 Readers' Choice Awards.
VIP Authentication Service was awarded the "Gold" as respondents lauded its secure credentials and scalability. VIP Authentication Service enables organizations to rely on a strong authentication solution delivered as a service, featuring a flexible choice of credentials and up to 40 percent total cost of ownership (TCO)* savings on capital expenditures and operational costs over on-premise solutions. Available credentials include stand-alone tokens, such as traditional football-shaped security tokens, credit card-sized form factors, SMS codes for mobile phones and client-based software for smart phone devices.
The mobile software option, called VIP Access for Mobile, enables leading mobile phones to generate the unique one-time password (OTP) that is key to two-factor authentication. This extra layer of security protects enterprise employees remotely accessing company networks, or consumer or B2B customers signing on to Web sites and networks. VIP Access for Mobile currently runs on more than 200 different mobile devices and is rapidly becoming a must-have mobile application. And because users can easily download the software onto their smart phones like any other application, organizations can bypass the implementation and lifecycle challenges of issuing and managing credentials for a large audience of consumer users.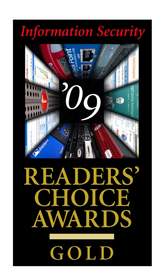 "We are honored to be selected as a winner of the highest distinction, especially given the user-driven nature of the award process," said Kerry Loftus, vice president of User Authentication at VeriSign. "We're pleased to be recognized by the end-user community and will continue to provide solutions that allow companies and consumers all over the world to engage in trusted online communications and commerce."
The categories and product lists were determined by the editors and a survey was sent to Information Security magazine and SearchSecurity.com's subscriber base. A record 1,721 voters participated in the 2009 Readers' Choice Awards, rating 380 products and services in 17 different categories. Winners were based on the cumulative weighted responses for each product category criteria. Editors arrived at a product's overall score by calculating the average score it received for each criterion, applying the weighted percentage and adding the adjusted scores.
Information Security magazine and SearchSecurity.com editors used these scores to select the Gold, Silver, and Bronze award winners for the security industry's best products.
This latest award continues what has been an impressive year for the VIP Authentication Service. In addition to the Information Security magazine and SearchSecurity.com 2009 Readers' Choice Gold Award, VIP has been recognized with many prestigious awards and recognitions including eWeek Product to Watch for 2009 (VIP Access for Mobile) and the 2009 Network Products Guide Award in the Best in Multi- and Second-Factor Authentication category (VIP Access for Mobile).
About Information Security
Information Security is the enterprise security and risk managers' leading source of critical, objective information on strategic and practical security issues. Information Security's team of veteran security journalists and experts break down the security problems challenging enterprises and provide practical resolutions. Its in-depth, comprehensive reports and analyses provide security managers -- department managers to CXOs -- with the tools, knowledge and information they need to make informed decisions about how to safeguard their enterprises, comply with regulations and standards, and reduce risk. The publication's analysis of technology and products provide a guide for budgeting and purchasing decisions and trends reports, case studies and industry-leading exposes offers security managers insight into how their peers are addressing and solving key security issues. Information Security is an indispensable guide for any security manager and executive charged with protecting information assets and reducing risk.
About SearchSecurity.com
More then 800,000 IT security pros turn to SearchSecurity.com for the information they require to keep their corporate data and assets secure. We're the only online information resource that provides immediate access to breaking industry news, virus alerts, webcasts, white papers, security schools, a selection of highly focused security e-newsletters and more -- all at no cost. Nowhere else will you find such a highly targeted combination of resources specifically dedicated to the success of today's IT-security professional.
Headquartered in Needham, MA, SearchSecurity.com is part of the TechTarget® network (www.techtarget.com). TechTarget publishes integrated media that enable information-technology (IT) marketers to reach targeted communities of IT professionals and executives in all phases of the technology decision-making and purchase process.
About VeriSign
VeriSign, Inc. (NASDAQ: VRSN) is the trusted provider of Internet infrastructure services for the networked world. Billions of times each day, VeriSign helps companies and consumers all over the world engage in communications and commerce with confidence. Additional news and information about the company is available at www.verisign.com.
*Two-Factor Authentication: A Total Cost of Ownership Viewpoint by VeriSign, April 2005. The complete whitepaper can found at: http://www.verisign.com/static/029263.pdf
Statements in this announcement other than historical data and information constitute forward-looking statements within the meaning of Section 27A of the Securities Act of 1933 and Section 21E of the Securities Exchange Act of 1934. These statements involve risks and uncertainties that could cause VeriSign's actual results to differ materially from those stated or implied by such forward-looking statements. The potential risks and uncertainties include, among others, the uncertainty of future revenue and profitability; potential fluctuations in quarterly operating results due to such factors as the risk that VeriSign's announcements may not result in additional products, services, customers, profits or revenues; and increased competition and pricing pressures. More information about potential factors that could affect the company's business and financial results is included in VeriSign's filings with the Securities and Exchange Commission, including in the company's Annual Report on Form 10-K for the year ended December 31, 2008 and quarterly reports on Form 10-Q. VeriSign undertakes no obligation to update any of the forward-looking statements after the date of this press release.
©2009 VeriSign, Inc. All rights reserved. VeriSign, the VeriSign logo, the Checkmark Circle logo, and other trademarks, service marks, and designs are registered or unregistered trademarks of VeriSign, Inc., and its subsidiaries in the United States and in foreign countries. TechTarget and the TechTarget logo are registered trademarks of TechTarget, Inc. All other trademarks are property of their respective owners.
Image Available: http://www2.marketwire.com/mw/frame_mw?attachid=1078198

Contacts
Media Relations:
Chris Halcon
chalcon@verisign.com
650-426-4417

Investor Relations:
Nancy Fazioli
ir@verisign.com
650-426-5146


Copyright @ Marketwire
Page: 1
Related Keywords:
mobile security, identity management, iphone, blackberry, authentication, Internet, Digital Media Software, Communications, Digital Audio, Web, PDA, iPods, iphone, Security, USA, Marketwire, Inc., IT (Information Technology), Security, Apple Computer, Financial, Gold, Silver, Internet Technology, Business, Internet, Other,
---