Venture Capitalist Ed Sim Joins IZEA Board of Directors
Mr. Sim to Serve on Compensation and Nominating Committees
(June 11, 2012)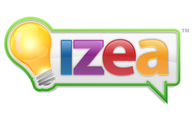 ORLANDO, FL -- (Marketwire) -- 06/11/12 -- IZEA, Inc. (PINKSHEETS: IZEA) (OTCQB: IZEA), announces the addition of Ed Sim, Founder of BOLDstart Ventures, to its Board of Directors, joining Ted Murphy and Donna Mackenzie. Mr. Sim is the first in a series of new board members the company plans to announce in coming months.
"Ed is an experienced Internet and software visionary with a remarkable ability to identify big opportunities at early-stage companies," said Ted Murphy, CEO of IZEA. "He is recognized for his thought-leadership in the space and will be instrumental as IZEA focuses on growth. Ed's network of personal and professional contacts in the digital marketing world are unmatched -- he has already been a valuable asset to IZEA as a friend and we're thrilled to have him officially join the company."
Mr. Sim, age 41, has over 16 years of venture capital experience having led seed and first round investments in a number of high profile Internet and software companies. He started his venture capital career in 1996 with Prospect Street Ventures, co-founded Dawntreader Ventures in 1998 and founded BOLDstart Ventures in 2010. Prior to becoming involved in venture capital Mr. Sim was an investment analyst at JP Morgan.
He is a former director of Answers Corporation; Greenplum (acquired by EMC), GoToMyPC/GoToMeeting (acquired by Citrix), Moreover Technologies (acquired by Verisign), LivePerson, Gizmo5 (acquired by Google), and Flashbase (acquired by DoubleClick).
Mr. Sim holds a Bachelor of Arts from Harvard College and is a certified financial analyst. He was selected to serve as a member of IZEA's board of directors due to his extensive background and experience in capital markets, corporate growth and M&A. He will serve on the compensation and nominating committees.
"I have been following IZEA and its management team for some time and look forward to being part of the company as an independent member on the Board of Directors," said Mr. Sim. "I hope to help the company leverage its diverse portfolio of technology assets and maximize the value of the IZEA network."
"We are thrilled that Ed shares our vision and passion for the social space," said Donna Mackenzie, Chief Financial Officer, IZEA. "He will be a tremendous asset to the company as we grow and evaluate strategic opportunities."
About IZEA
IZEA, Inc. ("IZEA") is the world leader in social media sponsorship, operating multiple marketplaces including Staree, WeReward, SponsoredTweets and SocialSpark. IZEA connects advertisers with social media publishers, helping them monetize their social media presence. The company has completed over three million social media sponsorships for customers ranging from small local businesses to Fortune 50 organizations. For more information about IZEA, visit www.izea.com.
Safe Harbor Statement
This press release contains forward-looking statements within the meaning of Section 21E of the Securities Exchange Act of 1934. These forward-looking statements are based largely on IZEA's expectations and are subject to a number of risks and uncertainties, certain of which are beyond IZEA's control. Actual results could differ materially from these forward-looking statements as a result of, among other factors, competitive conditions in the social media sponsorship segment in which IZEA operates, failure to popularize one or more of the marketplace platforms of IZEA and general economic conditions that are less favorable than expected. In light of these risks and uncertainties, there can be no assurance that the forward-looking information contained in this respect will in fact occur. Please read the full statement and disclosures here: http://izea.com/safe-harbor-statement/.
IZEA, Inc.
Jennifer P. Brown
Email Contact
248-376-8079


Copyright @ Marketwire
Page: 1
Related Keywords:
IZEA, Marketwire, Inc., Financial, Internet Technology, Internet, Other,
---