Venstar's New iPhone and iPad Application for Surveyor Energy Management System Helps Small-Box Retailers Go Green With Remote View and Control of Stores' Energy Usage
(May 18, 2011)

CHATSWORTH, CA -- (Marketwire) -- 05/18/11 -- Venstar®, a leading thermostat and energy management systems supplier, today announced the launch of Surveyor® Mobile for iPhone® and iPad®, a mobile application specifically designed for use with Venstar's Surveyor Energy Management System (EMS). With Surveyor Mobile for iPhone and iPad, small-box retail chains and other multi-location businesses can go green with unprecedented visibility into their stores' energy systems, all from their iPhone smart phones and iPads. With Surveyor Mobile for iPhone and iPad, users can remotely access, view and control their stores' energy usage via the Surveyor EMS system from virtually anywhere there is cellular or Internet coverage. It is available at no cost to Surveyor users. Mega retail chain Family Dollar is among the early adopters of Surveyor Mobile.
"Surveyor Mobile for the iPhone and iPad helps us go green when we're on the go, giving us an unprecedented view and control of our stores' energy usage and systems," said Marilyn M. Morse, vice president of facilities management for Family Dollar. "For example, using my iPad, I can immediately see if there is an issue with a store's heating, air conditioning or lighting systems and can decide on a course of action, such as sending out a repairman. In my role, I travel a lot. With Surveyor Mobile, I can take the power of Surveyor with me wherever I go."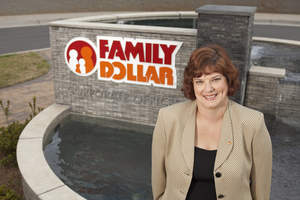 Designed for small-box retail chains, Surveyor is installed in more than 13,000 locations throughout North America. With Surveyor, retail chains typically save millions of dollars annually in energy costs -- with CO2 reductions equivalent to taking tens of thousands of cars off the road -- while realizing a quick return on investment (ROI).
The Surveyor Mobile application for iPhone and iPad puts store energy usage information and control in the user's hand, including a wide range of location details including weather forecasts and utility information. In addition, the user can customize the application to show the details they want to see and hide what they don't need to view. The Surveyor Mobile application for iPhone and iPad also provides the ability to view or make changes to energy-using equipment in real-time, such as performing remote testing on an air conditioning system or adjusting store lighting.
"With the Surveyor Mobile application for iPhone and iPad, Surveyor users have a remote view into their stores' energy usage and a powerful tool to better manage maintenance expenses while on the go," said Steve Dushane, president and CEO of Venstar Inc. "Surveyor Mobile literally puts business intelligence in the palm of your hand."
About Surveyor EMS
Surveyor empowers small-box retailers and other multi-location businesses to remotely monitor, control and manage their HVAC and lighting/electrical and mechanical systems in all their stores, giving them unprecedented visibility into their energy usage. Designed specifically for small-box retail chains with hundreds to thousands of locations, Surveyor provides powerful energy management tools for energy and facility managers responsible for managing multi-location companies.
Benefits include:
A single person can remotely control energy usage for thousands of stores using a desktop computer, laptop, telephone, iPhone, or iPad.
Authorized users can make automatic and on-demand changes to HVAC, lighting, electrical and mechanical systems.
Users can make global changes to stores, by state or region, or can make changes to individual stores, allowing for optimal store temperatures and lighting, resulting in energy savings and comfort for customers and employees.
Users can adjust HVAC, lighting/electrical and mechanical systems to meet specific store or regional requirements, resulting in dramatic energy cost savings.
Custom, standard and exception reporting, along with real-time live views into stores, gives users increased business intelligence about their stores' HVAC, lighting/electrical and mechanical systems.
Extensive data mining, diagnostics, and analysis empower users to manage their stores by a variety of criteria, including weather conditions.
Surveyor can also send out automatic customized email reports that allow designated executives and regional managers to know the energy usage and condition of the equipment at their stores.
Exception reporting helps identify any stores that are unusually warm or cool inside. This can indicate problem areas, including malfunctioning or broken equipment. By being able to proactively service and repair equipment, facilities managers are able to reduce maintenance costs while ensuring a minimum of down time.
User-defined security levels provide effective company-wide access to the system without compromising security.
How Surveyor Works
Each piece of the user's energy-consuming equipment has installed sensors that communicate to the user's Surveyor system via the Internet. The sensors can be added to virtually any manufacturer's equipment, allowing users to retrofit their existing equipment without buying new equipment. Some of the biggest manufacturers in HVAC, including Carrier and York, have Surveyor controls available as a factory-installed option. For added flexibility for mobile users, the Surveyor Mobile application for iPhone and iPad provides users the ability to monitor and control the Surveyor system on the go.
Availability
Venstar sells its Surveyor Energy Management System direct to its customers. For more information, visit: www.venstar.com/surveyor.
Email: sales@venstar.com
Telephone: 818-812-9930
About Venstar Inc.
Founded in 1992, Venstar Inc. is a leading thermostat and energy management system (EMS) supplier, known for providing value to its customers via ease of use and installation, proven cost savings, improved energy efficiency, quality and reliability. Venstar's Surveyor is a leading energy management system, typically saving small-box retailers 25 percent of their energy costs, which translates to millions of dollars in savings and dramatic reductions in C02 emissions. Surveyor currently controls the energy usage of more than 13,000 retail locations across the United States, Mexico, Puerto Rico, and Canada. Venstar is one of the largest thermostat suppliers in the world and designs and produces Venstar-branded products, as well as OEM thermostat products for the biggest names in HVAC.
Web site: www.venstar.com
Image Available: http://www2.marketwire.com/mw/frame_mw?attachid=1615760

Add to Digg Bookmark with del.icio.us Add to Newsvine
PR Contacts:

Teri Sawyer
T&Co.
714-536-8407
Email Contact

Stacey Doss
T&Co.
949-285-2362
Email Contact


Copyright @ Marketwire
Page: 1
Related Keywords:
Surveyor, Venstar Inc., EMS, energy management systems, retail remote energy management, Canada, USA, Marketwire, Inc., Apple Computer, Communications Technology, Internet Technology, Business, Internet, Email, mexico, Family, Other,
---