Venstar's New GuestStat Thermostat Reduces Energy Costs by Heating or Cooling Only When Hotel Rooms Are Occupied
GuestStat Features an Attractive Slim Profile, Easy-to-Read Display and Ultra-Simple Operations
(March 01, 2012)

CHATSWORTH, CA -- (Marketwire) -- 03/01/12 -- Venstar®, a leading thermostat and energy management systems supplier, today announced the availability of its new GuestStat thermostat, which can substantially lower energy costs by heating or cooling hotel rooms only when they are occupied. Now available throughout the United States and Canada, GuestStat Model T10051FS features an easy-to-read, continuously lit Electro-luminous display and ultra-simple operation, all in a sleekly styled architectural wall design. Estimated street price starts at $60.
"Venstar's GuestStat helps hotels and motels reduce energy costs while keeping hotel rooms comfortable for their guests," said Steve Dushane, president and CEO of Venstar Inc. "By linking into nearly any motion or door sensor, GuestStat identifies when a room is occupied and when it is not and adjusts the heating and cooling to the off position or preset limits. GuestStat also has a built-in time-period program, so it can serve as a stand-alone thermostat if there are no other motion or door sensors in the room."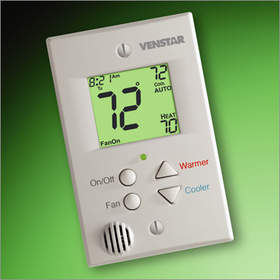 GuestStat features include:
Motion or door sensor-based heating and cooling, which ensures reduced energy usage when rooms are unoccupied and comfortable temperatures when rooms are occupied

Heating or cooling is turned off or set to preset limits when hotel room is unoccupied to save energy costs;
Heats or cools to preset limits only when hotel room is occupied during daytime and evening hours;
Heats or cools for 30 minute increments during daytime and evening hours when it senses that the room is occupied, accommodating cleaning and maintenance crews, when used with a motion or door sensor;
For nighttime hours, the system assumes that the occupant has come in to sleep for the night and leaves the system on until morning when the guest leaves, when used with a motion or door sensor;
Anytime day or night, the system will heat or cool whenever it senses the room is occupied, when used with a motion or door sensor;
Compatible with a wide range of motion and door sensors;
Operates via on-board dry contact with the motion or door sensor(s) to force thermostat into occupied/unoccupied status;
Auto changeover with one-day program designed specifically for hotels;

Ultra-simple usage with on/off button and configurable display that shows as much or as little information as desired by the hotel

Continuously lit Electro-luminous display for easy view of system status;
At-a-glance red/green LED indicator, which shows whether the system is heating or cooling;
Hidden setpoint limiting;
Thermostat locking to allow setpoints to be adjusted only by authorized individuals (when this feature is turned on);
Maintains temperature within 1 percent of setpoint;
Includes security cover;

Sleek styling that looks attractive in any hotel room décor

Low-profile design that fits flat to wall for an attractive, unobtrusive look, including bracket for drywall installation;

Non-volatile programming back-up

Programming and setpoints are stored in non-volatile memory, so they are never lost in the case of a power failure;

System compatibility

Up to two-stage heat and two-stage cool or three-speed fan for use with fan coil, gas/electric, heat pump, electric and hydronic heating systems; and
Five-minute compressor time guard and cycle limit, which are adjustable to allow equipment servicing.
Availability
Venstar sells the GuestStat thermostat via a U.S. and Canadian distribution network with thousands of contractors. For more information, visit: http://www.venstar.com/Thermostats/
Email: sales@venstar.com
Telephone: 818-812-9930
About Venstar Inc.
Founded in 1992, Venstar Inc. is a leading thermostat and energy management system (EMS) supplier, known for providing value to its customers via ease of use and installation, proven cost savings, improved energy efficiency, quality and reliability. Venstar is one of the largest thermostat suppliers in the world and designs and produces Venstar-branded products, as well as OEM thermostat products for the biggest names in HVAC. Venstar's Surveyor is a leading energy management system, typically saving small-box retailers 25 percent of their energy costs, which translates to millions of dollars in savings and dramatic reductions in C02 emissions. Surveyor currently controls the energy usage of more than 13,000 retail locations across the United States, Mexico, Puerto Rico, and Canada.
Web site: www.venstar.com
Image Available: http://www2.marketwire.com/mw/frame_mw?attachid=1905115

Add to Digg Bookmark with del.icio.us Add to Newsvine
PR Contacts:

Teri Sawyer
T&Co.
714-536-8407
Email Contact

Stacey Doss
T&Co.
949-285-2362
Email Contact


Copyright @ Marketwire
Page: 1
Related Keywords:
GuestStat, Venstar Inc., energy management systems, digital thermostats, hotel thermostat, FlatStat, Canada, USA, Marketwire, Inc., , Internet Technology, mexico, Other,
---