Vancouver Visionary and Social Activist Launches His New Book, The Modern Thinker
The world is changing every day; what is your part in making a difference?
(December 29, 2011)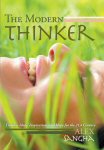 DELTA, BRITISH COLUMBIA -- (Marketwire) -- 12/30/11 --
Editors note: There is one photo associated with this press release.
Everyday, around the globe, events are unfolding that have a direct or indirect impact on one's life. Social worker and human rights activist Alex Sangha covers thought-inspiring subjects that range from compassionate capitalism and government debt, to Canadian immigration policies, Quebec secession, and an aboriginal parliament, not to mention a refreshing take on spirituality, in his new book, The Modern Thinker: Timeless Ideas, Inspiration, and Hope for the 21st Century.
Says Alex of his book, "We who are lucky to have been born or raised in Canada face a fraction of the economic, political, social, moral, religious, and sexual issues that affect others around the world. Yet there is a synergy between all things past and present and our actions today will define our lives tomorrow."
The Modern Thinker is peppered with relevant, real-life stories and anecdotes, and is written in an easy to read style that appeals to everyone, from the hard-core activist to the layperson on the street. It is crafted in a textbook format with resources, discussion chapters, and space to jot down notes. A follow-up book consisting of readers ideas, beliefs, and values is in the planning stages.
Says Jenny Uechi, Managing Editor of the Vancouver Observer, "Alex Sangha has an impressively broad range of knowledge on issues that affect the world, and challenges problems that most people have come to accept. Sangha doesn't just point out the troubles in this world, but thinks of bold solutions for them."
The Modern Thinker is available through www.amazon.ca and at discounted rates through the publisher www.authorhouse.com.
About the Author
Alex Sangha has an MSc in Public Administration and Public Policy from Department of Government at the London School of Economics, and a Bachelor of Social Work with a First Class Standing from the University of British Columbia. Alex is a registered social worker with a private counselling practice in North Delta. Alex was voted by the public in a national people's choice award to be one of the winners of the Royal Bank Top 25 Canadian Immigrants Awards of 2011.
For further information, complimentary media copies of The Modern Thinker, or to book an interview, please contact Alex Sangha at the contact information below.
To view the photo associated with this press release, please visit: http://www.marketwire.com/library/20111229-Alex-Sangha-large.jpg.
Contacts:
Alex Sangha
(604) 842-7340
(604) 628-3841 (FAX)
alexsangha@gmail.com
www.alexsangha.com


Copyright @ Marketwire
Page: 1
Related Keywords:
Alex Sangha - Author , Canada, Marketwire, ,
---