Vacation in Parksville-Qualicum Beach? There's an App for that!
Tourism Association Announces Free Mobile App to keep in touch with everything PQB
(May 04, 2011)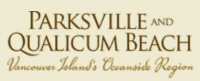 PARKSVILLE-QUALICUM BEACH, BRITISH COLUMBIA -- (Marketwire) -- 05/04/11 -- Editor's Note: There is one photo and one video associated with this press release.
Curious about Parksville-Qualicum Beach? There's an App for that. To ensure that would-be vacationers had virtual access to menus of information about its world famous tourism destination with their mobile phones, the Oceanside Tourism Association has launched it's free mobile travel App for iPhone.
According to Oceanside Tourism Executive Director Blain Sepos, it was an easy choice to develop and launch an iPhone mobile App.
"Last year we saw a 410 per cent increase in mobile users to our website, so we know that people are researching travel options and looking for what's close to them with their mobile phones, so they are going to find this useful," says Sepos. "During their Vancouver Island travel they will have our community at their fingertips."
The free Parksville-Qualicum Beach App is a one stop shopping guide to the region, listing time-sensitive specials, accommodations, places to eat, attractions and activities, local artisans and a continually updated guide to events.
"We have hundreds of events a year in our area from spring through Christmas, so this App will constantly be added to, upgraded and improved," says Sepos, "there'll always be a reason to keep checking back and seeing what's new.
"You'll have a great Vancouver Island map and a Parksville-Qualicum Beach guidebook all here in one place."
The App also enables users to utilize Google Maps, pinpointing locations and giving users directions on how to get there.
The App is currently available on the iPhone platform, however Android, Blackberry and other mobile users can currently access the Parksville-Qualicum Beach mobile site (m.mypqb.ca).
The mobile site is a simple text orientation that allows rapid access to information on Parksville-Qualicum Beach without being graphic intensive.
Sepos says he does not rule out future versions of the App being available for other platforms as well.
"We'll watch our overall traffic closely and if we see a demand for other platforms, we definitely want to respond to our users, and I can see this continuing to build and grow," he says.
The Parksville-Qualicum beach mobile app is available free of charge across the globe and can be downloaded using the iTunes App Store.
To view the photo associated with this press release, please click on the following link: http://www.marketwire.com/library/20110428-screenshot.jpg
To view the video associated with this press release, please click on the following link: http://www.visitparksvillequalicumbeach.com/cms.asp?wpID=222&videoID=71
Add to Digg Bookmark with del.icio.us Add to Newsvine
Contacts:
Oceanside Tourism Association
Blain Sepos
Executive Director
250-248-6300 X5
[email protected]


Copyright @ Marketwire
Page: 1
Related Keywords:
Mobile travel App, iphone mobile App, Qualicum Beach, Parksville, Vancouver Island, Travel BC, Communications,Digital Audio,Web,PDA,iPods,iTunes,iphone,Search,Video,Google,Marketwire,Apple Computer,Other,
---