VMware or Microsoft Hyper-V? SolarWinds Virtualization Manager Now Supports Both Hypervisors
Latest Version of SolarWinds Virtualization Manager Lets Users Manage Both VMware and Microsoft Hyper-V Virtual Environments Together From a Single Pane of Glass
(April 18, 2012)
AUSTIN, TX -- (Marketwire) -- 04/18/12 -- SolarWinds® Inc. (NYSE: SWI), a leading provider of powerful and affordable IT management software, today announced the release of its latest, award-winning SolarWinds Virtualization Manager -- the most comprehensive and affordable virtualization management solution for managing VMware® and Microsoft Hyper-V™ hypervisors.
Overview:
SolarWinds Virtualization Manager is a comprehensive virtualization management software solution that delivers integrated VMware and Microsoft Hyper-V capacity planning, VM sprawl control, performance monitoring, configuration management, and chargeback automation, helping to alleviate user pain points around troubleshooting, downtime and resource utilization across server and storage hypervisors.
SolarWinds Virtualization Manager's unified approach makes it easy to take control of a virtualized environment regardless of size, taking users from the early stages of virtualization deployment all the way to implementation of private cloud initiatives and IT-as-a-Service.
Storage is a key dependency to any hypervisor deployment. SolarWinds Virtualization Manager integrates with SolarWinds Storage Manager, Powered by Profiler, allowing users to go beyond the datastore stats, to the logical unit number (LUN) for both VMware and Hyper-V and ultimately the physical disk level stats, providing full VM-to-spindle visibility for simpler and faster troubleshooting.
SolarWinds recently conducted a survey on private cloud management in December 2011 and received responses from nearly 65 IT professionals. The survey found that nearly 85 percent of users deploy VMware's hypervisor, followed closely by Microsoft Hyper-V at 55 percent.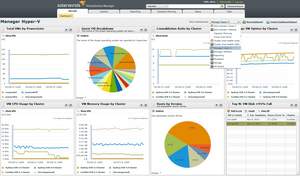 Supporting Quotes
"We are seeing more customers adding a second hypervisor to their virtualization mix or choosing to migrate to another, to maximize potential cost savings and avoid vendor lock-in," said Sanjay Castelino, VP & market leader, SolarWinds. "To that end, we've added Microsoft Hyper-V support to SolarWinds Virtualization Manager to give organizations the flexibility to manage one or both VMware and Hyper-V hypervisors as they make business-critical decisions around their virtual environments, and, for many, build out a foundation for private cloud."
"Taking advantage of more than one hypervisor allows customers to significantly lower their licensing and annual maintenance costs. SolarWinds Virtualization Manager allows IT pros to determine how to optimally distribute workloads between VMware and Hyper-V, while remaining compliant with their SLAs," said Torsten Volk, senior analyst, EMA. "Playing through multiple what-if scenarios from a cost and risk perspective, before committing to which hypervisor to use for a specific virtual machine, is a tremendous value offered by SolarWinds."
"As a public institution, we required a management product for our virtualization infrastructure that would gather the required data and allow us to view performance and capacity statistics without needing any administrative time to maintain," said Brian Hatchell, network manager, Victor Valley College. "I feel that this release, especially the pre-populated dashboards and the smoother interface, is an improvement over the version before. I would recommend this product strongly, especially now that Hyper-V support has been added."
Additional Resources
Video: How to Manage Storage for VMware and Hyper-V
Free tool: SolarWinds VM Monitor for Hyper-V
Free tool: SolarWinds VM Monitor for VMware
Pricing and Availability
SolarWinds Virtualization Manager is available now and pricing starts at $2,995 (USD), with the first year of maintenance included. For more information, visit the SolarWinds website, download a free 30-day evaluation, or call 866.530.8100.
About SolarWinds
SolarWinds (NYSE: SWI) provides powerful and affordable IT management software to customers worldwide -- from Fortune 500 enterprises to small businesses. We work to put our users first and remove the obstacles that have become "status quo" in traditional enterprise software. SolarWinds products are downloadable, easy to use and maintain, and provide the power, scale, and flexibility needed to address users' management priorities. Our online user community, thwack, is a gathering-place where tens of thousands of IT pros solve problems, share technology, and participate in product development for all of SolarWinds' products. Learn more today at solarwinds.com/.
SolarWinds and SolarWinds.com are registered trademarks of SolarWinds. All other company and product names mentioned are used only for identification purposes and may be trademarks or registered trademarks of their respective companies.
Embedded Video Available: http://www2.marketwire.com/mw/frame_mw?attachid=1952344
Image Available: http://www2.marketwire.com/mw/frame_mw?attachid=1952340

Add to Digg Bookmark with del.icio.us Add to Newsvine
MEDIA CONTACTS:
Grace Pai-Leonard
Text100
Phone: 212.871.5194
[email protected]

Tiffany Nels
SolarWinds
Phone: 512.682.9545
[email protected]


Copyright @ Marketwire
Page: 1
Related Keywords:
SolarWinds, virtualization, SolarWinds Virtualization Manager, Microsoft Hyper-V, VMware, hypervisor, Marketwire, Inc., ,Other,
---