VMware Partner VirtualSharp Software Unveils ReliableDR 3.0 at CloudBeat 2011
(November 30, 2011)

REDWOOD CITY, CA and MCLEAN, VA -- (Marketwire) -- 11/30/11 -- Today at CloudBeat 2011, VirtualSharp Software, the leading provider of next generation automated Disaster Recovery solutions for private and public clouds, announced the newest release of its flagship product, ReliableDR 3.0. This new version brings significant enhancements to the market that reflect continued execution on the company's vision as well as the feedback from its already significant customer base.
The cloud era heralds much higher expectations for service uptime than legacy Disaster Recovery tools can provide. VirtualSharp, an elite-level VMware Technology Alliance Partner, developed a new way to address Disaster Recovery through process orchestration across data centers. VirtualSharp's technology was not just designed in a lab but field-developed based upon needs of early adopters of VMware virtualization and cloud technologies in the 2006-2008 timeframe. Demand is strong, and VirtualSharp already has customers across several sectors, both in SMBs and major enterprises, including two of the world's largest financial companies.
"In the context of Disaster Recovery assurance, VirtualSharp has no direct rivals, and Disaster Recovery testing is becoming more and more critical as IT organizations move their virtualization efforts into mission-critical production applications," said Dave Simpson, Senior Analyst at The 451 Group. "As virtualization expands into tier one applications, the need for automated Disaster Recovery testing and certification will become much more critical."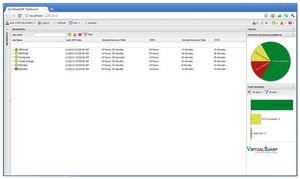 "For the longest time, Disaster Recovery has been narrowly focused on data protection, without an integrated view over the entire collection of assets that interoperate to deliver IT as a service," said Carlos Escapa, Co-founder and CEO of VirtualSharp Software. "With ReliableDR 3.0, VirtualSharp delivers an integrated, vertical Disaster Recovery solution across the IT stack, from storage to application, that can be delivered for cloud environments using a zero-footprint, self-service architecture."
VirtualSharp was founded in Europe in 2010 and has seen great initial success with large customers across that geography that use ReliableDR in private and public clouds. With increased market interest from US-based companies, the company is now officially entering the US market with significant investment to meet the needs of its new customer base.
"VirtualSharp's solution is truly unique and brings about a whole new level of automation to Disaster Recovery," said Wim Peeters, CEO of Herithos, a leading provider of hosting solutions in Belgium. "We see great potential in removing Disaster Recovery complexity and in delivering Recovery as a Service, particularly to the SMB market."
A data center manager at one of the world's largest hotel chains commented: "VirtualSharp's ReliableDR reduces complexity and automates Disaster Recovery testing in a completely new and innovative manner. We had the product protecting Sharepoint servers within two hours and across two heterogeneous data centers after an extremely simple, wizard-driven install."
VirtualSharp raises the bar and sets a new standard with these new features in ReliableDR 3.0:
Multitenancy. End customers will be able to take advantage of the economies of scale provided by the cloud by sharing Disaster Recovery testing resources, without needing dedicated infrastructure. Hosters will be able to provide a low monthly cost that not only replicates and secures data to cloud, but more importantly certifies recoverability and assures time to service in case of failover. End customers will further benefit from not needing to have specialized staff or to have to work weekends or holidays to perform Disaster Recovery tests. In addition, deployment costs will be extremely low and time to value will accelerate as VirtualSharp's solution has zero footprint in the end customer data center. For hosters, multitenancy will also reduce the customer acquisition cost significantly as administrative tasks will be largely automated and partly delegated to the end customers. Without multitenancy, hosters had to incur significant up-front costs to deploy and manage dedicated resources to each customer.
Application-specific SLAs: Recovery Time Objectives and Recovery Point Objectives can be set individually for each application. For those applications that need more protection, hosters can set the frequency of Disaster Recovery tests as often as required and charge accordingly. Hosters can also provide value-added services to assure the perfect health of the components of the applications and remediate any compliance threats detected during the Disaster Recovery testing processes.
Role-based access control: end customers can gain access to compliance data with a very granular access level. This will allow application owners, auditors and compliance officers to independently verify the resilience of the IT services that they are responsible for, without compromising on security and confidentiality.
Web Oriented Architecture (WOA): access to test results will be provided through web services that can be accessed from any mobile device, including smartphones and tablets. IT and non-IT staff alike can obtain the recovery status of each application in real time, or look at the historical compliance data to evaluate service resilience over longer periods of time.
Embeddable dashboard: leveraging WOA, ReliableDR will provide an API to integrate the dashboard to implement administrative functions out of the hoster's portal, or embed them in their Disaster Recovery cloud governance tools that can be provided to end customers. This will give customers at-a-glance visibility of all aspects regarding the hoster's service health and quality, and the ability to drill down into specific items.
ReliableDR 3.0 will be available in the first quarter of 2012. The product will be available directly from VirtualSharp and its authorized channel partners. Existing 2.x customers will be entitled to a free upgrade to version 3.0 based on their current maintenance agreements. For more information, please visit http://www.virtualsharp.com.
VirtualSharp at CloudBeat 2011
VirtualSharp was chosen as one of the hottest companies in the cloud space by a panel of experts and advisors to compete in the CloudBeat 2011 Innovation Showdown and will present its technology and new product to more than 500 influencers, investors and media live at CloudBeat 2011 on Thursday, December 1, 2011.
Hosted by VentureBeat, CloudBeat 2011 is taking place November 30 - December 1, 2011 at the Hotel Sofitel in Redwood City, CA. Using a customer-centric approach, CloudBeat will offer actionable lessons and networking opportunities as industry leaders define the key processes and architectures that companies must put in place in order to survive and prosper. For more on CloudBeat 2011, visit: http://venturebeat.com/events/cloudbeat2011.
About VirtualSharp Software
VirtualSharp Software was founded in 2010 to address the new disaster recovery needs for the cloud era. VirtualSharp develops next-generation Disaster Recovery software for private and public clouds that continuously and automatically certifies the recoverability of services running in the cloud. VirtualSharp's software enables unparalleled levels of resiliency for virtual IT infrastructures and full alignment between IT Disaster Recovery and Corporate Business Continuity Planning. For more information, visit: http://www.virtualsharp.com.
Image Available: http://www2.marketwire.com/mw/frame_mw?attachid=1816445

Add to Digg Bookmark with del.icio.us Add to Newsvine
Media and Analyst Contact:
Amber Rowland
[email protected]
+1.650.814.4560


Copyright @ Marketwire
Page: 1
Related Keywords:
VirtualSharp Software, Internet, Digital Media Software, Communications, Web, Smart Phone, Applications, Security, Applications, Storage, Security, Networking, Internet, Business Issues, Services, Software, Misc, Security, Threats, Server Hardware, Server Computers, Architecture, Security, Internet Server Applications, Web Services, IT Management, Marketwire, , Financial, Internet Technology, Business, disaster,
---