Unshared.TV Launches a Better Way to Discover, Follow and Share Friends' Videos
iOS Application Offers Intelligent, Intuitive Video Discovery and Cinematic Experience
(April 18, 2012)

SANTA CLARA, CA -- (Marketwire) -- 04/18/12 -- DEMO Spring 2012 - Today, Unshared.TV launched the most elegant, savvy and easy app for catching up on all of the videos your friends liked -- even if they didn't ultimately "share" them. Unshared.TV is videos made beautiful, simple and central -- think Instagram for videos. It is not curation or aggregation, but helps users find and catch up on the videos their friends liked -- in one gorgeous interface.
See the Unshared.TV demo at: www.Unshared.TV. Unshared.TV launches today at DEMO Spring 2012.
"YouTube alone feeds us in excess of three billion video clips per day, making the search for relevant videos absurd," said Dmitri Lisitski, co-founder of Unshared.TV. "We designed an app that simplifies the way you find the cool videos within your social network. We add them to a central personalized channel, so you'll never again miss that interesting clip that has all your friends laughing, arguing, commenting and re-posting."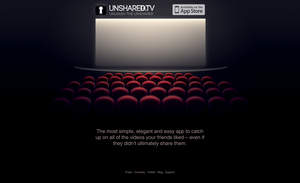 "If Instagram and YouTube had a love child, it might be Unshared.TV," added Lisitski. "It's like taking the beauty, simplicity and instant sharing of Instagram and putting it into a funnel with the Web's vast library of videos. What comes out is Unshared.TV."
Unshared.TV intelligently combs users' social networks to locate and analyze friends' likes and comments about online videos, and then delivers them to a personalized video channel.
How Unshared.TV is Totally Different:
Cinematic Interface: The Unshared.TV player lets users view videos in a cinematic-like experience not available through any other video sharing app. Videos automatically appear in full-screen mode, with viewing controls and interactive features hidden. To access controls, users simply tap once to reveal new videos -- using swipes to move through their video catalog. Swipe left to discover new videos (and the friends who liked them), and right to revisit clips you like.
Controls are situated around the video border for easy operation, but with minimal visual intrusion. The effect: Beautiful videos, direct from your friends, on-demand.
Unique Video Discovery Algorithm: Most sharing sites repurpose "shares" or attempt to recommend related content. Unshared.TV is different: it is designed to recommend videos based on a wider range of publicly available information -- such as comments, "thumbs up," "likes" and shares -- and packs that content into an elegant and intuitive player viewable on the iPad.
All videos are posted to a user-created Unshared.TV channel. Users who actively chose to share clips see their recommendations posted on Facebook.
"We are building a more intelligent and elegant video sharing ecosystem," added Lisitski. "Our method for recommending content is based on more organic and subtle provisos than 'share.' We don't want to give away our secrets, but this expanded approach to identifying relevant videos makes Unshared.TV unique."
Social Games and Rewards: Additional functions include game mechanics to encourage users to share more videos and interact around those they do share. Users accumulate awards for awesome video finds or based on the number of clips shared. Unshared.TV has tried to only create awards that have some meaning, to reward people who love game mechanics built into their experiences, but not annoy those who don't. Unshared.TV's platform is designed for interaction across all social networks, with analytics and tools for identifying and rewarding the most prolific contributors.
"You're more likely to care about content if you know it's been reviewed or approved by friends and peers," added Lisitski. "That's the beauty of Unshared.TV. It finds the friends -- and video -- that will matter most to you."
Unshared.TV is now available for free download in the App Store.
About Unshared.TV
Unshared.TV gives you the most simple, elegant and easy app to catch up on all of the videos your friends liked -- even if they didn't ultimately share them. We're the easiest and best app to catch up on all of the cool videos your friends are sharing. Anytime. Anywhere. Unshared.TV is headquartered in Kiev, Ukraine and Palo Alto, California. Launched in beta at DEMO Spring 2012, the company is privately held.
For more information about Unshared.TV, visit http://unshared.tv or http://unshared.tv/press or check out our video at https://vimeo.com/40551781. You can find us on Facebook and Twitter.
About DEMO Spring 2012
Produced by the IDG Enterprise events group, the worldwide DEMO conferences focus on emerging technologies and new products innovations, which are hand selected from across the spectrum of the technology marketplace. The DEMO conferences have earned their reputation for consistently identifying cutting-edge technologies and helping entrepreneurs secure venture funding and establish critical business. For more information on the DEMO conferences, visit http://www.demo.com/.
Image Available: http://www2.marketwire.com/mw/frame_mw?attachid=1953226

Press Contact:
Merredith Branscombe
Leap! PR
Phone: 720-235-7363
Email: Email Contact


Copyright @ Marketwire
Page: 1
Related Keywords:
Unshared.TV, Marketwire, , Business, Other,
---