University of Illinois Renews 31-Year Partnership With Paciolan
Adds Ticketing for Assembly Hall Onto the University Ticketing System
(April 12, 2012)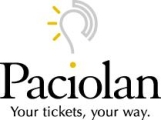 IRVINE, CA and CHAMPAIGN, IL -- (Marketwire) -- 04/12/12 -- Paciolan, the leading provider of ticketing, marketing, and fundraising solutions in college athletics, today announced its partnership renewal with University of Illinois (Illinois), which now includes Assembly Hall, the university's on campus arena that supports popular Broadway series, concerts, and athletics events. With the partnership renewal, Illinois will be extending its suite of Paciolan technology solutions to include the company's Access Management scanning and digital ticketing for football at Memorial Stadium and Assembly Hall. Working with Paciolan since 1981, Illinois is the company's fourth customer.
"We are very pleased to continue our long-time association with Paciolan," said Mike Thomas, director of athletics for University of Illinois. "The cutting-edge technology and great customer service has been a terrific asset in our relationship with our fans. We are excited about the Digital Ticketing aspect of the partnership, which will efficiently streamline our ticketing process and provide better service to our customers."
By adding Paciolan's Access Management for football at Memorial Stadium, and Assembly Hall, Illinois will learn who attended which games/events, identify what tickets were used and tailor marketing messages and offers based on attendance patterns.
"We are very excited to be offering our fans Access Management scanning, which will enhance their experience and provide the university with important marketing data," said Jason Heggemeyer, assistant athletic director for ticketing for University of Illinois. "As we look to the future, we'll be relying on Paciolan as we explore ticket transfer and resale options, as well as delivery to student IDs."
Leveraging the Paciolan ticketing system, Illinois sold more than 50 percent of all season renewals online through Fightingillini.com. The ticket office also sold up to 70 percent of all single event tickets online.
"Online ticket sales have helped us gain more visibility with our fans and provided a convenient 24-7 outlet for them to purchase tickets," added Heggemeyer.
Illinois also leverages Paciolan's fundraising solution, tFund, which is integrated with its ticketing efforts. With tFund, Illinois can more efficiently manage donations, track donor interactions and recruit new donors.
"The integration of the donor component and ticketing is a huge benefit and really allows us to operate as a solid, cohesive organization," added Heggemeyer. "Tying ticketing and development together helps us to manage premium seating and reward our donors and season ticket holders appropriately, which is very important to us."
Illinois, which recently took over Assembly Hall's ticketing operations, will combine the arena business into the university's ticketing system to save costs and increase operational efficiencies, while creating new cross-sell packages, and promotional offers for Illini fans and arena customers alike.
"It's been wonderful working with University of Illinois to help them grow their season ticket renewals and online single ticket sales," said Dave Butler, chief executive officer of Paciolan. "By adding our Access Management scanning solution for football, at Memorial Stadium, as well as Assembly Hall, we look forward to seeing Illinois enhance efficiencies of their ticketing operations, while creating a richer experience for all Fighting Illini fans."
About Paciolan
Founded in 1980, Paciolan is the leader in venue enablement, powering ticketing, fundraising and marketing technology solutions for leading organizations across North America. Collectively, Paciolan powers over 500 live entertainment organizations that sell over 100 million tickets annually. Primary markets include college athletics, professional sports, performing arts, arenas and museums. Paciolan is a wholly owned subsidiary of Comcast-Spectacor.
Visit www.paciolan.com for additional company information.
About Comcast-Spectacor
Comcast-Spectacor (comcast-spectacor.com) is the Philadelphia-based sports and entertainment company which owns the Philadelphia Flyers (NHL), the home arena for both the Flyers and the NBA's Philadelphia 76ers, the Wells Fargo Center, and four Flyers Skate Zone community ice skating and hockey rinks. In addition, Comcast-Spectacor is also the principal owner of Global Spectrum, the fastest growing firm in the public assembly management field with more than 100 facilities throughout the United States and Canada; Ovations Food Services, a food and beverage service provider; New Era Tickets, a ticketing and marketing company for public assembly facilities; Front Row Marketing Services, a commercial rights sales company; FanOne, a digital fan marketing company; and Paciolan, the leading provider of venue enablement, ticketing, fundraising and marketing technology solutions.
Add to Digg Bookmark with del.icio.us Add to Newsvine
Copyright @ Marketwire
Page: 1
Related Keywords:
Paciolan, USA, Marketwire, , Sports, Marketing Services, Business, Entertainment, Sports, Hockey, Skating, Winter Sports, Basketball,
---