University Hospitals Birmingham Estimates 100x Faster Mobile Deployment of Healthcare Data Using Webalo
February 16 Webinar Will Demonstrate How to Rapidly Mobilise Healthcare Applications
(February 13, 2012)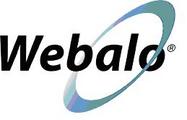 LOS ANGELES, CA -- (Marketwire) -- 02/13/12 -- University Hospitals Birmingham NHS Foundation Trust (UHB) is connecting hundreds of its staff to the organization's healthcare applications using Webalo. UHB went from trial to deployment in hours, delivering mobile applications at a rate that UHB estimates was 100x faster than traditional mobile application development environments. Webalo will share details on the dramatic success of this mobile healthcare initiative in a webinar at 10:30 a.m. Thursday, February 16.
"It all began with a simple trial," said Stephen Chilton, UHB Director of IT. "Our goal was to bring technology in to help UHB staff with their everyday jobs. Webalo is delivering live integration to dashboards and applications that can be put in the hands of doctors, nurses, clinical staff and executives in real time. Webalo eliminates the coding time, and therefore the cost and complexity associated with traditional development frameworks."
In the upcoming mobile healthcare webinar, Webalo will describe how, in a matter of hours and with no programming, UHB delivered mobile connections to critical healthcare applications, including:
One that allows pharmacists to fulfill prescription requests by tapping their smartphones to research the 86,000 available drugs, and provide advice about suitability, availability and, if necessary, substitutions.
A Neurological On-Call Referral System that lets doctors obtain real-time assistance from specialists on their mobile phones, providing details of the case, updating the records with notes and advice provided by the consultant, and saving the data in the patient's permanent medical history.
An A&E compliance monitoring application that delivers key performance indicators to administrators' smartphones so they can monitor compliance and take corrective action, if required, on the spot.
Stephen Chilton considers Webalo to be UHB's strategic platform for all future enterprise-to-mobile access. "Webalo fits very nicely into our strategic vision for getting more value out of our mobile devices. It's astounding that we can deliver data and functions so fast and provide virtually instantaneous benefits to both users and patients. Our golden nugget that makes it all possible is Webalo. It's remarkable."
Webinar Featuring UHB mobile applications
Details of UHB's mobile applications will be presented at a free webinar at 10:30 a.m. Thursday, February 16. To register for the webinar and see a video of Stephen Chilton discussing the Webalo implementation, visit: www.webalo.com/nhs.
About Webalo
Webalo changes the economics of enterprise mobility. It provides the enterprise-to-mobile infrastructure that puts enterprise data and functions on mobile devices 100 times faster than traditional approaches to mobile application development, and it provides personalized mobile capabilities that meet the individual needs of any end user.
Webalo technology eliminates the need for traditional mobile application development tools and custom programming to provide -- in hours, instead of weeks or months -- mobile access to the specific enterprise data and functions that mobile users rely on to do their jobs. Rather than build new mobile applications or purchase proprietary mobile versions of a vendor's enterprise applications, organizations can use Webalo to let administrators easily select, from their existing enterprise applications, the exact data and functions that mobile users need so they can work more efficiently and productively.
Founded in 2000, Los Angeles-based Webalo is privately held. Additional information about Webalo's products, customers, and partners is available at www.webalo.com.
Embedded Video Available: http://www2.marketwire.com/mw/frame_mw?attachid=1884225

Add to Digg Bookmark with del.icio.us Add to Newsvine
CONTACT:
Samantha Steinwinder
Concept PR for Webalo
206-713-6983
[email protected]


Copyright @ Marketwire
Page: 1
Related Keywords:
mobile, application development, healthcare IT, enterprise mobile, mobile health, eHealth, enterprise apps, Communications,Smart Phone,Applications,Productivity Applications,Business Issues,Software Development,Other Applications,Tools,Marketwire, ,IT (Information Technology),Enterprise Applications,Medical,
---