Unique Collaboration Yields Secure and Resilient Virtual Computing Platform for Sensitive Cloud Deployments
Fritz Technologies, LynuxWorks and TransLattice Bring Technology and Expertise Together to Produce S.E.C.U.R.E. Platform Solution
(April 02, 2012)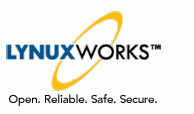 DENVER, CO -- (Marketwire) -- 04/02/12 -- DoDIIS Worldwide Conference -- Three companies known for their innovation in producing solutions for government and DoD applications, LynuxWorks, Inc., TransLattice and Fritz Technologies Corporation, today announced a collaboration of their technologies and expertise to provide a new platform for building cloud deployments in sensitive environments. The resulting S.E.C.U.R.E. (Secure, Enterprise, Cross-Domain, Unified, Resilient Environment) platform solution creates the ideal environment for situations requiring secure hosting of applications, geographic redundancy of applications and data, and secure cross-domain transfer of information. Technology demonstrations at DoDIIS will be available in both the LynuxWorks (#752) and TransLattice booths (#460).
A first-generation secure server-based separation kernel (SepKer) solution was delivered by Fritz Technologies, working with the LynxSecure 4.0 separation kernel from LynuxWorks. Fritz Technologies successfully demonstrated that SepKer technology can incorporate trusted boot via the Trusted Platform Module (TPM) and enhanced administrative tooling required to support the hosting of multiple domains and application missions whether in a data center, shipboard, airborne or terrestrial deployment.
To add resiliency and efficiency to the already significant benefits provided by SepKer virtualization, LynuxWorks and Fritz worked with TransLattice to incorporate their state-of-the-art "lattice" application and data distribution solution into the SepKer platform. The TransLattice technology, TransLattice Application Platform (TAP), fully distributes both the application and its data across multiple virtual machines (VMs) and system platforms within a secure domain, ensuring non-stop operations, even in the case of the loss of one or more components of the computing "lattice." This means that mission-critical applications and data are fully distributed and the loss of an individual system (node) or multiple nodes does not endanger the continued efficient operation of the application.
"Customers today are looking to move their applications and data into the cloud, while maintaining the security of sensitive data," said Frank Huerta, CEO and co-founder at TransLattice. "We are very confident that the S.E.C.U.R.E. platform will help meet the needs of our customers. By working closely with LynuxWorks and Fritz Technologies, we have been able to leverage both the technologies and expertise that provide a great environment for our TAP solution."
The S.E.C.U.R.E. solution consolidates multiple applications onto VMs on a single server platform while:
Maintaining complete domain separation in the virtualization solution
Reducing cost through hardware consolidation
Deploying market-standard operating systems including Windows and Red Hat Linux
Achieving high security standards for military deployments
Improving resilience with a lattice approach to application and data distribution
"It is a remarkable achievement that three innovators can come together with the sole purpose of producing a solution that meets the exacting requirements of sensitive cloud deployments," said Bobbi-Michelle Wehrfritz, CEO of Fritz Technologies. "Based on Fritz Technologies' expertise in government and commercial data center management, we know that our government integrators and commercial customers will be very interested in the comprehensive platform that we have built."
The S.E.C.U.R.E. solution utilizes the LynxSecure 5.0 virtualization platform from LynuxWorks, running on a standard x86-based server, and offers secure VM domains running unmodified guest operating systems including Linux, Solaris and Windows. The TransLattice Application Platform (TAP) runs in one or multiple secure domains providing globally distributed, resilient application and data support. The S.E.C.U.R.E. platform provides Fritz Technologies developed trusted boot utilizing TPM and provides secure domain separation between unclassified, secret and top secret domains with optional support for cross-domain transfer under tight control via accredited guard/filter solutions. Other system features include Fritz Technologies developed user-friendly administrative tools to efficiently manage the VM farms with audit reduction, monitoring and management tools to ensure safe and efficient system operations.
"Both Fritz Technologies and TransLattice have proven to be very reliable partners for us as we take our LynxSecure technology to our customers," said Gurjot Singh, CEO and president at LynuxWorks. "This new platform is a very exciting step in our relationships and we believe this will help our customers to successfully build and deploy the next generation of secure cloud systems."
About TransLattice
TransLattice is the geographically distributed application platform company that provides data where and when it is needed, for enterprise, cloud and hybrid environments. This new approach to enterprise and cloud infrastructure results in significantly reduced costs and deployment complexity, while dramatically improving system reliability, scalability and response time. TransLattice was founded in 2007 and officially launched in August 2010. The company received $9.5M in Series A funding from DCM, a leading early stage investment firm. For more information, please visit www.translattice.com.
About LynuxWorks
LynuxWorks is a world leader in secure virtualization and open and reliable real-time operating systems (RTOS). The award-winning LynxSecure offers a secure separation kernel and hypervisor that forms a platform for the development of high-assurance systems and cloud deployments for sensitive data. Since it was established in 1988, LynuxWorks has created technology that has been successfully deployed in thousands of designs and millions of products made by leading communications, avionics, aerospace/defense and consumer electronics companies. LynuxWorks' headquarters are located in San Jose, CA. For more information, visit www.lynuxworks.com.
About Fritz Technologies
Fritz Technologies Corporation develops, implements and delivers innovative cyber-security solutions for government and industry, all based on leading-edge open-source and commercial-off-the shelf (COTS) technologies. Fritz delivers across the full spectrum of cyber-security requirements, including user authentication, attestation, trusted initialization, secure data transfer and assured separation of secure domains (e.g., unclassified, secret and top secret). Fritz solutions have been developed for the DoD and the intelligence community to make sure that secret and top secret intelligence and military information is accessible, protected, trusted and securely shared, enabling rapid communication and decision-making, to ensure organizational and mission success. For more information about Fritz, please visit http://www.fritztechnologies.com.
Add to Digg Bookmark with del.icio.us Add to Newsvine
Media Contacts:
LynuxWorks
Barbara Stewart
Patterson & Associates
480-488-6909
Email Contact

Fritz Technologies
Bobbi-Michelle Wehrfritz
Fritz Technolgies
707-318-7255
Email Contact

TransLattice
Kim Dearborn
Nadel Phelan, Inc.
831-440-2407
Email Contact


Copyright @ Marketwire
Page: 1
Related Keywords:
LynuxWorks, Communications, Applications, Security, Computer Technology, Business Issues, Hardware, Authentication, Authentication, Management, CEO/CFO, Unix, Linux, Marketwire, Inc., , Consumer Electronics, Computer Science, Other,
---