U.S. "Cash Machines" Dominate List of 2011 Value Creators
Nine of the Ten Large-Cap Companies That Returned the Most to Shareholders Last Year Were Based in the U.S., According to Research by The Boston Consulting Group
(February 21, 2012)
BOSTON, MA -- (Marketwire) -- 02/22/12 -- Brand-name U.S. companies, including IBM, Pfizer, McDonald's, and Bristol-Myers Squibb, dominated the list of the top global large-cap value creators in 2011, according to recent research conducted by The Boston Consulting Group. The research appears in the online article "The Rise of the Cash Machine," which is being posted at www.bcgperspectives.com today.
The dominance of U.S. companies on the BCG top-ten list can be explained, in part, by the fact that the U.S. was the only developed economy in which stock markets delivered positive total shareholder returns (TSR) in 2011. This helped U.S. companies take the lead even as across-the-board declines in European equity markets kept even the best-performing European multinationals from appearing on the top-ten list.
But it is even more important that most of the companies on the list are what the analysis terms cash machines. "These are companies that create value less through increasing revenues than through some combination of improving margins, enhancing asset productivity, and returning a substantial portion of free cash flow to shareholders in the form of dividends or share repurchases," said coauthor Jeff Kotzen, a senior partner in BCG's New York office and a core member of the firm's Corporate Development practice.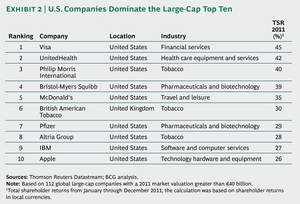 "There is considerable evidence that such direct distributions of cash have played a key role in the success of many of the companies on the top-ten list," added coauthor Frank Plaschke, a senior partner in BCG's Munich office. "With the exception of Apple, which pays no dividends, all of the top-ten companies increased their dividends in 2011."
Since 2003, for instance, IBM has increased its quarterly dividend by 400 percent, and 2011 was the eighth year in a row that the company announced percent increases in the double digits. (All told, IBM has returned more than $109 billion to shareholders in the form of dividends and share repurchases since 2003.)
McDonald's, which has increased its annual payout to shareholders every year since 1976, had a 2011 dividend yield of 4 percent, according to Thomson Reuters Datastream, well above the S&P 500 average. High yields may also explain the appearance of big pharmaceutical companies on the top-ten list. Pfizer (number seven), for example, had a 2011 dividend yield of 5 percent.
"At a time when the yield on bonds is extremely low and short-term interest rates are near zero, we expect this trend toward higher direct distributions to shareholders to continue," said coauthor Eric Olsen, a senior advisor to BCG who is based in the firm's Chicago office.
Key Trends in Value Creation in 2011
BCG analyzed the 2011 shareholder returns of more than 5,000 companies across 40 countries and 37 industry sectors. Key findings include the following:
In 2011, global equity markets reversed direction, declining in value for the first time since the crisis year of 2008. The MSCI All Country World Investable Market Index of TSR was down by approximately 6 percent last year, reflecting investor concerns about the sovereign-debt crisis in Europe and the sustainability of a global economic recovery.


Broad declines in TSR meant that there were far fewer safe havens for investors. The equity markets of only 6 countries out of the 40 covered by the MSCI index delivered positive TSR in 2011. And only a quarter of the 37 industry sectors did so.


Although the average returns were negative, the top single-year value creators in 2011 still managed to deliver attractive shareholder returns. The top-ten companies in a sample of 112 large-cap companies (those with year-end market valuations greater than EUR 40 billion, or about $52 billion) generated TSRs from 26 to 45 percent.


To download a copy of the report, please go to www.bcgperspectives.com.
To arrange an interview with one of the authors, please contact Eric Gregoire at +1 617 850 3783 or [email protected].
About bcgperspectives.com
Bcgperspectives.com is a new website -- available on PC, mobile phone, and iPad -- that features the latest thinking from BCG experts as well as from CEOs, academics, and other leaders. It covers issues at the top of senior management's agenda. It also provides unprecedented access to BCG's extensive archive of thought leadership stretching back almost 50 years to the days of Bruce Henderson, the firm's founder and one of the architects of modern management consulting. All of our content -- including videos, podcasts, commentaries, and reports -- can be accessed via PC, mobile, iPad, Facebook, Twitter and LinkedIn.
About The Boston Consulting Group
The Boston Consulting Group (BCG) is a global management consulting firm and the world's leading advisor on business strategy. We partner with clients from the private, public, and not-for-profit sectors in all regions to identify their highest-value opportunities, address their most critical challenges, and transform their enterprises. Our customized approach combines deep insight into the dynamics of companies and markets with close collaboration at all levels of the client organization. This ensures that our clients achieve sustainable competitive advantage, build more capable organizations, and secure lasting results. Founded in 1963, BCG is a private company with 74 offices in 42 countries.
Image Available: http://www2.marketwire.com/mw/frame_mw?attachid=1893769

Copyright @ Marketwire
Page: 1
Related Keywords:
The Boston Consulting Group, USA, Marketwire, , Communications Technology, Medical, Business, Other,
---