UNIT4 CODA to Host Roundtable on Cloud-Based Mobile Apps for Financial Management at CFO Leadership Summit
(February 28, 2012)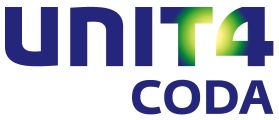 MANCHESTER, NH -- (Marketwire) -- 02/28/12 -- Peter Witham, vice president of UNIT4 CODA, Inc., a division of UNIT4 (EURONEXT AMSTERDAM: UNIT4), the world's leading provider of business software for fast-changing organizations, will lead CFO roundtable discussions on the implications of mobile apps for financial management. The roundtable will be held at the CFO Leadership Summit: Emerging Trends for Sustaining a Resilient Company at Hilton Orlando Bonnet Creek in Orlando, Fla. on Tuesday, March 13th at 7:30 a.m. and 8:15 a.m.
The roundtable discussion, "iPad - Executive Status Symbol or Essential Business Tool," will explore financial management trends and business processes in today's cloud-based, mobile environment. It will cover topics such as financial data capture and access, reporting and security issues as they impact CFOs and their organizations.
"The cloud is an increasingly essential fact of business life, even for most established businesses," said Witham. "The immediacy of mobile devices and social apps in the cloud raise questions about our daily interactions with business-based systems including our financial management software. During this session, we'll discuss best practices and challenges in applying these apps to financial management to help CFOs as they move business processes further into the cloud-based, mobile and self-service world."
UNIT4 CODA will display its award-winning solutions during show hours from March 11 - 13 at booth # 107, highlighting its best-of-class Coda Financials software that helps organizations optimize financial management. The solution streamlines financial management tasks, facilitates corporate growth, reduces the corporate risk profile, and increases corporate productivity.
Also at the booth, UNIT4 CODA will distribute a whitepaper from leading research firm Aberdeen Group, "The Best in Class Strategy Makes a Return in the Cloud Era," and a case study of Kramer, Ltd., a Caterpillar dealership. UNIT4 CODA will conduct a brief survey on corporate finance systems environments at the booth, and participants will automatically be entered into a drawing for an iPad2.
About CFO Leadership Summit: Emerging Trends for Sustaining a Resilient Company
The CFO Leadership Summit: Emerging Trends for Sustaining a Resilient Company takes a 360-degree view of some of the most innovative ways U.S. companies are transforming themselves into resilient enterprises, positioning themselves to withstand an array of risks -- from rising energy and commodity prices to global economic instability -- and not only survive, but thrive in today's environment. The summit will explore the latest trends in risk and resource management and provide valuable insight into how to implement cutting-edge best practices that will help an organization succeed in a volatile global marketplace.
About UNIT4 CODA
UNIT4 CODA, Inc. is part of UNIT4, a $576 million global business software company aimed at helping dynamic organizations to embrace change simply, quickly and cost effectively. Coda Financials is best-of-class financial management software designed to integrate with industry- and company-specific applications. Coda Financials provides real-time financial visibility and control across people, processes and systems. By acting as the financial information backbone for companies with fast-changing and mixed application environments, it offers a "no compromise" approach to financial modeling, process controls and application choice. For more information on UNIT4 CODA, visit http://www.unit4coda.com. Follow us on Twitter and LinkedIn or visit http://blog.unit4coda.com.
Add to Digg Bookmark with del.icio.us Add to Newsvine
For further information contact:

Margaret Bonilla
Birnbach Communications for UNIT4 CODA
603-548-0693
Email Contact


Copyright @ Marketwire
Page: 1
Related Keywords:
UNIT4 CODA, USA, Marketwire, Inc., , IT (Information Technology), Security, Financial, Business,
---