UC4 Software Redefines the Application Release Automation Market With Acquisition of Ventum
UC4 Challenges the "Big 4" IT Process Automation Vision
(February 14, 2012)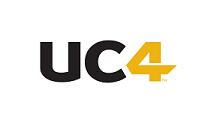 BELLEVUE, WA and VIENNA, AUSTRIA -- (Marketwire) -- 02/14/12 -- UC4, the leader in IT Process Automation, is redefining application release automation by combining planning, control and automation through the acquisition of Ventum Solutions, a software provider specializing in enterprise release management. Application release automation is a key capability for organizations struggling with DevOps, IT as a Service, Cloud and Big Data initiatives.
"UC4's ONE Automation platform is well suited to address the growing demand for application release automation accelerated by new technologies and models such as cloud and virtualization," said Jason Liu, CEO, UC4 Software. "With the acquisition of Ventum, UC4 now has an end-to-end solution that unifies the application release process with operational IT process automation in the datacenter. The UC4 automation engine provides a seamless way to deploy and maintain applications and their infrastructure."
According to Gartner, over the next four years, 25 percent of large IT organizations that develop custom applications will establish release teams that span application development and production and are focused on continuous delivery. With some release processes having as many as 400 different automation tasks, an ARA tool adds reliability to the deployment process -- with less custom scripting and by documenting variations across environments to reduce configuration errors and downtime.
"We've been closely following the application release automation market since we identified it as the critical link between development and operations and a major driver for IT process automation," said Rachel Chalmers, RD Infrastructure, 451 Research. "The addition of Ventum's release planning and coordination capabilities to UC4's deployment engine offers an intriguing new prospect for IT and application development organizations that must combine agility with central management, security and control."
UC4 Application Release Automation is an end-to-end solution for planning, coordinating and automating software releases, including automated deployment of applications across large-scale server environments. It streamlines application release workflow management for even the largest enterprise environments while reducing deployment cost in the process.
Ventum's enterprise release management software adds key capabilities to UC4's solution:
Application and component modeling minimizes failures by identifying unmet dependencies
Test environment scheduling ensures required test and staging environments are available at the right time, preventing unnecessary project delays
Centralized approval process eliminates errors and provides great visibility into the release process
Resource conflict identification eliminates process resource contention
Already integrated with UC4's Application Release Automation, Ventum's solution enables release managers to initiate a deployment using UC4's automation engine from within Ventum's UI. Tighter integration is currently being developed to provide even greater efficiencies and cost savings.
To learn more about UC4's ARA product, see the white paper: UC4 Application Release Automation.
About UC4 Software
UC4 Software is the world's largest, independent IT Process Automation software company. UC4's ONE Automation platform delivers IT Process Automation for organizations facing increasingly dynamic applications and infrastructure, and those migrating to next generation service models for cloud, DevOps and big data. ONE Automation unifies workload, application release, application process, run-book, data transfer, and VM automation, with predictive analytics based on complex event processing technology. Unified process automation is proven to help IT Operations gain greater control and significantly improve both service delivery and cost savings.
With 25 years of experience, UC4 automates tens of millions of operations a day for over 2,000 customers worldwide. Rethink IT automation at www.UC4.com.
About Ventum
Founded in 2005, Ventum is headquartered in Austria with offices in Vienna and Hanoi, Vietnam. With international customers in telecommunications, banking and insurance, Ventum specializes in solutions for application release and deployment in heterogeneous IT environments and major system migration initiatives.
For More Information:
Casy Jones
Finn Partners for UC4 Software
312-329-3976
Email Contact


Copyright @ Marketwire
Page: 1
Related Keywords:
application release automation, IT process automation, software, Applications,Insurance,Productivity Applications,Security,Business Issues,Other Applications,Management,CEO/CFO,Austria,Vietnam,Marketwire, ,
---