Turn Your iPhone Into a Source of Inspiration With Mindbloom's New Bloom App
Free On-the-Go Bloom App Gives Everyday Life a Powerful Boost With a Fun and Simple Way to Transform Photos and Music Into a Private or Shared Digital Inspiration
(November 07, 2011)
SEATTLE, WA -- (Marketwire) -- 11/08/11 -- Mindbloom today announced Bloom™, a new iPhone app that makes it easy for anyone to create and share a powerful digital inspiration -- keeping what's important to them, top-of-mind. The digital inspiration, called Blooms, are made quickly and easily on the iPhone using personal photos, music and captions and are focused on inspiring people to make healthy choices, stay connected, manage stress, strengthen spirituality, save money, advance careers, or enhance creativity. The customized Blooms can serve as personal private reminders to motivate action or can be shared publicly on Facebook, Twitter or email to inspire or encourage friends and family.
"Everyday, more than 250 million photos are uploaded to Facebook, Instagram recently celebrated 150 million photos being shared and iTunes recently surpassed 16 billion song downloads," said Mindbloom founder, Chris Hewett, a former executive producer for Monolith Productions who developed blockbuster hits such as No One Lives Forever, Tron 2.0, and F.E.A.R. "Photos and music are a powerful way to express ourselves and to share experiences, but we believe there's an untapped opportunity to use photos, music and inspiring words to remind ourselves and express to others what matters most to us and what we're doing about it."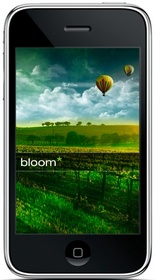 Industry reports show that the future of digital entertainment including photos, movies, songs and games will become even more personal and more valuable to all areas of our life. According to a recent study from Latitude Research, an increasing number of people say they want their entertainment to go beyond a source of relaxation or escapism; to add lasting value whether that's an opportunity to achieve real goals, learn new things, improve their health or mood, and get the motivation to complete undesirable tasks.
Mindbloom expands the uses of digital entertainment to serve multiple inspirational dimensions of lives, which has sparked people's imaginations to leverage the content they love most in new, magical ways. Parks Associates, an industry research firm, is studying a growing demand for health entertainment and lead analyst, Harry Wang believes Mindbloom can be just as entertaining as it is beneficial.
"Many health and wellness applications often take a prescriptive approach when designing the user experience. But we've seen that people tend to become less engaged with these types of applications over time," said Mr. Wang. "Mindbloom takes a more personal approach, entertaining even, which makes the overall experience more inviting, relevant and rewarding."
Focused on enhancing real lives, Mindbloom recently launched its free-to-play life game to inspire people to define what's important, discover what motivates them, and take meaningful daily actions in all areas of their life. The new Bloom app builds on these goals by focusing on the science behind behavioral change -- integrating technology, art, and human psychology to make personal growth more effective on-the-go. Users can connect Bloom with their Mindbloom life game, where people have already successfully followed through on more than 1.5 million intentions to improve their quality of life.
Only Bloom offers the following key features:
Quickly and easily combine personal photos and music into a powerful inspiration: Photos and music are easily uploaded into the Bloom app using the iPhone's camera roll and music library for instant inspiration in any area of life -- health, lifestyle, career, creativity, relationships, finances, and spirituality. In addition, Bloom's caption creator makes it easy to add personal thoughts or third party quotes to each image. For example, users can create Blooms with images, music and captions that inspire them to reach out to their parents more frequently, make time for close friends or save for the perfect vacation. For users who need a jump start, Bloom offers a library of free digital inspirations in the Bloom Shop created by Mindbloom experts that can be used in their current form or customized to a user's personal preferences.
Bloom notifications remind users of what's important, motivate actions and trigger healthy intentions: Blooms can be viewed on-the-go, anytime or anywhere. Scheduled Blooms remind users to reflect, take a break, or trigger an action that keeps their day focused on what matters to them most. For example, users can wake up on the right side of their day by using Bloom as a scheduled wake-up call that inspires them to do their morning workout or pre-schedule a lunch-time Bloom reminding them to eat healthy.
Fun and simple inspirational sharing with friends and family: With a few touches, Blooms can be shared through Twitter, Facebook and email where they can be viewed directly on Android or iPhone mobile browsers or in popular Web browsers. Users can keep Blooms for themselves, share them privately with friends and family who can privately discuss the Bloom, or share Blooms publicly on Facebook or Twitter. Shared Blooms can be saved in the Bloom app, played, or be used as the starting point for a new, personalized Bloom. For example, users can send a private Bloom to their spouse to show that they are thinking about them, share group-only Bloom with friends who are training for a 10K run, or broadcast a public Bloom celebrating a holiday that is viewable by everyone who follows them on Facebook or Twitter.
Pricing and Availability
Bloom is available today as a free download in the iTunes App Store. Check out the video for a quick introduction http://vimeo.com/31439840.
About Mindbloom:
Mindbloom is a Seattle-based interactive media company that's out to make life improvement accessible to everyone. By harnessing next-generation engagement techniques and focusing users on personal growth, Mindbloom has created a fun, simple, and effective way for people to improve the quality of their lives. To start living a healthier and more balanced life, visit: www.mindbloom.com. You can also find Mindbloom on Facebook at www.facebook.com/mindbloom or on Twitter at @mindbloom.
Mindbloom and their respective logos are trademarks, registered trademarks, or service marks of Mindbloom. Other products and company names mentioned are the trademarks of their respective owners.
Embedded Video Available: http://www2.marketwire.com/mw/frame_mw?attachid=1792606
Image Available: http://www2.marketwire.com/mw/frame_mw?attachid=1792603

Add to Digg Bookmark with del.icio.us Add to Newsvine
Media Contacts:
Deanna Leung Madden
Buzz Builders for Mindbloom
206-915-0512
Email Contact

Michele Mehl
Buzz Builders for Mindbloom
425-205-9444
Email Contact


Copyright @ Marketwire
Page: 1
Related Keywords:
Mindbloom, digital inspiration, inspirational, health, wellness, photos, music, Facebook, Twitter, Camera/Film,email,Marketwire, ,Apple Computer,Music,Lifestyle,Internet Technology,Entertainment,Science,Browsers,Email,Family,Parents,Other,
---