Tune in to 50,000 Radio Stations on Your Blackberry With WunderRadio
The Award Winning Radio Application WunderRadio Is Now Available for the BlackBerry Curve and Bold
(October 20, 2009)

SAN FRANCISCO, CA -- (Marketwire) -- 10/20/09 -- BlackBerry Curve and Bold users will now be able to listen to over 50,000 global live Internet radio streams on WunderRadio. The regular price of the application will be $9.99 but users will be able to download a free trial version for 10 days. Instructions on how to download the application are available at www.wunderradio.com. Versions for the BlackBerry Tour and Storm will be available soon.
Awarded the title of Best iPhone Radio Application (terrestrial division) at this year's MacWorld Expo and dubbed the "Best radio hub around" by Rolling Stone magazine, WunderRadio has already been downloaded by over 250,000 iPhone users who use it to listen to AM/FM and Internet radio stations from across the world. It is currently the number one paid radio application for Windows Mobile on Handango.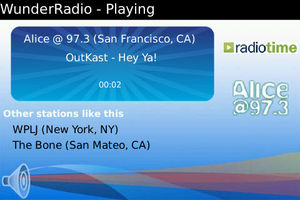 BlackBerry owners can now browse the enormous directory provided by RadioTime to find radio stations that meet their needs and tastes, searching by location and over 400 different genres such as music, talk, sports, and entertainment. Users can save presets for faster tuning to their favorite stations and use the RadioTime Guide to automatically detect what is airing on their local stations, browse by affiliates like the BBC, Bloomberg or Sirius and search for specific programs or on-air personalities.
"With WunderRadio, BlackBerry users can utilize the built-in Twitter directory to connect with an on-air DJ, while streaming their favorite station in the background, and never miss an e-mail. It's radio BlackBerry-style," said Josh Carroll, President of Jeyo, the developer of the BlackBerry version of the software.
WunderRadio for BlackBerry allows users to listen to radio in the background while using other applications on the phone and elegantly handles incoming calls. It also provides playback of more media types including global broadcasts and podcasts -- even connecting WunderRadio to your Bluetooth speaker system or headset.
"With the addition of the BlackBerry version, WunderRadio is truly becoming the new standard for listening to radio on mobile devices," said Alan Steremberg, President of Weather Underground, the developers of the original application.
Bill Moore, CEO, RadioTime, explains: "WunderRadio leverages the RadioTime Guide to provide a wider selection of stations than any other tuner available for BlackBerry. Everything that made WunderRadio for the iPhone and Windows Mobile so popular is available for BlackBerry: the most comprehensive worldwide channel list, a wide range of audio formats, reliable listening and integration with your device."
The nation's first online weather service, Weather Underground is committed to delivering the most comprehensive, reliable weather information possible. In addition to serving free online weather information to millions of web users, Weather Underground delivers custom weather services to an array of businesses and media clients -- both online and in print. Wunder Radio was initially developed to play local weather radio streams but evolved to include RadioTime's full directory of stations. More information is available at www.wunderground.com
RadioTime is the leading radio tuner that powers Internet services and devices by connecting them to radio broadcast DJs, talk personalities, and sports programming. Listeners easily access free, live, local, and global radio programming through RadioTime service. Its service enhances other products and services by powering them with thousands of radio channels and programming. RadioTime, founded in 2002, is based in Dallas, Texas. More information is available at www.radiotime.com
Founded in 2002, Jeyo is an award winning software firm specializing in products and consulting for mobile devices. Device manufacturers, carriers, and individuals worldwide have chosen Jeyo software to power their devices and Jeyo products can be found on millions of phones around the world today. More information is available at www.jeyo.com
Image Available: http://www2.marketwire.com/mw/frame_mw?attachid=1092394

Add to Digg Bookmark with del.icio.us Add to Newsvine
Media Contacts

Weather Underground:
Toby Skinner
+1 415-983-2611
[email protected]

RadioTime:
Andy Ryan
+1 954 434 9567
[email protected]


Copyright @ Marketwire
Page: 1
Related Keywords:
BlackBerry, WunderRadio, Radio, Internet, Twitter, RadioTime, iPhone, AM/FM, free, RadioTime , Broadcast, Streaming, Internet/Web, Programming, Internet, Web, Authoring/Programming, Broadcast Technology, Streaming/Webcast, Broadcast, Software, podcasting, Marketwire, MacWorld Attendees, Apple Computer, Music, Communications Technology, Internet Technology, Entertainment, Internet, Sports, Internet Radio, Other,
---