Trulia Updates App for iPhone and iPod touch
New App Allows Users to Search via Movable Maps, Price Reductions, and Adds Larger Color Pictures for Better User Experience
(December 17, 2009)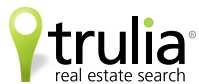 SAN FRANCISCO, CA -- (Marketwire) -- 12/17/09 -- Trulia.com, the best place to start a real estate search, released version 3 of its popular app for iPhone and iPod touch, now available in the App Store. The Trulia App for iPhone and iPod touch offers more than 3.5 million homes for sale and has been downloaded more than 300,000 times by real estate enthusiasts, engaged buyers and sellers and real estate agents. The update adds these significant new features:
Moveable Maps -- Visual searchers can now search within maps. Users can toggle the map to find homes in areas they most desire and once the area has been defined in the map, a new set of homes that match their criteria will be delivered. Homebuyers can also change desired search areas directly from the screen to make finding the perfect home faster than before.
Price Reduction Search -- In today's economy, home buyers are looking for the best deals on the market. With a touch of a button, users can now search for all the price reduced homes in their area. This feature is one of our most popular on the web site and one of the top features asked by users for their mobile searches.
Bigger Unlimited Pictures -- Taking advantage of the fantastic screens on the iPhone and iPod touch, the bigger photos provide searchers with a realistic view of the property. It is true that a picture can speak a thousand words and we know how important photos are to real estate buyers and sellers.
Augmented Reality Browser Integration -- Trulia has integrated with the Layar Mobile Augmented Reality Browser to overlay listings on top of the mobile phone's camera view. The app allows you to scan all the properties available around you while you look at the actual buildings through your screen.
"The growth of apps has exploded in the past 18-months. We introduced our app for iPhone and iPod touch to the market in summer of '08 and we have seen an increase in usage every month since its introduction," said Pete Flint, Trulia co-founder and CEO. "Just last month more than 500,000 searches were conducted via the Trulia App and we believe our new app for iPhone and iPod touch gives users what they want and helps extend Trulia's core functionality to users on the go."
In November 2009, users conducted more than 500,000 searches on Trulia's iPhone App. Peak usage hours typically occur on Sunday as shoppers are actively searching for open homes. The ten most popular cities for searches are: Philadelphia, San Francisco, Brooklyn, Atlanta, Manhattan, Portland, Chicago, Los Angeles, Miami and Austin.
The Trulia App is available from the App Store on iPhone and iPod touch or at www.itunes.com/appstore/.
Trulia has also launched a mobile version of its website, m.trulia.com (or mobile.trulia.com), which delivers all the power and functionality of the web site in a format optimized for mobile handsets. The mobile website works on all mobile handsets with a web browser, including the iPhone and iPod Touch, and allows users to search homes for sale, view extensive property details, use advanced search features such as homes with a price reduction or upcoming open houses, and access advice from the Trulia Voices community.
You can learn more about all of Trulia's mobile options at www.trulia.com/mobile.
About Trulia, Inc.
Trulia, Inc. has revolutionized real estate search by offering a rich, intuitive user experience to help consumers find homes for sale, track local price trends, compare properties and neighborhood data all at the hyper-local level. Trulia Voices, the largest real estate community on the web, allows home buyers, sellers, agents and real estate enthusiasts to ask questions, receive advice and blog on topics such as the buying and selling process, foreclosures, refinancing and more. Trulia's user-friendly search can also be accessed on more than 170 websites as a result of our media partnerships. Trulia has received a number of awards, including the 2009 Webby Award for real estate. For more information, visit http://www.trulia.com/.
Media Contact:
Ken Shuman
Email Contact
415-517-7211


Copyright @ Marketwire
Page: 1
Related Keywords:
trulia, real estate search, iphone, iphone app, app store, Marketwire, Inc.,Apple Computer,Internet Technology,
---