Trulia Reports Outstanding Growth and Increased Momentum in 2008
Consumers Lack of Confidence Drives Need for Housing Education and Enhanced Real Estate Services
(January 06, 2009)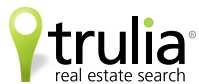 SAN FRANCISCO, CA -- (Marketwire) -- 01/06/09 -- Trulia, Inc. (www.trulia.com), the best place to start your real estate search, set major new benchmarks for company growth in 2008. From its launch just three years ago, Trulia has grown into one of the Top 5 Real Estate sites on the web according to October's ComScore numbers. Last year was Trulia's largest ever with a total of more than 42 million unique visitors searching for homes, tracking trends and participating on Trulia Voices.
During the past year, Trulia has achieved significant year-over-year increases in all key performance measurements. Two impressive growth benchmarks include 42 million unique users in 2008, a 140% increase from one year ago and 430 million total page views, according to internal Ominiture data. One of the biggest successes of the past year is the way the industry has embraced Trulia and its products and services. There are now more than 335,000 registered real estate professionals on Trulia.com.
Trulia's community also experienced significant growth in 2008 as consumers were doing more research and had more questions than ever. The community had 420,000 contributions, an increase of 420%, making it the largest and most active real estate community on the web. On average, questions are answered within 20 minutes and each question generates more than 4 responses from real estate professionals and consumers.
2008 was also a year of innovation at Trulia. Throughout the course of the year Trulia introduced:
-- Trulia Mobile - the Trulia iPhone application has been downloaded more than 125,000 times making it the most popular real estate application on the iPhone. Trulia also works on multiple smart phones and on the Dash GPS navigation system. -- New Widgets - Trulia Voices, an easy way to show off your answers from Trulia Voices on your own blog or website and TruliaSnapshot, an experimental way to view listings that can be added to a website or blog for free. -- More than 100 Trulia Publishing Platform installations - sites like USNews.com are using the hosted technology solution that gives Web publishers the ability, completely free of charge, to create co-branded online real estate sections powered by Trulia's search technology. -- Trulia Blogs - a free, easy and collaborative environment, empowering consumers and real estate professionals to share their voices on an easy to use blog platform. -- Homepage Newsfeed - Trulia's homepage now displays a local news feed featuring customized real estate news to help consumers access up-to-the minute information that relates directly to the cities that they care about.
Industry Recognition:
Lastly, Trulia was recognized by multiple publications and organizations during the last year, including:
-- People's Choice Webby Award in the real estate category -- PC Magazine's Top 100 Classic Websites -- Laptop Magazine's Top 50 Web Tools -- Inman News' Top 100 Influential Real Estate Leaders -- #1 Real Estate Lead Generator - during the month of October, an independent study conducted by the nation's premier network for listing asset management, Threewide Corporation, analyzed approximately 600,000 listings sent from MLSs and brokers to 17 of the largest real estate sites. It revealed that Trulia is the #1 real estate lead generator as well as #1 in visitors sent to listing broker and agent sites through the Threewide ListHub service.
"Looking back at 2008, we are really proud of the service we have built. We secured an additional 15 million in funding, worked with more than 100 new advertisers including Home Depot and State Farm, built the #1 downloaded real estate application for the iPhone, grew our registered base to more than 300,000 agents and were used by more than 42 million unique individuals," said Pete Flint, CEO and co-founder, Trulia.com. "With the economy still facing wild swings and consumer confidence shaky, consumers thirst for information and knowledge will continue to grow. Cutting edge agents that have embraced Web 2.0 tools and techniques will continue to connect with users online and find consumers that are engaged and ready to purchase."
About Trulia, Inc.
Trulia, Inc. (http://www.trulia.com/), a residential real estate search engine and the fastest-growing U.S. real estate Web site (comScore), has revolutionized online home search by offering a rich, intuitive user experience that points consumers directly to listings on agent and broker Web sites. By partnering with the real estate industry, including 93 of the top 100 largest U.S. brokers, Trulia helps approximately 5 million unique visitors per month find information on homes for sale using custom search criteria. The site also provides market trends and neighborhood data at the hyper-local level, as well as Trulia Voices, a real estate Q&A community that enables consumers and professionals to exchange information about their local markets. For more information, visit http://www.trulia.com/.
Media Contact:
Ken Shuman
Email Contact


Copyright @ Marketwire
Page: 1
Related Keywords:
Trulia, real estate search, homes, online home search, residential real estate search engine, USA, Marketwire, Apple Computer, Internet Technology, Web 2.0,
---