Triplefin Earns the 49th Spot on the Deloitte Cincinnati USA 100 List With $160 Million in 2010 Revenue
(December 15, 2011)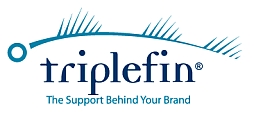 CINCINNATI, OH -- (Marketwire) -- 12/15/11 -- Triplefin, a leading provider of outsourced promotion and fulfillment solutions to the Pharmaceutical and Consumer Goods industries, has earned a spot on the Deloitte Cincinnati USA 100 list for the fourth consecutive year. Accounting and consulting firm Deloitte ranks companies by their annual sales revenue, as well as requires each firm to complete an in-depth survey, to arrive at the 100 largest, privately held companies in Greater Cincinnati and Northern Kentucky. This year's survey included questions about fiscal projections, hiring and technology, as well as views on the direction of the national and local economies. More than 400 firms were considered for this honor, with Triplefin winning out the number 49 position, up from 55 in 2010.
Triplefin CEO Greg LaLonde attributes this achievement to the client-centric culture at Triplefin. "Above all else, our goal is to build strong relationships with our clients. Our close partnerships allow our clients to feel confident sharing with us their needs, along with vital industry insight. We're able to find out areas where they would like to improve their business, and then design innovative solutions and services to help them do so. Our ability to adapt quickly to the changing needs of our clients is what keeps them happy and ultimately why we were able to achieve $160 million in revenue in 2010."
Why are Triplefin's employees so good at keeping their clients happy? Because they're happy! In addition to being named to Deloitte's Top 100 list, Triplefin was recently chosen as a finalist in the Cincinnati Business Courier's "Best Places to Work" competition. Geri Mittelhauser, Director of Human Resources, explains how Triplefin keeps morale high and employees motivated to continually be at their best. "We offer quarterly professional and personal training opportunities, focusing on topics that rank the highest in our annual employee satisfaction survey. We also encourage incentive programs for exceptional client service, which offer employees the chance to receive cash, gift cards or paid days off. We highlight employee accomplishments in our monthly newsletter and also have a reserved parking spot allotted for employee recognition. The positive attitude of our employees is reflected in their interactions with clients and that has played a huge role in generating new and repeat business."
LaLonde added, "We are proud to say we've managed to create 40 new positions since 2010 in a time when many other companies are downsizing. It is an honor to be a part of the Deloitte Cincinnati USA 100, a program that emphasizes the role organizations like Triplefin play in the local economy. We are even more optimistic for 2012 and are excited to see what the upcoming year holds for us."
About Triplefin LLC
Triplefin, "The Support Behind Your Brand," was founded in 1981. The company is privately owned and headquartered in Cincinnati, Ohio. Triplefin provides integrated business process outsourcing solutions to leading companies in the pharmaceutical and consumer products industries. The company's mission is to provide its clients with a sustainable operating advantage by deploying the best people with the optimal balance of technology and processes to support their programs. The company's pharmaceutical marketing support services include complete voucher program design, development and the management services required for successful traditional and alternative sampling and promotion programs; clinical trials; patient assistance programs including reimbursement services; and DTC/Web promotional programs. The company's order to cash services include multi-channel order processing; product, sample and literature fulfillment; sales and marketing support; customer care; financial management; and Trade Promotion Management (TPM) software and services. Triplefin is also the parent company of National Patient Services, RxHope, SharePoint Innovations, and Innovations Mobile.
Contact:
LeTicia S. Hallstead
(513) 386-6412
lhallstead@triplefin.com


Copyright @ Marketwire
Page: 1
Related Keywords:
Triplefin LLC, USA, Marketwire, , Financial, Management Services, Literature, Lifestyle, Medical, Business, Other,
---