TripChill Mobile Travel Apps Are Now Available for Android, iPhone, and Blackberry
(March 30, 2011)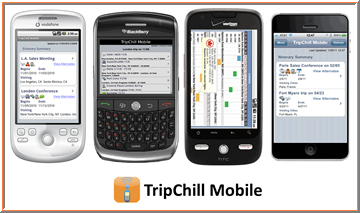 Stratham, NH (PRWEB) March 30, 2011
TripChill mobile applications are now available for iPhone, Android and BlackBerry devices. Travelers can view all of their itinerary details online or offline, including the current status of their active travel leg. Android and iPhone travelers can view alternate flights for any flight leg in their itinerary using a powerful graphical format that is easy to read on a mobile device. And for those times when the traveler cannot forward in their travel reservation emails to the service, the TripChill mobile application provides access to creating and editing itineraries directly from the travelers smartphone.
These new applications compliment the very advanced TripChill mobile web interface that iPhone, Android, and BlackBerry Torch travelers have already had access to via their mobile browser at m.tripchill.com. This interface provides a dynamic travel dashboard that shows the travelers current situation, along with weather, driving directions and more. The TripChill mobile experience empowers the traveler to update TripChill with changes as they occur by prompting them via email or text messaging, so that the service can continue to provide the best assistance possible.
According to President Alex Shore, "We are excited to release the TripChill mobile application designed for all of the most popular smartphone operating systems. This is our next logical step in expanding the TripChill mobile platform. We will continue to enhance these applications as we work with our business partners to provide a more robust travel assistant experience."
About TripChill:
The TripChill Mobile Platform powers the TripChill Mobile Travel Assistant, which is an automated service that provides the ability to quickly take action when travel problems arise. The service begins monitoring travel itineraries before a trip even starts. It provides a situationally-aware mobile interface that tells the traveler the current status of their next flight and exposes mobile access to itinerary details such as phone numbers, confirmation numbers, driving directions, and weather. TripChill provides "Smart Alerts", which are different from other mobile travel services that are limited to flight notifications based on the traveler's initial trip information. Travel changes while enroute. TripChill not only notifies the traveler about all aspects of a trip, but it also asks the traveler questions about flights, hotel reservations, and more via their mobile phone, to keep their itinerary up to date as travel conditions change. The service keeps the traveler's friends and colleagues informed about their travel status as they progress through their itinerary. TripChill works on all types of phones by leveraging email and text messaging.
What's your mobile travel strategy? For more information about how your company can leverage the TripChill Mobile Platform to provide an integrated mobile travel service, please contact us.
Want to manage, track, and communicate with groups of travelers? Visit our TripChill Enterprise website to learn more and start a free trial.
###
Read the full story at http://www.prweb.com/releases/tripchill/2011_03/prweb5206334.htm.
Page: 1
Related Keywords:
economy, business and finance,financial and business service,business enterprises,business (general),travel and commuting,computing and information technology,satellite technology,software,wireless technology,science and technology,technology (general),identification technology,agricultural research and technology,economy, business and finance,financial and business service,business enterprises,corporations,business (general),economy, business and finance,waste management and pollution control,financial and business service,business enterprises,management change,business (general),merger, acquisition and takeover,restraint of trade,international (foreign) trade,trade dispute,
---