Travelport and Nor1 Team to Increase RevPAR for Hotels
(May 16, 2012)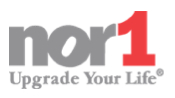 ATLANTA, GA and SILICON VALLEY, CA -- (Marketwire) -- 05/16/12 -- Travelport, the business services provider to the global travel industry, and Nor1, the technology leader in upsell solutions, today announce a strategic partnership to broaden distribution and increase revenue opportunities for hotels.
Under the agreement, hotels leveraging Nor1's upsell solutions, such as its signature eStandby Upgrade®, will be able to reach more guests with relevant and targeted offers through Travelport which operates both the Worldspan and Gallileo global distribution systems (GDS).
eStandby Upgrade offers, currently used by thousands of worldwide hotels, will now be available via itinerary emails and Travelport ViewTrip™, Travelport's leading online itinerary tool for travelers, which is available free of charge to Travelport connected agencies. Participating properties confirm the pay-for-upgrade requests guests make at check-in and are able to instantly boost their bottom line revenue and increase RevPAR on top of their existing reservations.
"By Partnering with Travelport, we are enabling more guests to take advantage of eStandby Upgrade to enhance their stay with leading properties around the globe. Our solution also benefits the properties as they earn more revenue from every reservation," said Jason Bryant, President and COO of Nor1, Inc. "We share Travelport's vision of delivering industry-leading solutions to the hospitality industry. Together we are able to drive the industry forward through innovation that boosts earnings and overall guest satisfaction."
"Nor1 provides a true benefit to every audience we reach -- our agents, hotels, even the end-user by offering the right offer to the right guest at the right time," said Niklas Andreen, GVP Hospitality and Partner Marketing for Travelport. "This partnership is very much aligned with our global drive to boost revenues for hotel customers and provide additional value to our travel agents clients."
About Travelport (www.travelport.com)
Travelport is a broad-based business services company and a leading provider of critical transaction processing solutions to companies operating in the global travel industry.
With a presence in over 170 countries, approximately 3,500 employees and 2011 net revenue of $2.0 billion, Travelport is comprised of the global distribution systems (GDS) business, which includes the Galileo and Worldspan brands and its Airline IT Solutions business.
Headquartered in Atlanta, Georgia, Travelport is a privately owned company.
About Nor1, Inc.
Nor1, Inc. is the technology leader in upsell solutions. Headquartered in Silicon Valley, Nor1 provides data-driven pricing and merchandising solutions to maximize revenues for hotels and resorts worldwide including Hilton, Hyatt, InterContinental and Carlson hotels. Nor1 products include its signature eStandby Upgrade® and the FrontDesk Upsell™ both powered by PRiME™, the decision intelligence engine, that makes product selection, upsell pricing, and display ranking decisions customized for each hotel guest.
Nor1 is creating the fusion between technology and guest experience. It's that combination of expertise and skill that have set Nor1 apart and continues to attract technology's most distinguished investors such as Goldman Sachs and Accel Partners. For more information, please follow us on Facebook and Twitter and visit www.nor1.com.
Add to Digg Bookmark with del.icio.us Add to Newsvine
Media Inquiries:
Nicole Hockin
Marketing & PR for Nor1, Inc.
Email Contact
+1 408.355.9848


Copyright @ Marketwire
Page: 1
Related Keywords:
boost revenue, revenue management, RevPAR, hotel distribution, upsell, estandby, travelport, nor1, Marketwire, Inc., , Business Services, Business,
---