TranSwitch's Atlanta 2000(TM) LTE Gateway Solution Successfully Completes Voice-over-LTE Testing Over Verizon's 4G LTE Development Network
Testing Validates TranSwitch's Solution's Capability to Deliver High Quality, Simultaneous Voice and Data Services Over Next Generation 4G LTE Infrastructure
(February 13, 2012)
SHELTON, CT -- (Marketwire) -- 02/13/12 -- TranSwitch Corporation (NASDAQ: TXCC), a leading provider of semiconductor solutions in the rapidly growing consumer electronics and telecommunications markets, today announced that its Atlanta 2000™ LTE Gateway reference design has successfully completed testing over the Verizon Wireless 4G LTE * (Long Term Evolution) development network. In addition to validating operability of the TranSwitch reference design on the 4G LTE network, the testing confirmed the Voice-over-LTE (VoLTE) capability of the design, a step that can lead to the development and implementation of products incorporating this new technology.
The testing occurred at Verizon's LTE Innovation Center in Waltham, Mass. Verizon's Innovation Program fosters development of new products, services and enablers for 4G LTE, and TranSwitch worked closely with Verizon Wireless engineers to complete the tests. This kind of development done alongside innovative technology companies is core to Verizon's Innovation Program and part of its charter to advance the growth of the 4G LTE ecosystem.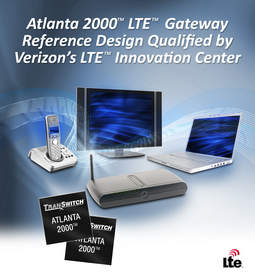 "With this key milestone, TranSwitch can lead the way for manufacturers to begin developing their products for VoLTE-based home gateways and routers," said Dr. Ali Khatibzadeh, President & CEO of TranSwitch. "Successful implementation of wireless home solutions built around 4G LTE with VoLTE promises carriers an opportunity to offer cost-effective, broadband services. Verizon is the world leader in the deployment of 4G LTE network services and our work with them in the LTE Innovation Center paves the way for other operators in developed and emerging markets to explore additional 4G LTE services."
More than 230 wireless operators around the globe are either deploying or plan to deploy commercial LTE networks. For efficiency and improved quality of service, many of these operators plan to offer VoLTE services in addition to high-speed internet access. The availability of a high-speed wireless broadband network that is also capable of offering voice services could provide carriers with the opportunity to provide a differentiated and cost-effective multi-service bundled offering.
According to a recent report from In-Stat, LTE subscriptions will experience a 3,400% explosion of growth between 2011 and 2015. In-Stat also forecasts that LTE networks will generate 50% of last mile backhaul demand in North America. A similar or more aggressive growth opportunity exists in other parts of the world. The global demand for 4G LTE home gateways and routers is expected to rise to 35 million units per year by 2015.
Kris Shankar, Sr. Vice President & GM of the Telecom Business of TranSwitch, said, "The successful interoperability of our Atlanta 2000 gateway reference design on Verizon's 4G LTE development network showcases our ability to concurrently deliver both high speed data and VoLTE. Customers who adopt our turnkey solutions will now have IMS (IP Multimedia Subsystem) compatibility for voice and data and will be better positioned for similar services in other providers' networks too."
"We are pleased to have been able to support TranSwitch in the development of its 4G LTE gateway reference design for future services," said Praveen Atreya, director of the Verizon LTE Innovation Center. "This is another example of companies using the LTE Innovation Center to develop, test and validate 4G LTE-based technology for use in tomorrow's products and services."
Atlanta 2000™ LTE Gateway Solution Key Features:
Low power hardware architecture consisting of Dual Network Processor Cores, Dedicated VoIP DSP and Dual Crypto Security Engines.
Turnkey broadband, wireless and telephony functionality with IMS compliant, Voice over LTE (VoLTE) deployment-ready software stack, Certified OMA-DM, Broadband Forum Management and Provisioning
Award-winning Telco-grade VoIP quality with comprehensive Wireline and Wireless Codec support
Dual Stack IPv4/IPv6, Hardware-based security and tunneling (IPSec /PPPT/L2TP /SSL)
Best-in-class performance Java Virtual Machine and OSGI support for Home Automation Applications over LTE
TranSwitch's A2000™ LTE gateway solution is available now and will be showcasing at Mobile World Congress Hall 2 booth 2G63 from February 27th to March 1st in Barcelona, Spain. For more information, please visit: www.transwitch.com
* LTE is a trade mark of ETSI (European Telecommunications Standards Institute)
About TranSwitch Corporation
TranSwitch Corporation (NASDAQ: TXCC) designs, develops and supplies innovative semiconductor and intellectual property (IP) solutions that provide core functionality for voice, data and video communications equipment for network, enterprise and customer premises applications. Founded in 1988, TranSwitch® is headquartered in Shelton, CT. The Company provides integrated multi-core network processor System-on-a-Chip (SoC) solutions and software solutions for fixed, 3G and 4G Mobile, VoIP and Multimedia Infrastructures. For the customer premises market the Company offers a family of communications processors that provide best-in-class performance for a range of applications and also provide interoperable connectivity solutions that enable the reliable distribution and presentation of high-definition (HD) content for consumer electronics and personal computer markets. Our intellectual property (IP) products are compliant with global industry standards such as HDMI and DisplayPort and also feature our proprietary HDP™ and AnyCable™ technologies. For more information, please visit www.transwitch.com
Safe Harbor Statement
This press release may contain forward-looking statements within the meaning of the Private Securities Litigation Reform Act of 1995. All forward-looking statements are subject to certain risks, uncertainties and assumptions. These risks and uncertainties, which are more fully described in TranSwitch's Annual and Quarterly Reports filed with the Securities and Exchange Commission, include changes in market conditions in the industries in which the Company operates. Should one or more of these risks or uncertainties materialize, or should the assumption prove incorrect, actual results may vary in material aspects from those currently anticipated.
Image Available: http://www2.marketwire.com/mw/frame_mw?attachid=1883461

Add to Digg Bookmark with del.icio.us Add to Newsvine
Media Relations
Brian Ribeiro
Mspire Group
Tel: +1 908.369.9300 X100
Email Contact

Corporate Contact
Charlotte Chiang
TranSwitch Corp.
Tel: +1 203.929.8810
Email Contact

Investor Relations
Mary Lombardo
TranSwitch Corp.
Tel: +1 203.929.8810
Email Contact


Copyright @ Marketwire
Page: 1
Related Keywords:
LTE, VoLTE, home gateway reference design. router, fixed-wireless, TranSwitch, 4G LTE, 4G, TXCC, Home,Family,Internet,Security,Broadband,Family,Digital Media Software,Computers/Home Office,Communications,Web,Networks,Security,Applications,Security,Family,Video,Office Equipment,Applications,Security,Internet,Business Issues,Hardware,Architecture,Security,Internet Server Applications,Management,CEO/CFO,Spain,Marketwire, ,Consumer Electronics,Internet Technology,Business,Internet,Family,Other,
---