TourWrist Demos Easy, User-Generated PanoSpots; Adding This Interactivity to Any Smartphone-Produced Panorama
Additional App Enhancements Available Starting Today: 360º Pano Editing; Improved Stitching; Offline Pano Photography; Retina Panos; and Shooting Panos With an iPad
(April 17, 2012)

SANTA CLARA, CA -- (Marketwire) -- 04/18/12 -- TourWrist, the best-in-class virtual tour platform empowering anyone to shoot, publish, view and share 360-degree panos, announced today at DEMO Spring 2012 the addition of user-generated interactive "PanoSpots™" to its panoramic virtual tours. The company also announced shooting 360º panos with an iPad and enhanced and expanded panoramic photography features and a suite of new APIs and SDKs.
PanoSpots will soon enable 'TourWrists' to tap, walk or "flick" their viewpoint through doorways and paths to load adjacent virtual tour panos. By introducing planar acceleration controls, TourWrist has made it possible for TourWrists to physically walk toward walls and doorways to approach and/or move through these spaces within their virtual tour environments. The announcement of PanoSpots also brings the ability to link to other subject matters, such as Facebook friends, brands, videos, photos, audio and web pages.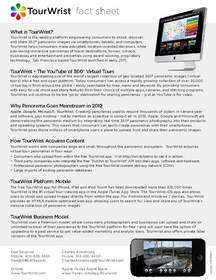 This announcement coincides with a set of major TourWrist iOS app enhancements that have just been publicly released through a free upgrade (v2.3.2) from the Apple iTunes App Store. Meanwhile, PanoSpot functionality will be released soon (in a v2.3.3 release).
Available in the TourWrist (v2.3.2) iOS app today, 'TourWrists' can now:
1. Preview and edit shots for perfect panos.
2. Edges of panos stitch seamlessly.
3. Shoot anytime, save locally and upload later.
4. Consistently shoot panos in 10 images.
5. Shoot panos from the new iPad (third generation) and soon iPad 2.
6. View Retina graphics on the new iPad (third generation).
7. Zoom in and out of panos on an iPad (third generation).
8. More fluid viewing experience as a result of faster frame rate.
9. Upload faster as a result of smaller pano upload sizes.
In addition, TourWrist also announced at DEMO that it will:
1. Make PanoSpots and planar acceleration controls available in May 2012.
2. Immediately begin licensing its Publish to/from TourWrist APIs and SDKs. The APIs and SDKs enable hotel, real estate, retail, educational and entertainment brands to leverage the highly acclaimed TourWrist shoot and share technologies and ever-growing library of crowd-sourced panos.
3. Introduce object tours later this year for 360º views of products.
"A photo is just a photo and a video is just a video. In neither case do you have the ability to re-navigate, re-capture and re-experience a moment in time," said TourWrist CEO and Founder Charles Armstrong. "For that, you need autonomy. You need to engage multiple senses. And you need navigation to be natural. This is the future that we at TourWrist have set out to build; the technologies to capture more than the essence of a moment, but to capture the moment itself."
"Today is the beginning. We have a lot of IP and pending patents that surround interpretive motion controls. We're now fleshing out a future where you don't just rotate devices, but where you can walk around in remote locales (perhaps even with the upcoming Google Glasses). Where you can hear the sounds, watch the world move, pick up and rotate objects, learn more about them -- and do it all in your pajamas," said Armstrong.
"We're thrilled to have virtual tour innovator, TourWrist, demo at DEMO Spring 2012," said DEMO Executive Producer Matt Marshall. "DEMO remains the premiere launch pad for new information technology products, presenting carefully vetted, market-changing products to an audience of media, investors, early adopters, market thought leaders, corporate acquirers doing M&A work and senior IT buyers from the enterprise."
About TourWrist
TourWrist is a leading, mobile and desktop-based virtual tour platform, employing a model similar to YouTube (but uniquely suited to panoramic virtual tours). The company's mission is to improve how consumers make educated, location-based decisions.
'TourWrists' can easily shoot and upload their own 360º panoramic images, or browse and share any of the 40,000+ geo-tagged panos already available via the free TourWrist iOS app (iPhone, iPad, iPod Touch), the Android-optimized web app, and on the TourWrist website.
TourWrist is on track to reach a million downloads of its app -- soon.
TourWrist launched commercially in early 2011. The company owns and operates the world's largest panoramic photography forum, Panoguide, with 6,700 professional virtual tour photographers globally, and is a sponsor of the International VR Photography Association (IVRPA).
TourWrist, Inc. (private) is headquartered in San Francisco. For more information about TourWrist, please visit:
iTunes App Store: www.itunes.com/app/TourWrist
Web: www.TourWrist.com
YouTube: www.YouTube.com/TourWrist
Twitter: www.Twitter.com/TourWrist
Blog: blog.TourWrist.com
TourWrist is an independent service and has not been authorized, sponsored, or otherwise approved by Apple Inc. All trademarks, including TourWrist®, are registered trademarks of their respective companies.
About DEMO
Produced by the IDG Enterprise events group, the worldwide DEMO conferences focus on emerging technologies and new products innovations, which are hand selected from across the spectrum of the technology marketplace. The DEMO conferences have earned their reputation for consistently identifying cutting-edge technologies and helping entrepreneurs secure venture funding and establish critical business. For more information on the DEMO conferences, visit http://www.demo.com/.
All product and company names herein may be trademarks of their registered owners.
Image Available: http://www2.marketwire.com/mw/frame_mw?attachid=1934694
Embedded Video Available: http://www2.marketwire.com/mw/frame_mw?attachid=1934698

Add to Digg Bookmark with del.icio.us Add to Newsvine
Media Contacts:

Charles Armstrong
CEO & Founder
TourWrist
800.868.7660 Ext. 705
iPhone: 813.486.4400
CharlesArmstrong@TourWrist.com

Dan Smigrod
SVP and Chief Marketing Officer
TourWrist
800-868-7660 Ext. 701
Direct: 404.303.7311
iPhone: 404.635.6856
DanSmigrod@TourWrist.com


Copyright @ Marketwire
Page: 1
Related Keywords:
Demo Spring 2012, TourWrist, Tour Wrist, TourWrist App, Tour Wrist App, Tourist DEMO, TourWrist DEMO, Sales & Marketing, Internet, Marketwire, Inc., , IT (Information Technology), Apple Computer, Internet Technology, Computer Science, Business, Entertainment, Other,
---