Toshiba's Call Manager for IPedge Business Telephone System Honored With a 2012 CRM Excellence Award From Customer Interaction Solutions Magazine
(May 30, 2012)
IRVINE, CA -- (Marketwire) -- 05/30/12 -- Toshiba America Information Systems Inc., Telecommunication Systems Division (Toshiba) -- www.telecom.toshiba.com, today announced that its Call Manager for IPedge® unified communications system has been named a winner of the 2012 CRM Excellence Award from Customer Interaction Solutions magazine. The 13th Annual CRM Excellence Award winners can be found in the May 2012 issue of Customer Interaction Solutions magazine.
"We are honored to have Toshiba's Call Manager for IPedge win a 2012 CRM Excellence Award from Customer Interactions Solutions magazine," said Brian Metherell, vice president and general manager of Toshiba America Information Systems Inc., Telecommunication Systems Division.
"Toshiba has been granted a CRM Excellence Award for its commitment to its customers and their clients," said Rich Tehrani, CEO, TMC. "Toshiba has demonstrated to the editors of Customer Interaction Solutions that Call Manager for IPedge has improved the processes of their clients' businesses by streamlining and facilitating the flow of information needed for companies to retain customers."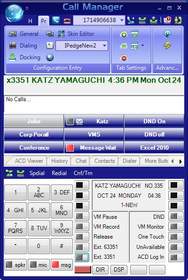 Based on hard data, the CRM Excellence Awards rely on facts and numbers demonstrating the improvements that the winner's product has made in a client's business. Winners were chosen on the basis of their product or service's ability to help extend and expand the customer relationship to become all encompassing, covering the entire enterprise and the entire customer lifecycle.
"Toshiba's Call Manager for IPedge gives enterprise and SMB users of Toshiba's IPedge IP business telephone systems a highly effective unified communications solution that delivers the capabilities they want in a friendly graphical user interface, including button flexibility, fully featured call control, presence viewer, IM chat, softphone option, and much more," Metherell added.
About Call Manager for IPedge
Toshiba's Call Manager for IPedge gives enterprise and SMB users of Toshiba's IPedge IP business telephone systems a highly effective unified communications solution that delivers the capabilities they want in a friendly graphical user interface, including button flexibility, fully featured call control, presence viewer, IM chat, softphone option, CRM integration with screen pops, and more.
The recently announced Version 7.5 of Call Manager now also includes:
Choice of Regular, Compact or Slim Docking Mode -- Call Manager 7.5 allows the user to choose one of three display modes: regular, compact, and slim docking. In the regular mode, Call Manager 7.5 displays a full-screen view of all functions. In compact mode, Call Manager 7.5 consumes minimal screen space but still provides the user with indicators, information, and buttons to effectively operate the UC application. In the slim docking mode, Call Manager 7.5's slim window can be docked to the top or the bottom of the user's screen with commonly used function buttons and the ability to expand to regular view. The ability for the user to choose and move its screen placement makes Call Manager more ergonomic while freeing up space on the screen.


VoIP Softphone Integration -- Call Manager 7.5 has a built-in VoIP softphone option, which users can activate at any time. When the optional built-in VoIP softphone is activated, it can be assigned to one of the companion application windows, making the entire set of IP telephone features accessible to the user. The softphone also allows any fixed buttons, soft keys or programmable buttons to be mapped to a Call Manager button. LED lamp status is also provided on the button. Button labels are automatically populated using those defined in the system.


Customizable Hot Key Actions That Let the User Take Control -- Call Manager 7.5 has an expanded number of hot keys that allow the user to click to dial any highlighted number. Users can also assign many new functions to hot keys, including Answer and Hang-up, to customize Call Manager to meet their needs.


Compatibility With Jabra Headsets for High-Quality Sound, Hands-Free Use -- Call Manager 7.5 is compatible with Jabra headsets, giving users high-quality sound and hands-free operation. When used with Call Manager 7.5, Jabra headset users can expect audio integration, ring in the headset (requires LINK 20), answer/end calling integration, and mute/volume control, depending on the headset's capabilities. Call Manager 7.5 is compatible with the following Jabra headset models: Jabra GN9125, Jabra GN9330e, Jabra GN9350e, Jabra GN2100, Jabra GN1900, Jabra GN2000, Jabra PRO™ 9400 Series, Jabra GO™ 6470, and Jabra GO 6430.


Triggers and Actions That Allow Users to Customize Call Handling -- Users can program up to 200 different triggers and actions, allowing them to customize Call Manager 7.5 for their own unique personal call handling applications.


Notification Pop-up for Incoming Calls and Alarms From the Taskbar -- From the Call Manager 7.5 Notification window, users can receive pop-up notification for incoming calls and alarms right from the taskbar. From the notification window, the user can answer the call, bring up Call Manager when minimized, and perform other actions. The notification window will be dismissed automatically after the pre-configured time defined by the user.
In addition to the new features, Call Manager 7.5 also includes the many call handling features that have made Call Manager an award-winning unified communications solution, including:
Flexible, easy-to-use ribbon graphical user interface;
Button customization options;
Fully featured call control (click-to-dial and more);
Presence Viewer (shows agent status);
Chat between agents/supervisors/other users in multiple locations;
Companion applications, including Contacts, History, ACD Viewer, Chat, Dialer for Microsoft Outlook®, and Web browser; and
Integration with the most popular CRM applications, including Act! ®, TigerPaw®, Salesforce.com®, Microsoft Outlook and more.
Compatibility With IPedge and Strata CIX IP Business Telephone Systems
Call Manager is compatible with Toshiba's IPedge (Models EP, EC and EM) and Strata® CIX™ (CIX40, CIX100, CIX200, CIX670 and CIX1200) families of IP business telephone systems. Users can use Call Manager 7.5 in a network of mixed systems from either product family and with any system size. It is also ideal for use with Toshiba's Contact Center Suite, allowing for remote call center groups among multiple networked systems as well as with single desktop IP phones and IP soft phones on a laptop. Users of existing Call Manager versions can easily upgrade to Call Manager 7.5 at no cost when the system is covered by the Toshiba Software Update and Support program.
About Customer Interaction Solutions
Since 1982, Customer Interaction Solutions (CIS) magazine has been the voice of the call/contact center, CRM and teleservices industries. CIS magazine has helped the industry germinate, grow, mature and prosper, and has served as the leading publication in helping these industries that have had such a positive impact on the world economy to continue to thrive. Through a combination of outstanding and cutting-edge original editorial, industry voices, in-depth lab reviews and the recognition of the innovative leaders in management and technology through our highly valued awards, Customer Interaction Solutions strives to continue to be the publication that holds the quality bar high for the industry. Please visit www.cismag.com.
About TMC
TMC, celebrating its 40th Anniversary in 2012, is a global, integrated media company that helps clients build communities in print, in person, and online. TMC publishes the Customer Interaction Solutions, INTERNET TELEPHONY, Next Gen Mobility and Cloud Computing (formerly InfoTECH Spotlight) magazines. TMCnet.com, which is read by 1.5 million unique visitors each month, is the leading source of news and articles for the communications and technology industries. TMC is the producer of ITEXPO, the world's leading B2B communications event. In addition, TMC runs multiple industry events: including Mobility Tech, M2M Evolution, Business Video, ChannelVision Expo, MSPWorld, Super WiFi, SUITS, LatinComm, HTML5 Summit Conferences and more. Visit TMC Events for a complete listing and further information.
For more information about TMC, visit www.tmcnet.com.
About Toshiba America Information Systems, Inc. (TAIS)
Headquartered in Irvine, Calif., TAIS is comprised of three business units: Digital Products Division, Imaging Systems Division, and Telecommunication Systems Division. Together, these divisions provide digital products, services and solutions, including industry-leading portable computers; televisions, TV/DVD Combination products, Blu-ray Disc and DVD products, and portable devices; imaging products for the security, medical and manufacturing markets; and IP business telephone systems with unified communications, collaboration and mobility applications. TAIS provides sales, marketing and services for its wide range of products in the United States and Latin America. TAIS is an independent operating company owned by Toshiba America, Inc., a subsidiary of Toshiba Corporation.
About Toshiba
Toshiba is a world leader and innovator in pioneering high technology, a diversified manufacturer and marketer of advanced electronic and electrical products spanning digital consumer products; electronic devices and components; power systems, including nuclear energy; industrial and social infrastructure systems; and home appliances. Toshiba was founded in 1875, and today operates a global network of more than 490 companies, with 203,000 employees worldwide and annual sales of approximately 6 Trillion Yen ($74 Billion). Visit Toshiba's Web site at www.toshiba.co.jp/index.htm.
© 2012 Toshiba America Information Systems Inc. All rights reserved. All product, service and company names are trademarks, registered trademarks or service marks of their respective owners. Information including, without limitation, product prices, specifications, availability, content of services, and contact information is subject to change without notice.
Image Available: http://www2.marketwire.com/mw/frame_mw?attachid=1997486

Add to Digg Bookmark with del.icio.us Add to Newsvine
Toshiba PR Contact:
Teri Sawyer, T&Co.
714-536-8407
Email Contact

TMC Contact:
Jan Pierret, TMCNet
Marketing Manager
203-852-6800, ext. 228
Email Contact


Copyright @ Marketwire
Page: 1
Related Keywords:
Toshiba phone systems, business telephone system, Call Manager, IPedge, 2012 CRM Excellence Award , Manufacturing,Sales,Applications,Manufacturing/Production,Marketing,CRM - Customer Relationship Management,Manufacturing,Sales & Marketing,Security,Internet,Business Issues,Security,Internet Server Applications,Management,Sales,CEO/CFO,Sales,Display,Prosumer/Consumer,Business,Blu-ray/HD DVD,Phone,DVD Hardware,Marketing,USA,Marketwire, Inc., ,Appliances,Communications Technology,Internet Technology,Biology,Business,Family,Other,
---