Toshiba Announces iPhone Compatibility Delivering "One Number Reach" to Users of Toshiba Strata CIX VoIP Systems
uMobility Solution Expands Mobile Unified Communications Capabilities for the Best of Wi-Fi and Cellular in a Single Device
(May 11, 2010)
IRVINE, CA -- (Marketwire) -- 05/11/10 -- Toshiba America Information Systems Inc., Telecommunication Systems Division (Toshiba -- www.telecom.toshiba.com) today announced Apple® iPhone™ compatibility for enterprise users of Strata® CIX™ VoIP business communication systems via uMobility, a Fixed Mobile Convergence (FMC) solution that expands Unified Communications capabilities. Smartphone compatibility now includes the iPhone as well as devices running Windows Phone® or Symbian® operating systems, such as popular models from Nokia, HTC, and more. Now available nationwide through Authorized Toshiba Dealers, uMobility from Varaha Systems (www.varaha.com) brings smartphone and Strata CIX VoIP system users the cost savings and increased mobility of FMC by enabling the best of Wi-Fi and cellular in a single device.
"iPhone users can now receive their business telephone calls directly on their smartphones utilizing Varaha's uMobility 'Mobile Desk, Global Reach' solution and Toshiba's Strata CIX VoIP business telephone system," said Brian Metherell, vice president and general manager for Toshiba America Information Systems Inc., Telecommunication Systems Division. "Together, the iPhone and Toshiba Strata CIX empower users with a 'one number reach' solution, providing mobility and unified communications whenever and wherever they need it -- at work, home, or on the road."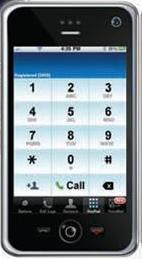 "With Varaha's uMobility and Toshiba's Strata CIX, iPhone users can now make personal calls from their cell phones and business calls from their business lines using their cell phones, without having to carry multiple phones or buy a special service plan," added David Fridley, product development manager of Unified Communications Solutions for Toshiba America Information Systems Inc., Telecommunication Systems Division.
uMobility Delivers Best of Wi-Fi and Cellular in a Single Device
When used with Toshiba's Strata CIX systems, uMobility delivers Voice over Wi-Fi in the enterprise and in other locations where Wi-Fi is available. Where Wi-Fi is not available, uMobility accesses the available cellular voice network.
By using the enterprise Wi-Fi network for voice calls instead of costlier cellular minutes, enterprises get the best of both Wi-Fi and cellular coverage in a single device. uMobility mobile routing applications also help reduce costs by providing optimal routing of expensive cellular international calling using cheaper landline rates and eliminating international roaming charges with the use of a local SIM card.
By allowing the user's iPhone to function as a business telephone, users get not only the best of both wireless and cellular calling but also are able to access the device's telephone book contacts and call history functions. iPhone users may also take advantage of many features of the Strata CIX system, including accessing their office unified messaging solutions, allowing them to receive their business voice messages in their email inbox on their cellular phones. These PBX functions are integrated with the uMobility client, resulting in a single application that meets the user's needs. Since the user is using his or her smartphone, there is virtually no learning curve with uMobility.
Features include echo cancellation for enhanced call clarity and OTA (Over the Air) configuration for fast and easy upgrades. In addition, iPhone users who are registered on the 3G network have the benefit of the message-waiting indicator.
iPhone users may also take advantage of four-digit dialing within the enterprise while on Wi-Fi and on cellular, and with dual-mode devices such as the iPhone, end users gain full mobility through improved in-building coverage. The potential cost savings gained by using Wi-Fi could show an immediate Return on Investment for the uMobility acquisition.
In addition to delivering features and functionality of the Strata CIX, the uMobility client works with the smartphone's VPN (Virtual Private Network) encryption client to enable secure communications into the enterprise over public networks. An industry-leading voice engine is embedded in uMobility for the best possible voice quality.
uMobility Certified Interoperable With Toshiba Strata CIX VoIP Systems
Varaha's uMobility is certified as interoperable with Toshiba's entire family of Strata CIX IP business communication systems. It is compatible with a wide variety of smartphones, including Apple iPhone, and many devices running Windows Phone or Symbian operating systems, such as popular models from Nokia, HTC, and more.
Supported Apple devices are:
iPhone, iPhone 3G, and iPhone 3GS, OS 3.0 and above
Now available, Varaha's uMobility solution is sold nationwide through Authorized Toshiba Dealers. Technical support is provided by Varaha. To find an Authorized Toshiba Dealer in your area, visit the Toshiba website at www.telecom.toshiba.com. For more information on Varaha and uMobility, visit www.varaha.com.
About Varaha Systems
Varaha Systems is leading the mobile convergence industry through development of technology that expands, streamlines and secures mobile business communications. The mobile desk with global reach is now achieved with the company's cost-effective, comprehensive and scalable software products that give workers the freedom to extend their office, voice, data, and video applications to their mobile device and freedom to choose the type of device, wireless carrier, type of network, or business communication system.
Varaha's uMobility products offer Service Quality Aware (SQA), seamless handoff, superior voice quality, and enterprise-grade security along with a rich, universal set of mobile capabilities. Varaha is headquartered in Dallas, Texas. Additional company and product information is available at www.varaha.com.
About Toshiba America Information Systems Inc. (TAIS)
Headquartered in Irvine, Calif., TAIS is comprised of four business units: Digital Products Division, Imaging Systems Division, Storage Device Division, and Telecommunication Systems Division. Together, these divisions provide mobile products and solutions, including industry-leading portable computers; imaging products for the security, medical and manufacturing markets; storage products for automotive, computer and consumer electronics applications; and telephony equipment and associated applications.
TAIS provides sales, marketing and services for its wide range of information products in the United States and Latin America. TAIS is an independent operating company owned by Toshiba America, Inc., a subsidiary of Toshiba Corporation. Toshiba Corporation is a world leader and innovator in high technology, a diversified manufacturer and marketer of advanced electronic and electrical products. These products span from information & communications systems; digital consumer products; electronic devices and components; as well as power systems including nuclear energy; industrial and social infrastructure systems; and home appliances. Toshiba was founded in 1875, and today operates a global network of more than 730 companies, with 199,000 employees worldwide and annual sales surpassing US $67 billion (FY 2008). For more information on Toshiba's leading innovations, visit the company's Web site at www.toshiba.com.
© 2010 Toshiba America Information Systems, Inc. All rights reserved. All product, service and company names are trademarks, registered trademarks or service marks of their respective owners. Information including, without limitation, product prices, specifications, availability, content of services, and contact information is subject to change without notice.
Image Available: http://www2.marketwire.com/mw/frame_mw?attachid=1250759

Add to Digg Bookmark with del.icio.us Add to Newsvine
Toshiba PR Contact:
Teri Sawyer
T&Co.
714-536-8407
Email Contact


Copyright @ Marketwire
Page: 1
Related Keywords:
VoIP, Toshiba phone systems, unified communications, IP business phone systems, Computers/Peripherals,Home,Family,Internet,Computer,OS (Operating System),WiFi/Wireless,Appliances,Security,Family,Digital Media Software,Communications,WiFi,Digital Audio,Web,Cell phone,Smart Phone,Home Networks,iPods,iphone,Applications,Security,Family,Video,EMail,Manufacturing,Office Equipment,Sales,Applications,Manufacturing/Production,Phones,Phone Systems,Marketing,Manufacturing,Sales & Marketing,Storage,Security,Computer Technology,Internet,Business Issues,Services,Software,Misc,Networks,Security,Mobile Devices,Smartphone,Security,Internet Server Applications,E-mail,Sales,Sales,Consumer Electronics,Prosumer/Consumer,Business,Consumer Electronics,Phone,Handheld PC/PDA,Business Communications,Marketing,PDA/Smartphone,Consumer Technology,Consumer Electronics,OS (Operating System),Storage,USA,Marketwire, Inc.,Apple Computer,Appliances,Consumer Electronics,Communications Technology,Internet Technology,Computer Science,Business,Outdoor Sports,Email,Family,Other,
---