Top 10 Reasons Paper White Pages Phone Books Should Be Eliminated
Over 40,000 People Have Signed the Ban the Phone Book Petition to Pull the Plug on the Unsolicited, and Unnecessary, Printing and Delivery of White Pages Phone Books
(November 17, 2010)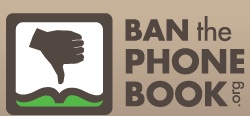 SEATTLE, WA -- (Marketwire) -- 11/17/10 -- Backed by WhitePages (www.whitepages.com), Ban the Phone Book (www.banthephonebook.org) today released 10 reasons consumers believe paper white pages phone books are irrelevant. Following survey results released in August 2009 indicating that 81 percent of US adults were willing to "opt-in" to receive the white pages phone book, the Ban the Phone Book petition has received over 40,000 signatures and has over 8,000 Facebook fans. Ban the Phone Book's top 10 list comes on the heels of recent news in the past month that New York, Florida and Pennsylvania have approved Verizon Communications' request to quit distributing residential white pages and AT&T's decision to provide Houston residents a printed phone book only if customers ask for one.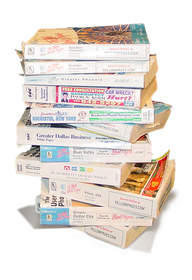 Ban the Phone Book's top 10 reasons to pull the plug on white pages phone books include:
1. Very few people depend on them. According to a 2008 Gallup poll, only 11 percent of households relied on the printed white pages phone books in 2008, down from 25 percent in 2005.
2. They create unnecessary environmental waste. Less than 20 percent of consumers recycle their white pages phone books, which explains why an estimated 165,000 tons of white pages phone books end up in landfills every year.
3. Better contact information is online for free. Ban the Phone Book has found that 78.5 percent of US adults prefer using online directories, their inner network of friends and family, search engines, and social networks over the white pages phone book.
4. They waste taxpayer money. Ban the Phone Book estimates that eliminating the white pages phone book could save an estimated $17 million in taxpayer funded recycling fees annually.
5. The information is often wrong. Printed phonebooks are out of date by the time they arrive. It takes many weeks to compile the telco information, manufacture, and deliver the books. Moreover, they're only updated and delivered annually.
6. They are painfully slow to use. The paper is absurdly thin, the font is teeny tiny, and they use bizarre acronyms for cities (Seatl? Shr ln?). Scanning is difficult, particularly when common misspellings like MacDonald and McDonald are pages apart.
7. They are only useful for the small area you live in. According to the Yellow Pages Association, there are over 25 different phone books for Los Angeles alone. By contrast, you can easily search statewide or nationwide online.
8. They contain information for landline telephone numbers only. More than 1 in 5 consumers have abandoned landlines in favor of VoIP or wireless only. Antiquated phone book listings are depleting rapidly. And even for those with landlines, it's often more convenient to connect via mobile numbers and email. You can add your cell phone (making it visible or hidden), email, and social networking links to your WhitePages listing on the web so that you control how you want to be contacted.
9. No remote access. Want to call a colleague to let her know that you'll be late to her dinner party? Hope you thought ahead to bring that cumbersome brick called a phone book. Online people search is available on all web-enabled mobile phones. After looking up a number, you can typically call instantly by selecting the numbers on the screen, and from most mobile apps, you can easily add the number to your address book.
10. Which John Smith? There are 53 traditional phonebook listings for John Smith in New York, New York. Paper phone books lack the identifying information available online including age range, company name, etc. to help you connect with the right person.
For consumers interested in curbing the unsolicited, and unnecessary, mass printing and automatic delivery of white pages phone books, BanThePhoneBook.org offers the following five recommendations:
1. Sign the Ban the Phone Book Opt-In Petition. Sign the BanThePhoneBook.org petition to show support for developing opt-in programs for individuals to request receiving the white pages phone book versus receiving it automatically.
2. Recycle your white pages phone books. Under 20 percent of white pages phone books are recycled nationally per year according to WhitePages. The rest are eventually burned or end up in landfills, which when bunched together take up very large areas of landfill space. Visit Earth911.com to learn more about recycling and always recycle unused or old phone books.
3. Become familiar with free online and mobile alternatives to using the phone book. Contact information for nearly every adult in the US is available online for free. Help make white pages phone books obsolete by using free online services such as the WhitePages.com website or mobile applications or other services like Google's GOOG-411.
4. Use social media to become a BanThePhoneBook advocate. Don't ignore those piles of white pages phone books you see in front of mailboxes and recycling bins. Take pictures and videos and share them on YouTube, Flickr, Twitter, and other social media platforms to share your outrage and get your family and friends to join the cause. Tell us your ideas on the Ban the Phone Book Facebook page.
5. And if you're really outraged, write your State Representative. Creating opt-in programs is part of a national trend in which many states have already signed on, including Ohio, Florida, and Missouri. Let your state representative know where you stand.
About WhitePages
WhitePages is the leading provider of contact information for people and businesses in the U.S. With over 20 million unique monthly users and powering over 2 billion searches on over 1, 500 sites including MSN and the United States Postal Service, only WhitePages offers consumers one-click access to more than 200 million adults, also offering them the ability to edit and control their own listings. The company's suite of mobile products include a top-50 mobile website and popular iPhone, Android, and BlackBerry applications that have been downloaded more than 7 million times. WhitePages' social buying website DealPop offers deals on local businesses around the US, at up to 70 percent off retail prices.
For more information, please visit www.whitepages.com, www.dealpop.com or check out the WhitePages blog at blog.whitepages.com.
WhitePages and their respective logos are trademarks, registered trademarks, or service marks of White Pages. Other products and company names mentioned are the trademarks of their respective owners.
Image Available: http://www2.marketwire.com/mw/frame_mw?attachid=1426845

Add to Digg Bookmark with del.icio.us Add to Newsvine
Media Contacts:
Michele Mehl
Buzz Builders for WhitePages
425-205-9444
[email protected]

Deanna Leung Madden
Buzz Builders for WhitePages
206-915-0512
[email protected]


Copyright @ Marketwire
Page: 1
Related Keywords:
White pages, phone book, whitepages, Verizon, AT&T, Ban the Phone Book, Family, Internet, Adults, Family, Communications, Digital Audio, Web, Cell phone, PDA, iPods, iphone, Search, Applications, Adult, Family, Blogs/videoblogs, EMail, Social Media, Applications, Shipping & Receiving, Networking, Internet, Social Media, Search, Internet Server Applications, Search Engines, E-mail, Search Servers, USA, Marketwire, unused, Apple Computer, Environmental Technology, Communications Technology, Internet Technology, Green Technology, State, Email, Adults, Family, Other,
---