Titan Machinery Standardizes on Toshiba's Strata CIX Business Telephone Systems With Toshiba's National Accounts Program
(May 08, 2012)
IRVINE, CA -- (Marketwire) -- 05/08/12 -- Toshiba America Information Systems Inc., Telecommunication Systems Division (Toshiba) -- www.telecom.toshiba.com, has helped Titan Machinery, its store employees and customers with Toshiba's Strata® CIX™ IP business telephone system via Toshiba's National Accounts Program. Based in Fargo, N.D., Titan Machinery represents a diversified mix of agricultural, construction, and consumer products dealerships located in the upper Midwest. Titan Machinery is a dealer for Case IH, Case Construction, New Holland and New Holland Construction and also represents short line equipment to meet specialized customer demand.
Patrick Walker, network administrator for Titan Machinery, identified the need for a business telephone system that would:
Standardize on a single telecommunications platform for all stores, including a single point of contact for a "one-stop shop";
Provide an affordable and reliable business telephone system;
Network stores together to facilitate easy extension dialing and eliminate long distance between stores and headquarters;
Allow the company to have a mix of IP and digital telephones on the same system;
Effectively handle the thousands of incoming calls every week;
Facilitate remote centralized administration for all store locations; and
Support Titan Machinery's mission to provide the highest quality possible customer service.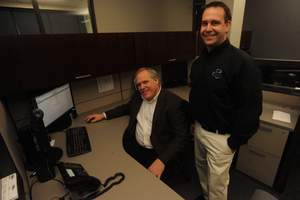 Titan Machinery turned to CD Communications of West Fargo, N.D. CD Communications has serviced Titan Machinery since the early 1990s and has been an Authorized Toshiba Dealer since 1995.
Clarence Dawes, president and owner of CD Communications, recommended Toshiba's Strata CIX IP business telephone system and Strata ACD call center solution to meet Titan Machinery's needs.
Installed by CD Communications, Titan Machinery's Toshiba business telephone system consists of:
Result #1: National Accounts Program for One-Stop Shop
Toshiba met Titan Machinery's requirement for a "one-stop shop" with Toshiba's National Accounts Program, which provides consistent pricing for purchase, installation, products and service with a single point of contact.
Result #2: Seamlessly Networked Headquarters and Stores
Titan Machinery's Toshiba Strata CIX systems are networked together over Toshiba's Strata Net IP networking solution, delivering direct extension dialing between the stores as well as headquarters. In addition, direct-extension dialing reduced Titan Machinery's long distance charges for calls between stores and headquarters.
Result #3: Remote Centralized Administration
Using Toshiba's Network eManager remote administration tool, Titan Machinery's IT staff can now remotely manage the entire telephone system for all locations from their desktop or laptop computers. They can easily make adds, moves and changes as well as make changes to email and voice mail boxes remotely for all 91 locations.
Bottom Line: Toshiba's Strata CIX Meets Titan Machinery's Objectives
Toshiba's Strata CIX telephone systems have met Titan Machinery's communications objectives, including:
Ongoing benefits from Toshiba's National Accounts Program, including consistent pricing for purchase, installations, service and support for all stores, plus a single source of contact;
Standardization on Toshiba's Strata CIX, taking advantage of Toshiba's five-year warranty, one-time licensing and free software upgrades;
Networking of stores over IP;
Cost savings by reducing long distance between networked stores and headquarters;
Improved customer call experience by ensuring that calls are routed to another store or to a person's cell phone if there is no answer during store hours;
Affordability by migrating from existing older Toshiba business telephone systems to the Strata CIX platform, which allowed them to re-use some telephone cards and telephones; and
Ability to self-administrate the system, improving time to make changes while reducing the need for costly service calls.
"Together, Toshiba and CD Communications delivered on our Top 3 goals: standardization on an affordable and reliable platform that uses new technology yet is compatible with our existing cabling and original Toshiba telephones; networking of our stores with centralized voice mail and direct-dial extensions; and the ability to self administrate. It's a winning combination," said Patrick Walker, network administrator for Titan Machinery.
For an Authorized Toshiba Dealer, visit: www.telecom.toshiba.com
About Toshiba America Information Systems, Inc. (TAIS)
Headquartered in Irvine, Calif., TAIS is comprised of three business units: Digital Products Division, Imaging Systems Division, and Telecommunication Systems Division. Together, these divisions provide digital products, services and solutions, including industry-leading portable computers; televisions, TV/DVD Combination products, Blu-ray Disc and DVD products, and portable devices; imaging products for the security, medical and manufacturing markets; and IP business telephone systems with unified communications, collaboration and mobility applications. TAIS provides sales, marketing and services for its wide range of products in the United States and Latin America. TAIS is an independent operating company owned by Toshiba America, Inc., a subsidiary of Toshiba Corporation.
About Toshiba
Toshiba is a world leader and innovator in pioneering high technology, a diversified manufacturer and marketer of advanced electronic and electrical products spanning digital consumer products; electronic devices and components; power systems, including nuclear energy; industrial and social infrastructure systems; and home appliances. Toshiba was founded in 1875, and today operates a global network of more than 490 companies, with 203,000 employees worldwide and annual sales surpassing 6.3 trillion yen (US$77 billion). Visit Toshiba's Web site at www.toshiba.co.jp/index.htm.
© 2012 Toshiba America Information Systems Inc. All rights reserved. All product, service and company names are trademarks, registered trademarks or service marks of their respective owners. Information including, without limitation, product prices, specifications, availability, content of services, and contact information is subject to change without notice.
Image Available: http://www2.marketwire.com/mw/frame_mw?attachid=1974714

Add to Digg Bookmark with del.icio.us Add to Newsvine
Toshiba PR Contact:
Teri Sawyer
T&Co.
714-536-8407
Email Contact


Copyright @ Marketwire
Page: 1
Related Keywords:
Toshiba phone systems, Strata CIX, IP business phone systems, Toshiba National Accounts, Titan Mach, Computers/Peripherals, Home, Internet, CD, Notebook/Laptop, Blu-ray/HD DVD, Networking, Appliances, Security, Digital Media Software, Computers/Home Office, Communications, DVD, Web, Notebooks, Networks, Security, Cell phone, DVD Software, Applications, Security, EMail, Manufacturing, Office Equipment, Sales, Applications, Manufacturing/Production, Computers, Phone Systems, Marketing, Manufacturing, Sales & Marketing, Security, Networking, Computer Technology, Internet, Business Issues, Administration, Administration, Telecommunications, Software/Systems Mgmt, Quality of Service, Security, Administration, Internet Server Applications, E-mail, Management, Sales, Sales, Computers/Peripherals, Prosumer/Consumer, Business, CD, Network (LAN), Notebook/Laptop/Tablets, DVD Hardware, Blu-ray/HD DVD, Phone, DVD Hardware, Marketing, email, USA, Holland, Marketwire, Inc., , Appliances, Communications Technology, Internet Technology, Business, Email, Other,
---