Tickerish.com Brings News Tickers from TV to the Web
(April 30, 2011)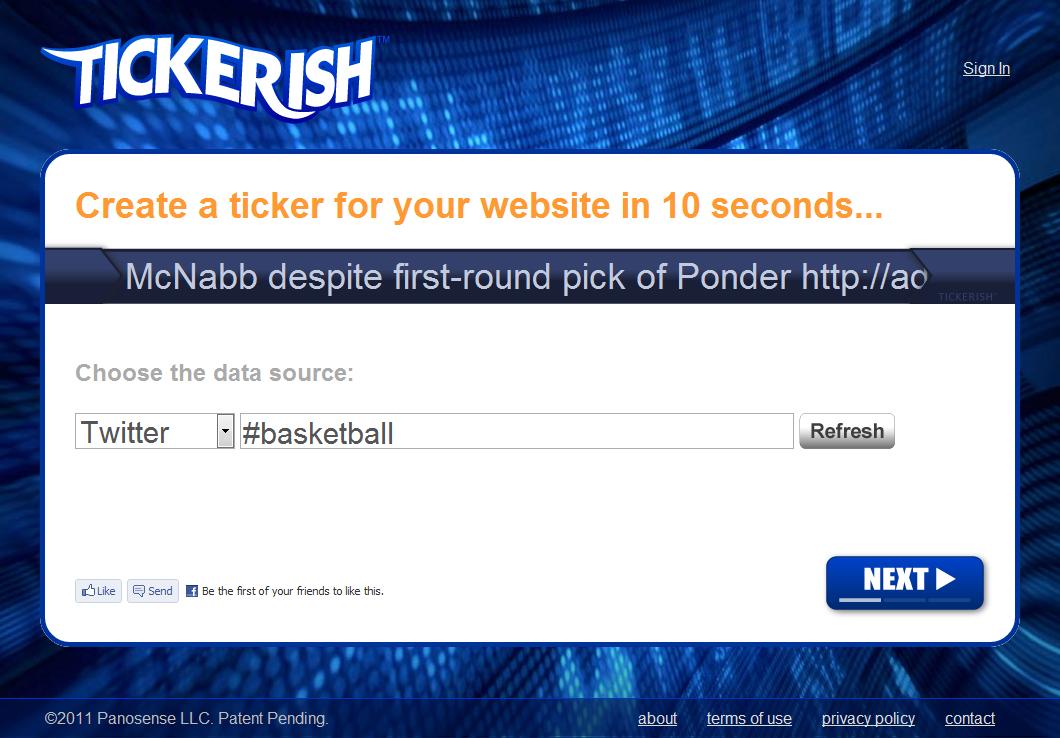 New York, NY (PRWEB) April 30, 2011
Tickerish today announced the launch of Tickerish Tickers for the Web at Tickerish.com, a service that allows people to easily create a scrolling news ticker on their website, just like those on television. A ticker that is ready for use can be created in under 10 seconds.
Tickerish Tickers draw data from Twitter Tweets, Facebook Posts, RSS feeds, or News Releases. People can specify a search term and the ticker will stream a continuous flow of relevant information.
The feedback has been tremendous, RSS feed providers are excited that people have a refreshing new way to display their RSS feeds and have requested that we create custom branded Private Label Tickerish Tickers for them, a product that we are making available to all RSS feed providers, said Evan Kaye, Founder & CEO, of Panosense LLC.
Web pages can now have the tickers scrolling across the bottom of the screen. It is also compatible with iPhone OS, so it works on iPhone and iPad devices, as well as Android devices. The ticker can even be advanced by swiping it along with a finger on mobile touch devices. It is locked into the same size regardless of whether the person zooms into the web page or not, and tapping or clicking an item on the ticker will open it and allow someone to read the article or see the details of the Twitter Tweet, or Facebook Post.
Android and Android Market are trademarks of Google, Inc. Twitter is a trademark of Twitter, Inc. Facebook is a trademark of Facebook, Inc. iPhone and iPad are trademarks of Apple, Inc. No endorsement by these companies is expressed or implied.
###
Read the full story at http://www.prweb.com/releases/2011/4/prweb8360786.htm.
Page: 1
Related Keywords:
social services,market research,research and development,medical research,science and technology,applied science,material science,human science,natural science,philosophical science,research,science (general),animal science,micro science,,weather science,agricultural research and technology,plastic art,entertainment award,entertainment (general),arts (general),arts, culture and entertainment,restraint of trade,international (foreign) trade,trade dispute,trade agreements,trade policy,trade balance,
---