Thwapr Partners With Audio Engineering Society (AES) for Delivery of Exclusive Mobile Video Content
AES Selects Thwapr to Deliver Exclusive Mobile Video Highlights From Its New DVD Collection
(September 12, 2011)

NEW YORK, NY -- (Marketwire) -- 09/12/11 -- Thwapr, Inc. (OTCBB: THWI), a leading social mobile video solutions provider for brand marketers and AES Sustaining Member, today announced it has been selected by the Audio Engineering Society (AES) to be the mobile video partner for its "50x50" mobile video campaign to promote the organization's on-going DVD Oral History Project. The DVD project is dedicated to preserving the genius of iconic audio pioneers in their own words. Some of the best known and most colorful audio industry celebrities featured in this mobile video campaign and DVD include: Phil Ramone, Bob Ludwig, Les Paul, Ray Dolby, Karlheinz Brandenburg, and more.
In conjunction with the upcoming 131st AES Convention set for Oct. 20 - 23rd at New York's Javits Center, Thwapr will deliver 50 exclusive mobile video clips of never-before-seen archival footage from the DVD collection. For 50 days, subscribers will receive one mobile video per day. Those interested in receiving these exclusive clips can text "AES" to 757575 from their mobile phones. In addition, AES is featuring Thwapr's Share to Phone™ button on website video clips found at http://www.aes.org/historical/oral/ for viewers to send to other mobile phones.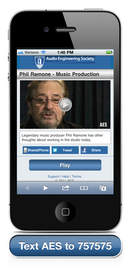 "We are very excited to use new and innovative marketing channels to reach convention attendees and potential attendees with content that has never been seen before," said Jim Anderson, AES committee chair. "Using Thwapr is a powerful, easy, and affordable way to mobilize our content and connect with our audience. There is no better way to honor audio technology pioneers than with leading edge delivery technology of today."
The Oral History Project was initiated in 1997 by long-time AES member Irv Joel, guided by Bill Wray and edited by Harry Hirsch. The DVDs provide an invaluable link to the past as the audio innovators and industry leaders who built the foundation of the pro-audio industry personally describe their contributions. From Les Paul to Robert Langevin, Frank Laico, and John Meyer, this rich legacy should be of huge interest to industry pros and audio students alike.
"This is a great way for organizations, such as AES, that have valuable archival footage to bring their videos into the mobile environment and provide a powerful, unique way to connect with fans and members," said Bruce Goldstein, CEO, Thwapr. "As of 2011 we are now seeing mobile video views outweigh desktop video views with our customers. Any company, organization, or content owner can deliver mobile videos instantly through any of our products: Video SMS, QR Codes, and our Share to Phone website button."
About AES
The Audio Engineering Society was formed in 1948 by a group of concerned audio engineers. The AES counts over 14,000 members throughout the U.S., Latin America, Europe, Japan and the Far East. The organization serves as the pivotal force in the exchange and dissemination of technical information for the industry. For additional information visit http://www.aes.org
About Thwapr, Inc.
Founded in 2007, Thwapr empowers brands to mobilize, monetize and socialize content, extending distribution reach while delivering the highest possible quality and user experience regardless of device, network or carrier. Founded by digital video pioneers from Apple, Avid and MTV, Thwapr's patent-pending technology is revolutionizing mobile video. Thwapr is making branded mobile video sharing easy, and reliable so marketers can reach the hundreds of millions of consumers with Web-enabled mobile devices. Visit us at www.thwapr.com, follow us at www.twitter.com/thwapr or Like us on Facebook www.facebook.com/thwapr.
Notice Regarding Forward-Looking Statements
This news release contains "forward-looking statements" as that term is defined in Section 27A of the United States Securities Act of 1933, as amended and Section 21E of the Securities Exchange Act of 1934, as amended. Statements in this press release which are not purely historical are forward-looking statements and include any statements regarding beliefs, plans, expectations or intentions regarding the future. Such forward-looking statements include, among other things, the development, costs and results of new business opportunities. Actual results could differ from those projected in any forward-looking statements due to numerous factors. Such factors include, among others, the inherent uncertainties associated with new products and development stage companies. These forward-looking statements are made as of the date of this news release, and we assume no obligation to update the forward-looking statements, or to update the reasons why actual results could differ from those projected in the forward-looking statements. Although we believe that any beliefs, plans, expectations and intentions contained in this press release are reasonable, there can be no assurance that any such beliefs, plans, expectations or intentions will prove to be accurate. Investors should consult all of the information set forth herein and should also refer to the risk factors disclosure outlined in Thwapr's annual report on Form 10-K for the most recent fiscal year, Thwapr's quarterly reports on Form 10-Q and other periodic reports filed from time-to-time with the Securities and Exchange Commission.
Image Available: http://www2.marketwire.com/mw/frame_mw?attachid=1728136

Add to Digg Bookmark with del.icio.us Add to Newsvine
Investor Relations:
Thwapr IR
866-991-8822
[email protected]

Media Contact:
Jocelyn Johnson
Gravitas Communications
212-924-9500
[email protected]


Copyright @ Marketwire
Page: 1
Related Keywords:
mobile video, iphone, aes, audio engineering, android, blackberry, Communications, Digital Video, Digital Audio, PDA, Technology, iPods, iphone, Business, Marketing, Broadcast Technology, Internet Media, Mobile Video, USA, Japan, Marketwire, AES Attendees, Apple Computer, Business, Other,
---