Thwapr Offers Publishers 30 Days of Free Mobile Video
(April 01, 2011)
NEW YORK, NY -- (Marketwire) -- 04/01/11 -- Thwapr, Inc. (OTCBB: THWI), a leading social mobile video and photo sharing service, today announced it is extending an offer to the news publishing industry or a free 30 day trial of its Share to Phone™ technology platform. News organizations that have a robust library of online video can use Share to Phone to mobilize their content.
"Mobile video is the future and it is here," said Bruce Goldstein, CEO of Thwapr. "Mobile video's biggest challenge has been compatibility because of a serious lack of standards in the mobile industry. We have proven our technology can deliver high quality, branded videos to more than 300 different types smartphones, feature phones and tablets. We bridge the gap."
Thwapr's patent-pending Share to Phone platform is quick and easy to implement. Just like any other social media sharing button, a Share to Phone button can be placed under any online video, no matter where it resides. Once clicked, users can then enter the mobile number of the recipient they would like to send it to. Share to Phone ensures videos can be viewed and shared across a broad array of devices via the Web, email or SMS. For marketers, advertisers and content owners, Thwapr's platform guarantees a superior brand experience with the best possible video and photo viewing quality a particular device is capable of displaying. Content can also be served with pre or post-roll ads or in a branded graphical environment that can enhance the user's experience.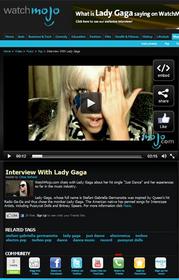 Goldstein continued, "Mobilizing online video from publishers also opens up several new streams of revenue potential and value add for their advertisers."
Thwapr's cloud-based platform is scalable for any size catalog of online video, from niche sites comprised of dozens of videos up to large media portals with millions of video and photo files. Thwapr's Share to Phone technology takes the risk out of mobilizing video -- it is compatible with any Web site video player and can be implemented with only a few lines of HTML code.
Thwapr's Share to Phone platform can be used by:
Content companies (Sports, Film, TV, Web)
Carriers with media rich portals for subscribers
Corporate / brand web sites (Fashion, Retail, Travel)
User Generated Content sites
For more information about Thwapr's Share to Phone platform and the free 30-day trial, please contact [email protected]. The offer will expire on May 31, 2011.
About Thwapr, Inc.
Founded in 2007, Thwapr strives to make mobile video sharing easy to use for both users and brands. Thwapr empowers users to get their moments moving and enables brands to mobilize and monetize content, extending distribution reach while delivering the highest possible quality and user experience regardless of device, network or carrier. Founded by digital video pioneers from Apple, Avid and MTV, Thwapr's patent-pending technology is revolutionizing mobile video. Thwapr is making mobile video sharing easy, fast and fun for the hundreds of millions of consumers with Web-enabled mobile devices. To learn more about the Thwapr iPhone app, visit www.thwapr.com/iphone or text "iphone" to 757575 to view a video about the app. Learn about Thwapr's platform for brands at http://corp.thwapr.com. Also, visit us at www.thwapr.com, follow us at www.twitter.com/thwapr or Like us on Facebook www.facebook.com/thwapr.
Notice Regarding Forward-Looking Statements
This news release contains "forward-looking statements" as that term is defined in Section 27A of the United States Securities Act of 1933, as amended and Section 21E of the Securities Exchange Act of 1934, as amended. Statements in this press release which are not purely historical are forward-looking statements and include any statements regarding beliefs, plans, expectations or intentions regarding the future. Such forward-looking statements include, among other things, the development, costs and results of new business opportunities. Actual results could differ from those projected in any forward-looking statements due to numerous factors. Such factors include, among others, the inherent uncertainties associated with new products and development stage companies. These forward-looking statements are made as of the date of this news release, and we assume no obligation to update the forward-looking statements, or to update the reasons why actual results could differ from those projected in the forward-looking statements. Although we believe that any beliefs, plans, expectations and intentions contained in this press release are reasonable, there can be no assurance that any such beliefs, plans, expectations or intentions will prove to be accurate. Investors should consult all of the information set forth herein and should also refer to the risk factors disclosure outlined in Thwapr's annual report on Form 10-K for the most recent fiscal year, Thwapr's quarterly reports on Form 10-Q and other periodic reports filed from time-to-time with the Securities and Exchange Commission.
Image Available: http://www2.marketwire.com/mw/frame_mw?attachid=1564897

Investor Relations:
Thwapr IR
866-991-8822
[email protected]


Copyright @ Marketwire
Page: 1
Related Keywords:
mobile video, online video, mobile marketing, publishing, Internet,Communications,Digital Video,Digital Audio,Web,Smart Phone,Technology,iPods,iphone,Video,EMail,Social Media,Camera/Film,Business,Marketing,Standards/Initiatives,Broadcast Technology,Graphics/Design,Internet Media,Publishing,Mobile Video,Social Media,USA,Marketwire,Apple Computer,Film,Television,Internet Technology,Business,Email,Other,
---