Thwapr Offers New Content Management Online Dashboard for Mobile Video Marketers
New Capabilities Extend Analytics Dashboard for Brand Marketers and Social Media Operations Teams to Include Automated Content Upload, Mobile Keyword Segmentation
(October 21, 2011)

NEW YORK, NY -- (Marketwire) -- 10/21/11 -- Thwapr, Inc. (OTCBB: THWI), a service for mobilizing and monetizing branded video content, today announced the roll out of a new way marketers can deploy, track and measure their mobile video campaigns. Thwapr's new Content Management Online Dashboard (CMOD) provides a fast and easy way for marketers to upload, disseminate and manage video to their mobile fan base. The CMOD also includes extensive tracking and measurement of mobile video and SMS analytics with graphical charts that illustrate campaign successes and opportunities.
"Measuring mobile campaigns is key in demonstrating success and ROI for marketers," said Bruce Goldstein, CEO, Thwapr. "We can help them see in real-time, how their full-branded mobile videos are performing and exactly how and when they are engaging with their audience."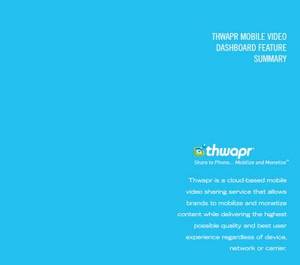 To view the CMOD, marketers log in to a secure, custom branded Web portal to view mobile video statistics and analytic data which is updated in real time and accessible at anytime. Key analytics and features in the CMOD include:
Do-It-Yourself Content Upload and Mobile Video Distribution -- Marketers can now upload and deliver their own video in an easy three step process directly from their desktop -- with no technical support required. Once a brand partner video is uploaded it can automatically be distributed to selected or segmented video SMS fans/subscribers.
Mobile Video Keyword Management -- The new dashboard allows marketers to set up new keywords right from the interface, so new campaigns can be executed immediately.
Content Management/Campaign Development -- Users can now view their video libraries in the dashboard to see thumbnails and view count, and upload date. They can then select a video for distribution; edit video title, description, tags, and public/private status to develop a targeted video campaign that is delivered in a customized viewing environment.
Location Based Video -- Each video is geo-tagged and a map is displayed to show the location of the video; location can be optionally enabled/disabled from the dashboard.
Privacy Settings -- Any video can be marked as public or private.
Public Links -- The dashboard now automatically generates both a Thwapr universal video shortlink and a bit.ly video shortlink which brand marketers can post to social media, emails, portals, newsletters etc.
Comprehensive Analytics Support -- The new content management and deployment tools are fully integrated with a comprehensive analytics dashboard showing mobile video view counts, popularity, and social sharing (share to Twitter, share to phone); mobile video SMS campaign analytics (opt-in/opt-out statistics, total subscriber counts, and day-part analysis with up to eight segmented day parts); mobile video device analytics (mobile device brands, phone models, carrier and newly added operating system support).
Professional sports, music and entertainment brands to utilize Thwapr's mobile video sharing including the Miami Dolphins, NHL's Phoenix Coyotes, the Vans Warped Tour®, the Rockstar Energy Drink Mayhem Festival® and the Lordz of Brooklyn, among others.
About Thwapr, Inc.
Founded in 2007, Thwapr empowers brands to mobilize, monetize and socialize content, extending distribution reach while delivering the highest possible quality and user experience regardless of device, network or carrier. Founded by digital video pioneers from Apple, Avid and MTV, Thwapr's patent-pending technology is revolutionizing mobile video. Thwapr is making branded mobile video sharing easy, and reliable so marketers can reach the hundreds of millions of consumers with Web-enabled mobile devices. Visit us at www.thwapr.com, follow us at www.twitter.com/thwapr or Like us on Facebook www.facebook.com/thwapr.
Notice Regarding Forward-Looking Statements
This news release contains "forward-looking statements" as that term is defined in Section 27A of the United States Securities Act of 1933, as amended and Section 21E of the Securities Exchange Act of 1934, as amended. Statements in this press release which are not purely historical are forward-looking statements and include any statements regarding beliefs, plans, expectations or intentions regarding the future. Such forward-looking statements include, among other things, the development, costs and results of new business opportunities. Actual results could differ from those projected in any forward-looking statements due to numerous factors. Such factors include, among others, the inherent uncertainties associated with new products and development stage companies. These forward-looking statements are made as of the date of this news release, and we assume no obligation to update the forward-looking statements, or to update the reasons why actual results could differ from those projected in the forward-looking statements. Although we believe that any beliefs, plans, expectations and intentions contained in this press release are reasonable, there can be no assurance that any such beliefs, plans, expectations or intentions will prove to be accurate. Investors should consult all of the information set forth herein and should also refer to the risk factors disclosure outlined in Thwapr's annual report on Form 10-K for the most recent fiscal year, Thwapr's quarterly reports on Form 10-Q and other periodic reports filed from time-to-time with the Securities and Exchange Commission.
PDF Attachment Available: http://media.marketwire.com/attachments/201110/34501_Thwapr_Dashboard_Overview_2011.pdf
Image Available: http://www2.marketwire.com/mw/frame_mw?attachid=1773766

Add to Digg Bookmark with del.icio.us Add to Newsvine
Investor Relations:
Thwapr IR
866-991-8822
[email protected]

Media Contact:
Jocelyn Johnson
Gravitas Communications
212-924-9500
[email protected]


Copyright @ Marketwire
Page: 1
Related Keywords:
mobile video, content management, analytics, campaign management, Business,Broadcast Technology,Internet Media,OS (Operating System),Mobile Video,Social Media,USA,Marketwire, ,Sports,Music,Internet Technology,Business,Entertainment,Sports,Football,Hockey,Other,
---