Thwapr Expands National Carrier Footprint
Partnership With Leading SMS Provider 4Info Adds More Than Three Dozen National and Regional Carriers
(December 13, 2011)

NEW YORK, NY -- (Marketwire) -- 12/13/11 -- Thwapr, Inc. (OTCBB: THWI), a service for mobilizing and monetizing branded video content, today announced it has received approval and activation with more than three dozen additional national and regional carriers. While Thwapr has had major carrier approvals since its launch in 2010, its partnership with 4Info expands the level of service among popular local and regional carriers and this now brings the company's carrier approval to 43.
"The expansion of our carrier network allows us to further increase our footprint for brands in every area of the country through reliable carriers in all parts of the U.S. while providing the highest quality of mobile video possible," said Bruce Goldstein, CEO of Thwapr. "4Info is a best-in-breed partner for us in our SMS subscription model and now they have enabled us to go beyond the big four mobile carriers to broaden our coverage in the U.S."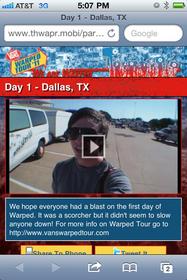 Thwapr now has carrier approval on the following mobile networks:
ACS Wireless
Alltel
AT&T
BlueGrass Cellular
Cellcom
Cellular One of East Illinois (ECIT)
Cellular One of Montana (MTPCS Cell One)
Cellular One of NE PA
Cellular South
Centennial
Cincinnati Bell
Cox Wireless
Cricket (formerly Pocket)
East Kentucky Network
Element Mobile
Epic Touch
GCI Communications
Golden State
Hawkeye (Chat Mobility)
Hawkeye (NW Missouri Cellular)
Illinois Valley Cellular
Inland Cellular
iWireless
Nex-Tech Wireless
Nextel/Boost
nTelos
Panhandle
Pioneer Cellular
Plateau Wireless
Revol Wireless
Simmetry Wireless
Sprint
Thumb Cellular
T-Mobile
Union Wireless
United
US Cellular
Verizon
Viaero Wireless
Virgin
West Central Wireless
Carrier approval is important to mobile video delivery as there is no one single standard among carriers for file formats. This has made mobile video marketing very difficult. Lack of carrier standards has given mobile video solutions like Thwapr the opportunity to showcase its technology as a carrier-agonistic solution. Thwapr's technology cuts across carriers and devices to consistently deliver quality mobile videos to more than 325 different types of mobile devices including smartphones, feature phones, tablets, iPods, Blackberries and iPads to name a few.
About Thwapr, Inc.
Founded in 2007, Thwapr empowers brands to mobilize, monetize and socialize content, extending distribution reach while delivering the highest possible quality and user experience regardless of device, network or carrier. Founded by digital video pioneers from Apple, Avid and MTV, Thwapr's patent-pending technology is revolutionizing mobile video. Thwapr is making branded mobile video sharing easy and reliable so marketers can reach the hundreds of millions of consumers with Web-enabled mobile devices. Visit us at www.thwapr.com, follow us at www.twitter.com/thwapr or Like us on Facebook www.facebook.com/thwapr.
Notice Regarding Forward-Looking Statements
This news release contains "forward-looking statements" as that term is defined in Section 27A of the United States Securities Act of 1933, as amended and Section 21E of the Securities Exchange Act of 1934, as amended. Statements in this press release which are not purely historical are forward-looking statements and include any statements regarding beliefs, plans, expectations or intentions regarding the future. Such forward-looking statements include, among other things, the development, costs and results of new business opportunities. Actual results could differ from those projected in any forward-looking statements due to numerous factors. Such factors include, among others, the inherent uncertainties associated with new products and development stage companies. These forward-looking statements are made as of the date of this news release, and we assume no obligation to update the forward-looking statements, or to update the reasons why actual results could differ from those projected in the forward-looking statements. Although we believe that any beliefs, plans, expectations and intentions contained in this press release are reasonable, there can be no assurance that any such beliefs, plans, expectations or intentions will prove to be accurate. Investors should consult all of the information set forth herein and should also refer to the risk factors disclosure outlined in Thwapr's annual report on Form 10-K for the most recent fiscal year, Thwapr's quarterly reports on Form 10-Q and other periodic reports filed from time-to-time with the Securities and Exchange Commission.
Image Available: http://www2.marketwire.com/mw/frame_mw?attachid=1829483

Add to Digg Bookmark with del.icio.us Add to Newsvine
Investor Relations:
Michael Irving
Paramount Advisors, LLC
407-878-5462
[email protected]

Media Contact:
Jocelyn Johnson
Gravitas Communications
212-924-9500
[email protected]


Copyright @ Marketwire
Page: 1
Related Keywords:
mobile video sharing, mobile marketing, iphone, blackberry, android, thwapr, ipad , Communications,Digital Video,Digital Audio,Smart Phone,PDA,Technology,iPods,iphone,iPad,Business,Marketing,Standards/Initiatives,Broadcast Technology,Internet Media,Mobile Video,USA,Marketwire, ,Apple Computer,Communications Technology,Business,Other,
---