Thought Equity Motion's Footage Library Powers Al Gore's Interactive Our Choice iOS App
Industry Leading Footage Provider Works With Former Vice President to Give Readers an Innovative Video Perspective on the Global Warming Debate
(May 10, 2011)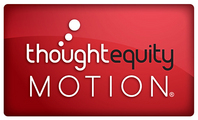 DENVER, CO -- (Marketwire) -- 05/10/11 -- Thought Equity Motion, Inc., a leading provider of video platform and footage licensing services, announced today that it has collaborated with Melcher Media to provide the compelling video content featured in Al Gore's Our Choice App for the iPhone, iPod Touch, and iPad. This first-of-its-kind video-enabled book is topping Apple's paid Apps lists.
"With its rich multimedia components, Our Choice is a 'new species' of book," said former Vice President Al Gore. "The App utilizes the latest digital publishing technology to engage and inspire readers to take action and think creatively about how we can work together to solve the climate crisis. With its advanced delivery tools and deep library of video content, Thought Equity Motion played a key role in helping us tell this vivid visual story about the climate crisis."
The App -- which was produced by Melcher Media, published by Rodale Books, and powered by Push Pop Press -- is an interactive digital version of the former Vice President's book Our Choice: a Plan to Solve the Climate Crisis. It includes compelling documentary and news footage covering global climate change such as Three Mile Island, the 2003 New York blackout, Irish Biomass, Icelandic Lagoon, and palm oil in Indonesia. As a category, e-books are surging in popularity, with a February 2011 Association of American Publishers sales report shows e-books experiencing over 200% annual growth.
"As e-books continue to explode in popularity and new digital publishing platforms emerge, we believe that video and other interactive visuals will play an increasing role," stated Charles Melcher, President of Melcher Media. "The video featured in the Our Choice app adds a whole new dimension to digital publishing. Thought Equity Motion's library and tools were of great value to us in making this app a great reading experience."
"The launch of Our Choice marks a new era in publishing where video merges with text to create a 'lean forward' reading style where the reader is in control," said Kevin Schaff, CEO & Founder of Thought Equity Motion. "We've been supporting the footage needs of the world's leading TV, film, and web producers for years and are excited to help publishers seize the opportunities of these new formats as photos give way to motion content. Our advanced delivery tools, API feeds, and extensive library of current and archival news, nature, and sports content will be an invaluable resource for publishers looking to integrate video into their multimedia productions."
To learn more about Thought Equity Motion's services for publishers, visit www.thoughtequity.com/publishing or contact a sales representative at [email protected].
About Thought Equity Motion, Inc.:
Thought Equity Motion increases the value of video content through its advanced technology platform and licensing services. The company delivers large scale archive management and "smart content" metadata tools as a cloud service, providing greater control with reduced cost and complexity. Thought Equity Motion also offers rights development expertise, enabling media rights holders to generate new value from their content.
Through its Web platform and global sales force, the company licenses sports, news, entertainment, editorial, and creative content to the world's leading producers in advertising, film, television, publishing, and interactive media.
Thought Equity Motion works with more than 400 rights holders globally, including BBC Motion Gallery, Paramount Pictures, Sony Pictures Entertainment, National Geographic, The New York Times, and the NCAA®.
Connect with Thought Equity Motion on Twitter, YouTube, LinkedIn and Facebook.
For more information on Thought Equity Motion's Platform Services for content rights holders, call 310.593.4655 or visit http://platform.thoughtequity.com. For more information on footage licensing, call 720.382.2869 or visit, www.thoughtequity.com.
About Melcher Media:
Melcher Media is an award-winning producer of books and digital media. Known for its high-quality content creation and innovative design, Melcher Media has more than 10 million books in print and 20 New York Times bestsellers. Since its founding in 1995, Melcher Media has built a reputation as a world leader in helping companies, institutions and authors tell their stories. Melcher Media worked closely with Al Gore on An Inconvenient Truth and on creating the content for the Our Choice App. Other clients include Autodesk, Conde Nast, General Electric, Harley-Davidon, HBO, Lexus, and Nike.
Add to Digg Bookmark with del.icio.us Add to Newsvine
MEDIA CONTACT:
Abby Lurie
Thought Equity Motion
Email Contact
1.720.382.2890


Copyright @ Marketwire
Page: 1
Related Keywords:
stock footage, digital publishing, Al Gore, Melcher Media, e-books, tablets, Camera/Film, Production/Post, Marketwire, Sony, Apple Computer, Sports, Film, Television, Internet Technology, Environmental, Meteorology, Entertainment, Sports, Other,
---