Thought Equity Motion Expands Exclusive NCAA(R) Licensing Agreement for NCAA Championship Media
Video Management and Footage Licensing Company Adds Photographs and Radio Calls to Integrated Content, Technology and Services Offering for NCAA Member Institutions and Conferences, Corporate Champions and Partners, Media Partners and Editorial Agencies
(January 31, 2012)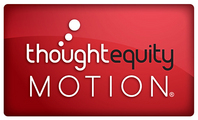 DENVER, CO -- (Marketwire) -- 01/31/12 -- Thought Equity Motion, Inc., a leading provider of cloud-based video management and licensing services, announced today that it has extended its exclusive licensing contract with the NCAA. In addition to licensing NCAA Championship video, Thought Equity Motion now has the rights to license photographs and radio calls from the NCAA's 89 Championships across 23 sports and all three division levels. The photographs capture an array of memorable NCAA championship moments ranging from action shots, celebrations, and trophy ceremonies to fans, mascots, and cheerleaders.
"With the NCAA's winter championships -- including the Division I Men's and Women's Basketball Championships -- quickly approaching, we are pleased to be offering NCAA Member Institutions and Conferences, Corporate Champions and Partners, Media Partners and Editorial Agencies integrated digital solutions to fulfill their goals around NCAA championships," said Kevin Schaff, CEO and founder of Thought Equity Motion. "Our platform's 'smart content' metadata makes digital media easily searchable and our research and project services deliver a strategic content and technology offering for NCAA partners around the 2012 championships."
"Thought Equity Motion is now the sole source to license a full-range of 'non-live' NCAA media, including fully-produced games, clips, photos and radio calls," stated Greg Weitekamp, NCAA director of championships and alliances, media services. "We are continuously working to open up the excitement and history of the NCAA to our fans, member institutions and partners. Thought Equity Motion's T3 Platform and Licensing Services have enabled a new level of access to the NCAA digital library and we're looking forward to expanding these comprehensive digital content offerings to include photographs and radio calls around March Madness."
To learn more about the NCAA Collection, visit www.thoughtequity.com/marchmadness or contact a sales representative at [email protected]. For press inquiries, contact [email protected].
About the NCAA:
The NCAA is a membership-led nonprofit association of colleges and universities committed to supporting academic and athletic opportunities for more than 400,000 student-athletes at more than 1,000 member colleges and universities. Each year, more than 54,000 student-athletes compete in NCAA championships in Divisions I, II and III sports. Visit www.ncaa.org and www.ncaa.com for more details about the Association, its goals and members and corporate partnerships that help support programs for student-athletes. The NCAA is proud to have the following elite companies as official Corporate Champions -- AT&T, Capital One and Coca-Cola -- and the following elite companies as official Corporate Partners -- Buick, Enterprise, Infiniti, LG, Lowe's, Northwestern Mutual, Reese's (Hershey's), Unilever, UPS and Wheat Thins (Kraft).
NCAA is a trademark owned by the National Collegiate Athletics Association.
About Thought Equity Motion, Inc.:
Thought Equity Motion offers cloud-based storage, access and licensing services for master-quality video. The company delivers large-scale archive management and "smart content" metadata as a hosted service, reducing its clients' cost and complexity. Thought Equity Motion's rights development, licensing, and distribution offerings enable media rights holders to generate new value from their video content.
Through its Web platform and global sales force, the company licenses sports, news, entertainment, editorial, and creative content to the world's leading producers in advertising, film, television, publishing, and interactive media.
Thought Equity Motion works with the world's leading video libraries, including BBC Motion Gallery, Paramount Pictures, Sony Pictures Entertainment, National Geographic, The New York Times, and the NCAA®.
Connect with Thought Equity Motion on Twitter, YouTube, LinkedIn and Facebook.
Add to Digg Bookmark with del.icio.us Add to Newsvine
MEDIA CONTACT:
Abby Lurie
Thought Equity Motion
Email Contact
1.720.382.2890


Copyright @ Marketwire
Page: 1
Related Keywords:
NCAA March Madness, stock footage, stock photos, Division I Men'sBasketball Championship, Camera/Film,Marketwire, ,Sony,Sports,Film,Television,Internet Technology,Entertainment,Sports,College Sports,Championship,Basketball,
---