Third Year of Double-Digit Increases in Board Compensation
(February 09, 2009)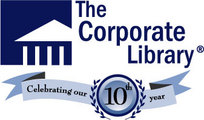 PORTLAND, ME -- (Marketwire) -- 02/09/09 -- This is the third year of double-digit increases in compensation to both individual directors and full boards according to "The Corporate Library's Annual Director Pay Survey: Director Pay 2008," released today. The median increase in total board compensation was just under 11 percent, while the median increase in compensation for individual directors was slightly higher, almost 12 percent. The survey is based on compensation data from more than 3,000 public companies and 23,000 directors, making it the most comprehensive analysis of director pay available.
The Corporate Library, now in its tenth year as a fully independent corporate governance research and advisory firm, also found:
-- Median total board compensation for S&P 500 firms is more than $2 million. -- Median total compensation for individual directors of S&P 500 companies is just under $200,000. -- In contrast to their CEO colleagues, compensation for directors in the S&P 500 did not increase by more than that for directors of smaller companies. -- Company size is the greatest influence on board and director compensation.
The report also compares total board compensation and director compensation policy at some of the most prominent financial services companies involved in the subprime lending crisis. "The difference in how these companies compensated their boards was interesting," said Research Associate Greg Ruel, co-author of the survey. "For instance, the lead director was paid $100,000 at Freddie Mac while the going rate was $25,000 to $30,000 at comparable companies. Directors at Lehman Brothers earned $2,500 for attending committee meetings while directors at AIG and Washington Mutual earned $1,500 to attend their committee meetings. There are also vast differences in equity compensation practices amongst the group."
The survey, titled, "The Corporate Library's Annual Director Pay Survey: Director Pay 2008," is also co-authored by Senior Research Associate Paul Hodgson. It is available for $75 from The Corporate Library's online store at www.thecorporatelibrary.com.
About The Corporate Library
Now celebrating its tenth year, The Corporate Library is an independent research firm focused on the U.S. and Canadian public market which offers corporate governance information products, research services and data products. It produces the definitive ratings of U.S. corporate boards of directors, allowing businesses that subscribe to the service to evaluate governance as an element of investment and other risk. Additional information can be found at www.thecorporatelibrary.com.
Contact:
Cheri Grimmett
Media Relations
The Corporate Library
Email Contact
207 553-5604


Copyright @ Marketwire
Page: 1
Related Keywords:
the corporate library, board compensation, director pay, director compensation, greg ruel, paul hodgson, Mac, OS9, OSX, USA, Marketwire, Financial, Research Services, Other,
---