The War on Women in Uniform: How Female Veterans Are Fighting Sexual Trauma
Los Angeles' Harvesting Happiness for Heroes Joins The National Women Veterans Association of America to Address the Invisible Wounds of War Including PTSD, TBI and Military Sexual Trauma for Women in Uniform at Upcoming San Diego Conference
(April 25, 2012)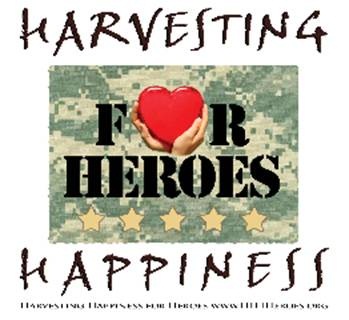 LOS ANGELES, CA -- (Marketwire) -- 04/25/12 -- How are America's female post combat veterans transitioning into civilian life? Are female combat veterans victim to MST receiving the correct wellbeing care? Is sexual assault in uniform an epidemic within military combat life? These questions will be addressed in part by Los Angeles based sponsor, Harvesting Happiness for Heroes, at the upcoming acclaimed National Women Veterans Association of America's first annual conference, directed by NWVAA Founder, Tara Wise. NWVAA's event will be hosted by San Diego's Double Tree Hotel at 1646 Front Street, on April 27th-28th, offering a platform for sponsors and experts to address the invisible challenges of veteran and post combat life for women in uniform that have experienced military sexual assault, PTSD, TBI and/or thoughts of suicide.
The NWVAA aims to assist and educate female veterans in their rights, transitions, benefits and wellbeing health with regard to Military Sexual Trauma and combat PTSD and TBI. Event sponsor Lisa Cypers Kamen, Director of Harvesting Happiness for Heroes, a pending 501 (c) (3) nonprofit organization, will offer a presentation on positive management tools for reconstructing personal wellbeing in post combat, host an open forum for the discussion on the role of positive psychology in healing MST, Combat Trauma and Suicide Prevention, and will be available onsite to address questions or concerns from attendees after her presentation at 11:00 am on April 27th. "HH4Heroes is behind our veteran population one hundred percent. We are especially conscious of our female veterans that not only face wellbeing challenges from combat missions, but also have become victims of sexual aggression while honorably serving their country. In a military that is held to a high standard of respect, sexual violence should not be tolerated. Unfortunately, this violence does exist and so we are here to help pick up the pieces," says Cypers Kamen.
HH4Heroes (hh4heroes.org) and the NWVAA (nationalwomenveterans.com) share a concern for female veterans that have held 15% of the military presence in Iraq and Afghanistan, and are at a significantly higher risk for PTSD than their male counterparts. NWVAA in conjunction with support organizations like the David Lynch Foundation and Harvesting Happiness for Heroes, bring attention to the challenges affecting women in uniform such as; PTSD, TBI, sexual assault, depression, substance abuse, communication deficiency, anger management, maintaining relationships, wellbeing health, suicide and healthy parenting. According to the Department of Veteran Affairs, 8.3% of the 22,234,000 veteran populations are female, with projected numbers of 16% by 2035. 3,191 military sexual assaults were reported in 2011, many of which ended the careers of honorable female veterans. The Pentagon estimates that close to 19,000 sexual assault cases have not been reported. HH4Heroes and NWVAA work individually to initiate positive post traumatic growth for female veterans in their respective fields, and are proud to offer resources such as Kamen's recently released book Reintegration Strategies, in the areas of wellbeing transition, to women in uniform that have fallen victim to combat aggression.
Cypers Kamen is a well known lecturer, positive psychology coach, international happiness expert, documentary filmmaker, host of Harvesting Happiness Talk Radio, author of books Are We Happy Yet? Eight Keys to Unlocking a Joyful Life, Reintegration Strategies and a contributing writer to the upcoming book Leadership: Helping Others To Succeed. Cypers Kamen has worked with organizations such as Los Angeles' premier homeless veteran outreach organization New Directions Inc., Veterans Preservation Corp, the Wounded Warrior Project, USC Department of Psychology, and Utah's Sundance Resort and has been seen in Military Spouse Magazine, ABC4, Yahoo News, Google News, CBS, and the Salt Lake Tribune to name a few. Cypers Kamen is a regular contributor to top ranked positive wellbeing blogs, Inspire Me Today and Positively Positive.
Tune into Harvesting Happiness Talk Radio or download podcasts on iTunes, Wednesdays at 9:00 am PST/ 12:00 pm EST to hear more from HH4Heroes Director, Lisa Cypers Kamen. Contact HH4Heroes Publicist, Carrie Hill or call 757-621-9319 for more information on the mission of HH4Heroes and upcoming events.
Contact:
Carrie Hill
HH4Heroes
Publicist
757-621-9319
[email protected]


Copyright @ Marketwire
Page: 1
Related Keywords:
military, female veterans, sexual assault, PTSD, TBI, wellbeing, post combat, war on women, pentagon, Pro AV,Management,Presentors,Iraq,Afghanistan,Marketwire, Inc., ,Military,iraq,Women,
---