The WINGStand - A Simple, Elegant Answer to Easier Typing on iPads and Touchscreens - Now Available
Stanford Design Student's New, Compact Gadget Stand Gives Touchscreen Users Access to Full Computer Functionality
(October 18, 2011)
BOULDER, CO -- (Marketwire) -- 10/18/11 -- Revolutionizing the modern workstation may not be in the job description of your typical college freshman, however 19-year old Stanford student, Daniel Haarburger, has done just that. Launching today, the WINGStand is an elegant, yet simple, solution that solves touchscreen typing woes. Crafted from recycled plastic, the eco-friendly WINGStand is a compact clip that unites a multi-touch device, such as an iPad or iPhone, with a full-size bluetooth keyboard.
In this era of efficiency and productivity, conventional methods of touchscreen typing have long needed an upgrade. Haarburger's answer for the ubiquitous complaint that it is hard to type on a touch pad is unlike existing tools that connect devices to keyboards. The WINGStand supports all device orientations, plus the shapes and sizes of most tablets, smartphones and e-readers. Most importantly, it pairs with a full-sized wireless keyboard so users can type naturally like they would on any other computer.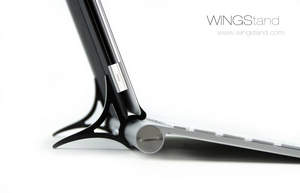 Kickstarter: Crowd-sourced Funding
Haarburger raised funding for the WINGStand through Kickstarter, an up-and-coming crowd-funding site. Over the course of seven weeks, the WINGStand became one of the most successful Kickstarter campaigns of all-time, raising nearly $60,000, with over 1,500 early supporters and more than 2,500 units pre-sold.
"I live to design answers for real-world problems," says Daniel Haarburger, founder and CEO of Ethic. "It's hard to take notes by typing without a tactile interface, and using a miniature keyboard isn't much of a solution. The WINGStand is an eco-friendly, lightweight and portable solution to the challenges of touchscreen typing."
"Others have tried to bridge this gap by designing portable keyboard systems for tablets, and most solutions are clunky, heavy or hard to use because their keyboards are too small," said Lissa Lowe, advisor. Daniel's creativity and business acumen -- even at 19 years of age -- is driving the excitement about this product and his new company, Ethic. He is very focused on helping our environment and changing the world as we know it and I expect all of his work to enhance life."
Size, Form, Function
The WINGStand weighs only a few ounces and takes up roughly the same amount of space as a pair of car keys. The design is sleek, with subtle curves and smooth faces. And the base of each "Wing" extends so the unit can also serve as a stand, independent of a keyboard and devices can be used without removing them from their cases. Inspired by the way Legos connect, the two pieces of the WINGStand snap together when not in use to optimize portability and efficient storage.
Fast Facts:
---------------------------------------------------------------------------- Made in the U.S. (Illinois) from recycled plastics. Size: 2.1" x 2.75" x 0.75" (together) 2.1" x 2.75" x 0.375" (each component) ---------------------------------------------------------------------------- Colors: White or Black Weight: approx. 1.5oz ---------------------------------------------------------------------------- Available: Price: Online: http://wingstand.com/ White - $14.95 Black - $14.95 ----------------------------------------------------------------------------
About Ethic, LLC
In August 2011, Daniel launched Ethic, an LLC with mindfulness built into its business model, to bring his products to market. Ethic's mission is to expand the potential of today's technology through a youthful, innovative, and sustainable approach to design. The WINGStand is the first in a line of products from Ethic. Michael Rosenblatt (Apple, Samsung), Lissa Lowe (Apple, Intel, Levi Strauss) and Chris Byrn (Hewlett-Packard, National Semiconductor, Tessera) sit on the Ethic Advisory Board. To learn more about WINGStand, visit www.WINGStand.com, http://twitter.com/thewingstand and http://www.facebook.com/theWINGStand
Image Available: http://www2.marketwire.com/mw/frame_mw?attachid=1769875

Add to Digg Bookmark with del.icio.us Add to Newsvine
PRESS CONTACT:
Heidi Groshelle
Groshelle Communications
(415) 307-1380
Email Contact
www.groshelle.com


Copyright @ Marketwire
Page: 1
Related Keywords:
Ethic, LLC, Computers/Peripherals, Computer, Notebook/Laptop, WiFi/Wireless, Keyboard, Tablets, Communications, Digital Audio, Smart Phone, iPods, iphone, iPad, USA, Marketwire, , Apple Computer, Communications Technology, Business, Other,
---