The Omni Group Announces Support for Apple Mac App Store
Award-Winning Productivity Solutions Including OmniFocus, OmniGraffle and Others Now Available for Easy Download via the New Store
(January 06, 2011)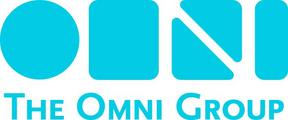 SEATTLE, WA -- (Marketwire) -- 01/06/11 -- The Omni Group, a developer of productivity applications for the Mac OS X platform today announced application support for the Apple Mac App Store. Now users will have easy download access to the full range of the Omni Group's distinctive productivity applications from any Apple product they prefer including iPhone, iPad and the Mac. Applications available on the Mac App Store include OmniFocus, OmniGraffle 5, OmniGraffle 5 Pro, OmniGraphSketcher, OmniOutliner 3, OmniOutliner 3 Pro and OmniPlan.
"We are excited to make our award-winning productivity applications available through the new Mac App Store. We believe it provides a familiar purchasing experience for customers looking for proven productivity applications that help people be more efficient," said Ken Case, founder and CEO for the Omni Group. "From the independent developer perspective, the Mac App Store provides a new sales channel eliminating the need to build online stores, distribute licenses keys or scale up websites and bandwidth to handle an influx of downloads."
The Omni Group's productivity apps help users to organize and create to-do lists, design diagrams or charts, visualize concepts or breakdown and control costs. The Omni Group has the right application to help Mac users get the job done, simply and easily with the following solutions:
OmniFocus is a personal task management application designed to help users quickly and easily store and access tasks and lists from their email inbox. Pricing for OmniFocus is $79.95.


OmniGraffle is a simple-to-use diagramming application that allows users to create, design and edit charts and graphs while at their desk or on the go. Pricing for OmniGraffle 5 is $99.95.


OmniGraphSketcher is a data-plotting and visualization application that enables users to create elegant and precise graphs in seconds. Pricing for OmniGraphSketcher is $29.95.


OmniOutliner is an organization application that makes creating, collecting and organizing documents and other information smooth and streamlined. Pricing for OmniOutliner 3 is $39.95.


OmniPlan is a project management application that allows users to closely manage projects and efficiently delegate tasks. Pricing for OmniPlan is $149.95.


For more information on the Omni Group's applications and pricing, please visit: http://www.omnigroup.com/products/.
About the Omni Group
One of the first companies to develop software for the Mac OS X platform, the Omni Group is a leading developer for Apple products and has designed several productivity applications for Mac OS X, iPhone, and now iPad. Founded in 1993, the Omni Group is located in Seattle, Wash.
Media Contact
Melissa Liton
Communique PR
(206) 282-4923 ext. 115
Email Contact


Copyright @ Marketwire
Page: 1
Related Keywords:
Mac OS X, productivity, apps, developer, Mac, OS9, OSX, Marketwire, IT (Information Technology), Productivity Applications, Apple Computer, Email, Other,
---