The Montreal Comiccon Bursts Into Palais des Congres With a Powerhouse Lineup and Broad Programming
(July 04, 2012)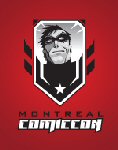 MONTREAL, QUEBEC -- (Marketwire) -- 07/04/12 -- Last year, Place Bonaventure was overtaken by hordes of wild Comiccon fans. Many showed up in their finest costumes and everyone brought their shared passion for comic books, movies, TV shows, manga, horror and everything related to the world of fantasy fiction. They came in such great numbers that the space could not contain them. As a result, the 2012 Montreal Comiccon has expanded to three days as well as a much larger venue. The event will take place on September 14, 15 and 16 at Palais des Congres.
The 2012 edition will be a star-packed must-see event, headlined by none other than the man who brought Captain Kirk to life in the iconic original Star Trek series, William Shatner. To celebrate the 25th anniversary of Star Trek: The Next Generation, he will be joined by fellow explorers of the final frontier: the android Commander Data, portrayed by Brent Spiner, and Wesley Crusher, played by Wil Wheaton, who plays an evil version of himself and Sheldon's sworn enemy on the CBS sitcom The Big Bang Theory. Another series ensemble joining us will be the cast of the hit supernatural series Being Human, including Meaghan Rath, Sam Huntington and Kristen Hager.
PRESS CONFERENCE - OPEN TO THE PUBLIC When: Wednesday, August 1, 2012, from 1:00 p.m. to 3:00 p.m. Where: Terrasses Bonsecours, 364 de la Commune East, Old Port of Montreal, next to Cirque du Soleil tent OTHER MAJOR GUESTS WILL BE ANNOUNCED ON THIS OCCASION! BE AMONG THE FIRST ONES TO FIND OUT! Media RSVP: [email protected]
Comic book fans will be thrilled to mingle with George Perez, known for his awe-inspiring detailed work on titles like Teen Titans, Crisis and Infinite Earth and Wonder Woman. Mr. Perez will share the spotlight with an epic roster of comic book masters, including Jim Starlin, the man who raised the bar in the 70s with his Captain Marvel and Adam Warlock space operas; Mike Mignola, the mind and the pencil behind Hellboy; Tim Sale, the artist famous for his unforgettable collaborations with writer Joeph Loeb, revisiting key events in the lives of Batman, Spider-Man and Daredevil; the oft celebrated Darwyn Cooke, known for his award-winning retro-renditions of Catwoman, DC: The New Frontier and The Spirit; and Frank Cho, the most immaculate creator of female characters since perhaps the Garden of Eden.
Horror addicts will set aside their fears to shake hands with Malcolm McDowell, the demented hoodlum Alex DeLarge in Kubrick's The Clockwork Orange; Gunnar Hansen, the original 1974 Leatherface in The Texas Chainsaw Masssacre; and Lloyd Kaufman, the heroic co-founder of Troma Entertainment, purveyors of some of the craziest low-budget films of all time.
The Quebec scene will be duly represented by Bryan Perro, author of the highly successful Amos Daragon series of books; Michel Rabagliati, the inventive mind behind the Paul books; Real Godbout, illustrator and co-writer of the very edgy BD, Red Ketchup; and representing the flexibility and resourcefulness that is Gen X: Benoit Godbout, artist and co-writer of L'Academie des chasseurs de primes, director of the second season of Ben's City, the animated series on CBC (Perusse Cite on Radio-Canada), and designer of Montreal Comiccon's official 2012 poster.
For a dose of nostalgia, we will have the privilege of having the original Batmobile from the 1989 Batman movie that featured Michael Keaton and Jack Nicholson; while Tintin fans will be delighted to meet Jean-Pierre Talbot, the actor who portrayed the hero in Tintin and the Golden Fleece and Tintin and the Blue Oranges.
Over three days, there are many activities planned, like the highly anticipated costume competition, the Comiccon Masquerade. The 2012 edition will also shine a light on the sci-fi Victorian-era world of Steampunk fashion, gadgets, fiction and lifestyle, with special guests and live music. Audiences will be entertained with sketcharades, in which players must guess words through drawings instead of pantomime; a special celebration for the 100th anniversary of the death of Bram Stoker, Dracula's creator; and the 8th Annual Joe Shuster Awards, given out for outstanding achievements in the creation of comic books, graphic novels and web comics by Canadians, will be presented at the Montreal Comiccon.
Once again, the heroes congregate in Montreal on September 14 to 16. For more info or to buy tickets, visit www.montrealcomiccon.com.
MONTREAL COMICCON 2012 When: September 14-16, 2012 Where: Palais des congres, 1001 Place Jean-Paul-Riopelle, Montreal (Quebec) H2Z 1H5 Opening hours: Friday, September 14: General admission: 4:00 p.m. to 9:00 p.m. / Deluxe and VIP: 2:00 p.m. to 9:00 p.m. Saturday, September 15: General admission: 10:00 a.m. to 7:00 p.m. / Deluxe and VIP: 9:30 a.m. to 7:00 p.m. Sunday, September 16: General admission: 10:00 a.m. to 5:00 p.m. / Deluxe and VIP: 10:00 a.m. to 5:00 p.m.
High resolution pictures are available upon request.
Contacts:
Press/media enquiries:
Leeja Murphy
T 514 528-6362
C 514 213-0045
[email protected]

General enquiries:
Elizabeth Jutras
T 514 653-3783
[email protected]


Copyright @ Marketwire
Page: 1
Related Keywords:
Montreal Comiccon , Marketwire, Television, Music, Lifestyle, Internet Technology, Entertainment, Other,
---