The 'LeBron Effect' Sizable for the Team That Signs Him
When James Played in Cities Where He May Sign, Ticket Market Prices Spiked 50% to 300%
(June 23, 2010)

PALO ALTO, CA -- (Marketwire) -- 06/23/10 -- FanSnap®, the leading live event ticket search engine, today announced, that fan demand for tickets when LeBron James is playing can be nearly five times more than when King James is on the bench, among the findings of the "FanSnap 2010 NBA Tickets Report: The LeBron Effect."
Speculation among NBA fans has reached a fever pitch as free agent LeBron James decides whether to re-sign with the Cleveland Cavaliers or continue his stellar career with a new team. In his seven NBA seasons, LeBron James -- the 25 year old all-world small forward for the Cavs -- has already been named NBA Rookie of the Year, a six-time NBA All-Star, and the NBA's Most Valuable Player of the 2008-09 and 2009-10 seasons.
A FanSnap analysis of 2010 NBA ticket data from the open market where tickets are bought and sold suggests more than a rooting interest is at stake. FanSnap is the most comprehensive ticket search engine in the U.S., displaying ticket data from every major ticket marketplace and every major ticket broker who sells direct online. Of the 60+ most trusted ticket sites online that FanSnap searches, 45 sites made a market in NBA tickets this past season.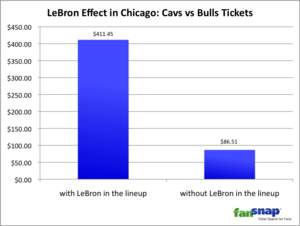 CLEVELAND LOVES LEBRON
Cleveland fans of course supported LeBron and the Cavaliers, who had the best regular season record in the NBA this past season, as ticket market prices for home games averaged $130, second only to the Lakers at $243, despite the fact that Cleveland is the 18th largest media market.
Examining market price averages is one useful way to examine the market trends and help quantify relative fan demand for events. It is important to note, however, that FanSnap regularly finds market prices for comparable tickets varying by 25%, 40%, 60% or more at any given time. Also, all market prices quoted include both the ticket price and the commission charged by the ticket site, so fans can compare tickets from several sites all at once, 'apples to apples.'
WHEN LEBRON COMES TO TOWN, MARKET PRICES GO UP 50% OR MORE
A comparison of the average ticket prices on the open market, one gauge of fan demand, for the teams most likely to sign LeBron shows that when LeBron played road games against those teams, market prices for those tickets leapt strongly vs. the two games prior and after that game, ranging from a 55% lift in Miami to a 311% bump in Chicago.
Team Avg Home Ticket vs. Teams Just Prior/After % Increase $ Increase Market Price vs. LeBron Comes to Town LeBron James Knicks $192 $67 187% $125 Nets $104 $30 245% $74 Clippers $181 $89 104% $92 Heat $78 $51 55% $28 Bulls $411 $100 311% $311
NO MATTER HOW YOU LOOK AT IT, BULLS FANS LIKE LEBRON THE MOST
An alternative way to understand the 'LeBron effect' is to compare those same ticket market prices for LeBron's road games against those same opponents' vs. their respective season average ticket market prices. The same effect holds, as ticket market prices for those games vs. LeBron and the Cavaliers range from an 18% lift in Miami to a 226% bump in Chicago.
Team Avg Home Ticket 2010 Season Avg. Market % Increase $ Increase Market Price vs. Price for Tickets LeBron James Knicks $192 $128 50% $64 Nets $104 $25 316% $79 Clippers $181 $56 223% $125 Heat $78 $66 18% $12 Bulls $411 $126 226% $285
WHEN LEBRON MISSED A GAME IN CHICAGO, MARKET PRICES DROPPED 79%
It's clear that when the Cavs travel, ticket demand in the away cities increases, but is there a difference in ticket demand if LeBron is in the lineup? In one late season example, LeBron and the Cavs played in Chicago twice. On 3/19/10, with LeBron in the Cavs lineup, ticket market prices averaged $411. The Cavs played the Bulls in Chicago again on 4/8/10 -- this time without LeBron. Ticket market prices for that game averaged $87. LeBron drove ticket market prices nearly 5x!
FanSnap is a free ticket search engine with more than 13 million sports, theater and concert tickets to 75,000 events. FanSnap highlights the Best Value Tickets(SM) at any given moment and displays tickets listings from dozens of ticket sites by the row so fans can easily compare tickets.
FanSnap was named to the "PC World 100: Best Products of 2009" and also named "Most Innovative New Search Engine" of the Search Engine Watch (SEW) Awards 2009.
About FanSnap
FanSnap (http://www.FanSnap.com) is the live event ticket search engine for fans. Our mission is to provide the most comprehensive, accurate, fast and easy-to-use resource for fans to find best value sports, theater and concert tickets. FanSnap provides free ticket search results for dozens of the leading ticket providers, including TicketsNow, TicketNetwork, StubHub, RazorGator, Las Vegas Tickets, Gold Coast Tickets, eBay, Barry's Tickets, AllShows, and Ace Ticket. Our detailed ticket-level search results are made possible by the combination of strategic industry partnerships and systems integration, as well as our FanSnap TicketData(SM) systems and patent-pending dynamic FanSnap Maps(SM). FanSnap.com is also optimized for iPhone access. Palo Alto, CA-based FanSnap was founded in 2007 and is funded by General Catalyst Partners and Highland Capital Partners.
Image Available: http://www2.marketwire.com/mw/frame_mw?attachid=1290837

Add to Digg Bookmark with del.icio.us Add to Newsvine
PRESS CONTACT
Christian Anderson
[email protected]
m: (206) 251-3469
http://www.FanSnap.com/blog


Copyright @ Marketwire
Page: 1
Related Keywords:
LeBron Effect, Team signs LeBron, Ticket Prices, NBA Tickets , USA,Marketwire,Apple Computer,Gold,Theater,Sports,Basketball,
---