The Gift of Laughter App Offers Contagious Belly Laughs -- Only Days Left for Free App
(April 26, 2011)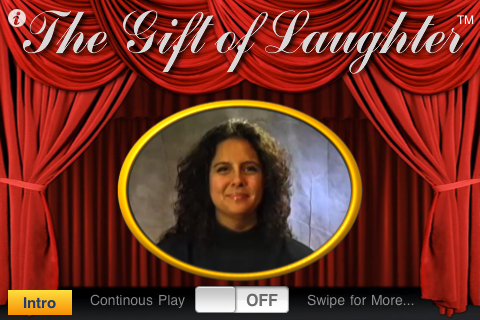 Rochester, NY (PRWEB) April 27, 2011
There is a new iPhone app that makes you laugh not by way of a joke or funny illustration, but by witnessing belly laughs via video, featuring 25 folks who auditioned for the laughing matter. The goal? A gift of contagious laughter. The Gift of Laughter iPhone/iPad app is available now on the Apple iTunes App Store as a free download through May 1, which happens to be World Laughter Day. After that date, it will be available for $2.99. Even without a formal launch, thousands of i-users already have downloaded the laughing app.
After an extensive search of the more than 350,000 apps available on the Apple iTunes App Store, Burgers company was not able to find anything quite like it. According to Steve Wilson, psychologist, founder of the World Laughter Tour, and Director of National Humor Month (April),
You have produced the best demonstration of true mirthful laughter that has ever been recorded. Its very important in our therapeutic world. Mirth is a special emotion. Ive seen so many takes on this (recorded laughter) but they are just OK. This truly is wonderful. And by far its the best one I have ever seen.
Recovering from a heart attack several years ago was no laughing matter for Fred Burger, a filmmaker and college professor. But lying in his hospital room Burger came up with an idea how could he experience instant, spontaneous and authentic laughter to lighten his spirits and get his mind off his troubles? The latest result of his 15-year quest is The Gift of Laughter app.
Burger said watching someone laugh triggers the response of laughter, progressing from smiles to chuckles to belly laughs. This app is all about that feeling and an opportunity to share the gift of laughter and happiness with friends and loved ones, he said. And thats why I named it The GIFT of Laughter. With all the pain and strife in the world today I thought it would be especially fitting to help bring a little happiness, smiles and laughter into our lives.
After much planning, design and programming, Burgers company VisionsMedia/BurgerDesign created the iPhone/iPad version of a video he first created in 1996. The easy-access video clips, which feature 15 to 20 seconds of people laughing, can be viewed and shared one at a time, as a group (Play all), or on a loop (Continuous Play).
Burgers project featured many recorded sessions with willing subjects laughing for his camera. He initially edited those laughs into a powerful video by the same name as his new app. The video has been used by organizations such as laughter therapy clubs, laughter yoga sessions, schools and hospitals, nursing homes and rehabilitation centers across the country.
After The Gift of Laughter apps free period ends on May 1st , Burger will upload more laughing subjects, totaling 50, including Burger himself. Each person auditioned for the part and was selected from hundreds of laughing hopefuls. Burger plans to open the audition process again, and may feature new laughers in the future, possibly chosen from online submissions.
Burger based his program on the theories and work of Norman Cousins and others who studied the healing and therapeutic power of laughter. Convinced that laughter could heal ones soul and in turn the mind and body, Burger set out to capture laughter that could be accessed instantly with just the touch of a finger. The iTunes App store made that dream a reality.
This is the BEST laughter video we have ever seen. Period, said Steve Wilson of the World Laughter Tour, which sponsors seminars and laughter-leader training globally. When we laugh, our pain and suffering are put on hold and we are completely engulfed in a sense of well-being. Laughter makes us feel good both mentally and physically. And laughter is contagious, which makes this video work especially well.
About Fred Burger

A writer, photographer and filmmaker, Burger ran a busy corporate design and production company for over 17 years. His clients included companies such as Eastman Kodak, Bausch & Lomb and Xerox. He is an award-winning documentary filmmaker whose work has been aired nationally on the Public Broadcasting System. Since 2001, Burger has been teaching screenwriting, video production and filmmaking to students at Monroe Community College as an Assistant Professor of Communication and Media Arts.
Access Photographs, Screen Shots and B-roll
Media may download photographs and video footage from a ftp sites:
https://visionsmedia.egnyte.com
https://visionsmedia.sharefile.com
(user name: fburger and fburger(at)visionsmedia(dot)com respectively / password for both: laughter2011)
Media Contact
Fred Burger can be reached at (917) 647-8152 or fburger(at)visionsmedia(dot)com
The web site for The Gift of Laughter can be found at: http://www.the-gift-of-laughter.com
The Gift of Laughter app can be downloaded at: (or search the app store for laughter)
http://itunes.apple.com/us/app/the-gift-of-laughter/id428139499?mt=8#
###
Read the full story at http://www.prweb.com/releases/thegiftoflaughter/april/prweb5274454.htm.
Page: 1
Related Keywords:
plastic art, entertainment award, entertainment (general), arts (general), arts, culture and entertainment, education, adult education, further education, religious education, economy, business and finance, financial and business service, business enterprises, business (general), computer crime, medical procedure/test, medical research, medical staff, medical specialisation, medical service, medical conditions, family, family planning, lifestyle and leisure, lifestyle (house and home), computing and information technology, satellite technology, wireless technology, science and technology,
---